The temptation to fill this review with the hysterical finer moments of the play is going to be difficult, however I will resist as I advise you to see this play at any opportunity you may have. I will however, share the basic premise of the production.
Mischief Theatre present The Play That Goes Wrong where their amateur dramatic company 'The Cornley Polytechnic Drama Society' put on a 1920's play called 'The Murder at Haversham Manor'.
Whilst taking a seat in the auditorium, there were members of the cast shouting hysterically the name 'Winston' - a French bulldog they lost in the theatre. From merely entering the theatre to find my seat, the commotion and incompetence was in full swing!
The play is a wonderful theatrical paradox, an amateur dramatic company portraying all of the stuff that could go wrong when putting on a play, yet the exquisite timing and comedic beat being superb. Everything that could possibly go wrong, goes wrong, as planned; the script, the actors and the unstable set.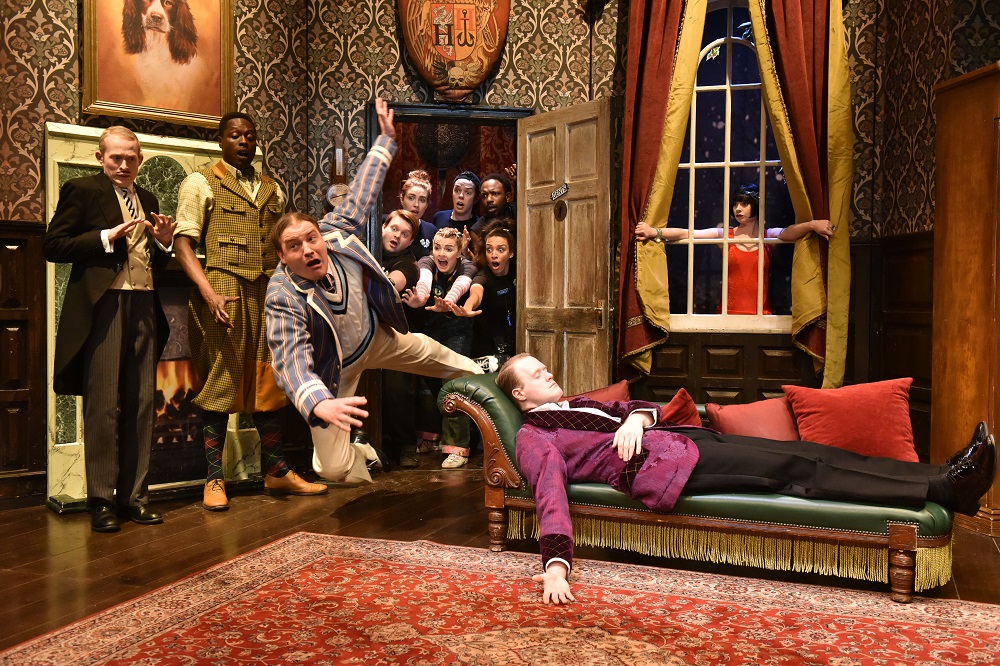 The first half of the play introduced the hysterical murder mystery, the characters roles and the involvement from the backstage crew who made an appearance when the problematic set would begin to fall apart. Charles Haversham, played by Steven Rostance was hilarious when pretending to be a corpse on stage and the plot to find out the killer went fully into fruition in the second act. The second act was again, filled with sheer pandemonium! The plot thickened and the killer was announced after various scenes of utter chaos.
The full production is a delightfully contrived artifice however I felt the latter was stronger and funnier and to say that the set completely falls apart would not be too much of a spoiler as one of cast members playing a stage manager says "this set is a bloody death trap!"
The director, Mark Bell and the writers have managed to create a piece of theatre with incompetent calculated chaos and clockwork precision. The mechanics of the stage, the efforts from the exceptionally energetic cast and the flow of the play was expertly produced. The female protagonist of the play, Florence Colleymore was played by two parts which led to them physically fighting to secure the lines and the exceptional efforts from the leading males, especially Jake Curran who played the Inspector.
Although the entirety of the play is based around mishaps and mayhem and the comedy timing planned specifically for delivery, my only issue was that if the audience laughed, it would be played upon, however a lot of the time the longevity of the pauses were so long that it became predictable towards the end.
The play not only leaves you feeling discombobulated, but it certainly fills your evening with laughter nonetheless AND don't be surprised if there is a palaver with your tickets at the box office as it isn't just the play that goes wrong!
Reviewer: Heather Errington
Reviewed: 25th June 2018
North West End Rating: ★★★★