Manchester Palace Theatre sees the opening of the 2018 UK tour of Fame – The Musical. Fame follows the story of a group of teenagers from their first audition through to their last day at PA – New York's High School of Performing Arts.
Fame is based on the 1980 film of the same name and was conceived and developed by David De Silva.
The set for Fame was static, a huge angled wall with a raised platform across the centre of it accessed by steps either end, one set of steps moveable to create different scenes. The wall was set out as a huge year book with photographs and names of all the students at the school. Cast members brought on smaller pieces of set including lockers which turned in to a ballet mirror or a chalk board. The scene changes were effortless and fitted in perfectly within the scenes.
Lighting designed by Prema Mahta was incredible, extremely effective, helping to tell the story and pull focus to certain areas or heighten the emotions in certain scenes.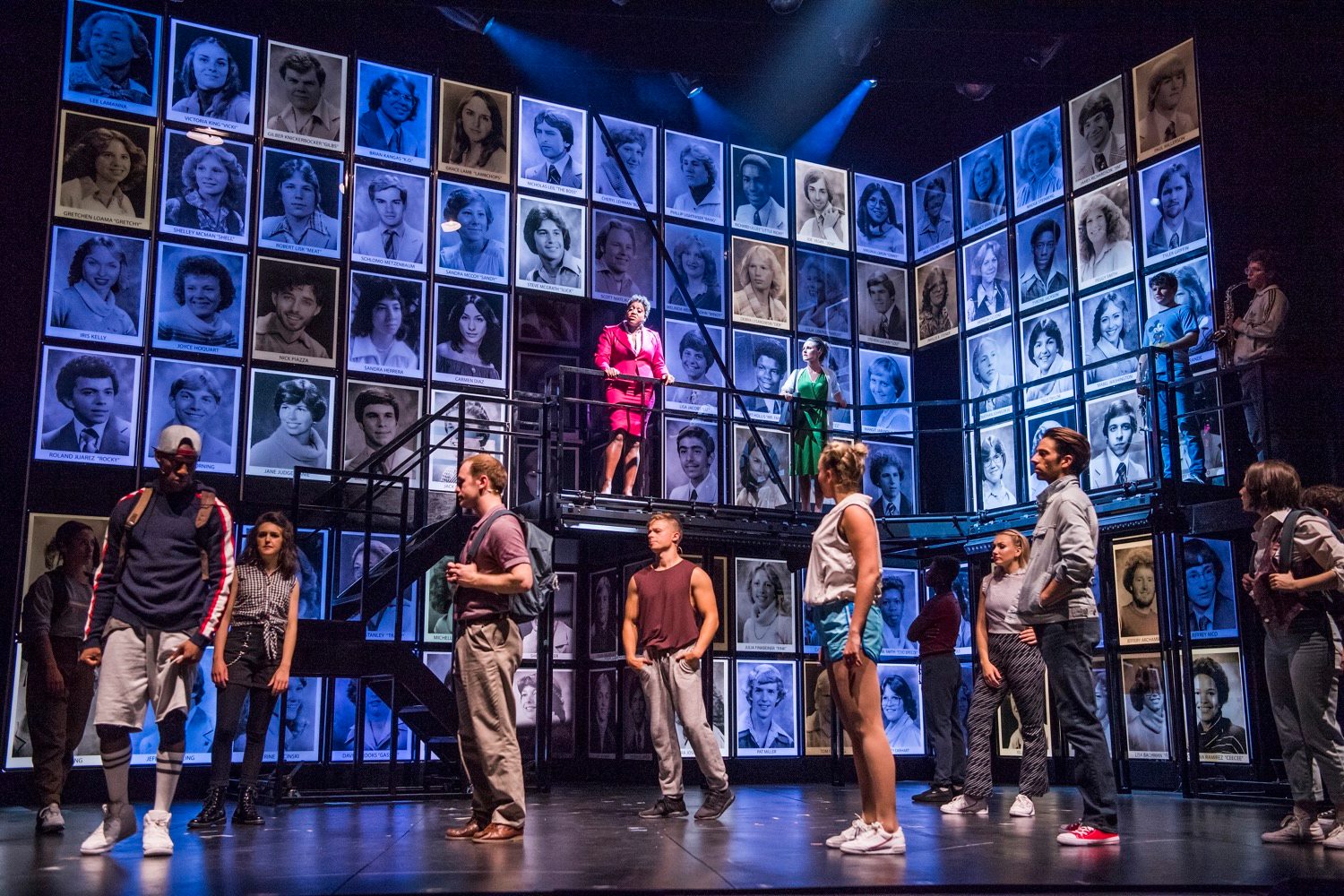 The cast worked so hard throughout this show, putting so much energy and effort in to delivering this full on musical. Keith Jack played a wonderful Nick Piazza, the serious classical actor who delivers a wonderful I Want to Make Magic. Jamal Kane Crawford played the troubled Tyrone and really came to life during Dancin' on the Sidewalk where Crawford with his classmates deliver an incredible routine which included their classroom tables and lots of dry ice. Jorgie Porter played a nice Iris, the poor ballet student and Mica Paris delivers a great Miss Sherman, pulling focus during These Are My Children and receiving a standing ovation from most of the audience midway through act two.
Food lover Mabel played by Hayley Johnston was incredible, full of humour and delivered a fantastic version of Mabel's Prayer where she's praying for God's help in keeping her from becoming the world's fattest dancer.
Molly McGuire as Serena, Simon Anthony as Schlomo, Louise Beadel as Lambchops and Alexander Zane as Goody (making his professional debut) delivered excellent characters that added plenty of humour and emotion. Anthony, Beadel and Zane not only played these characters wonderfully but played a range of instruments which was incredible.
Albey Brookes version of Can't Keep It Down as Joe was hilarious, pushing boundaries and getting huge laughs. The standout for me was Stephanie Rojas as fame hungry Carmen Diaz, full of attitude and sass throughout but her delivery of In LA was outstanding, you feel her pain and sadness at everything she has lost, and it completely blew me away.
The ensemble is incredible, helping the show move along smoothly and throw everything in to their routines. Morgan Jackson stood out for me in all the numbers, he gave everything all the time and shone when he was on stage.
Choreography by Director Nick Winston, Associate Choreographer Ryan-Lee Seager and Resident Choreographer Katie Warsop was excellent. I felt in some of the larger numbers, some of the cast were slightly out of time and you could feel a slightly different energy from different people. This is their first week and so they could still be settling in but when you are dealing with excellent choreography it needs to be extremely tight and slick and I felt it lacked ever so slightly from one or two people, slightly out of time or arms slightly different which I'm sure will tighten up as the run carries on.
There were a couple of times when you missed a word or two at the beginning of a line as a microphone or two came on slightly late but overall the sound was incredible.
Fame is a fun, energetic show and will have you up on your feet dancing at the end.
Reviewer: Damian Riverol
Reviewed: 26th July 2018
North West End Rating: ★★★★