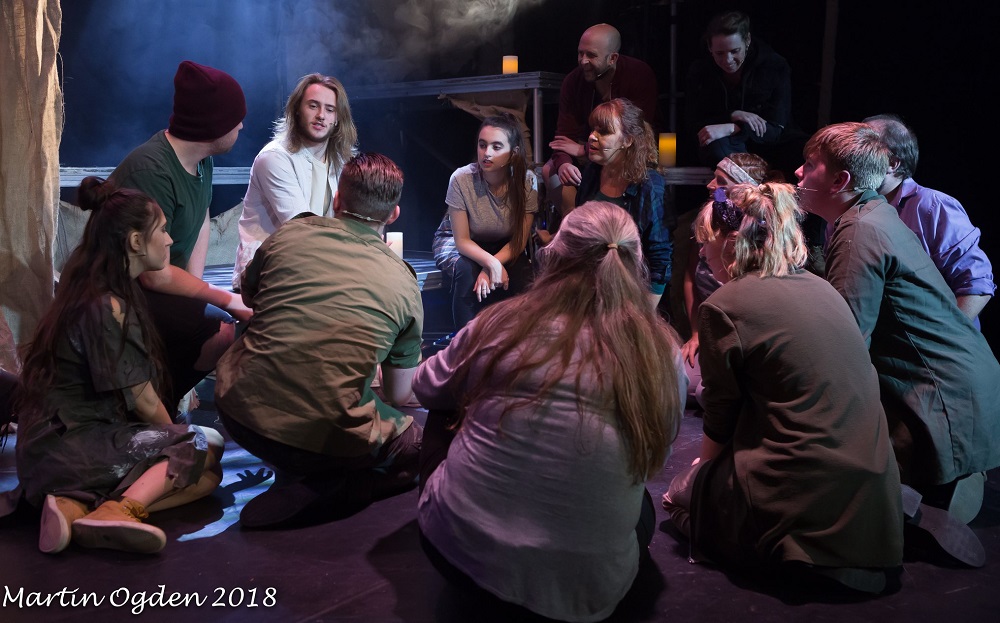 It is difficult from a 2018 perspective to understand the furore that was caused back in 1971 when Tim Rice and Andrew Lloyd Webber first staged this 'rock opera' on Broadway. Loosely based on the Gospels account of the last week in the life of Jesus Christ, religious leaders called it blasphemous and it was accused of antisemitism in some quarters. Nearly fifty years later the controversy around the production has receded and we are able to gauge it purely on its theatrical and musical merits. To that end, Whitefield AODS has delivered a memorable production with some outstanding individual performances which left the audience moved to an opening night standing ovation.
The show is told from the perspective of Judas Iscariot (Chris Wagstaff), an original disciple of Christ who has become disillusioned by the way in which his philosopher leader has morphed into a modern day celebrity (Heaven on their Minds). He wants Jesus to be seen as a man, rather than the son of God, fearing that he will be punished by the Roman state for inciting rebellion if he continues. This portrayal of Judas is somewhat at odds with our understanding of the character from the Bible, but it is crucial to seeing his later action of betrayal in a sympathetic light. Wagstaff brings his usual superb rock/blues voice to the role with brio and verve, his physicality and movement around the stage portraying the frustration of Judas with both Jesus and his followers, yet managing to beautifully change mood and tempo as he accepts his 'thirty pieces of silver' to betray Jesus (Damned for all Time).
Playing the role of the eponymous 'Superstar' could weigh heavily on the shoulders of some actors, but Sam Bate has clearly employed 'method' practitioner methods in his portrayal. Sporting shoulder length hair and gym toned physique, he inhabited the tortured character of a man driven to sacrifice himself for mankind in a believable and insightful way. His rendition of 'Gethsemane' at the opening of Act Two is truly astounding, his voice reminiscent of Robert Plant or Roger Daltrey at their rock zenith filling the auditorium with energy and life. His torture and death (Crucifixion) are recreated with soft authenticity and contrast well against the louder earlier portrayal.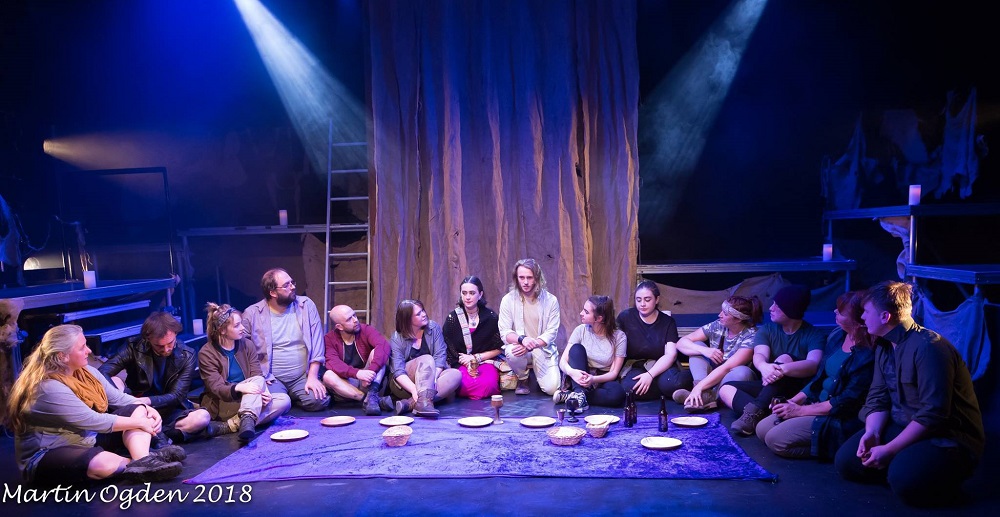 Notable support is given to these two huge lead performances by both Katherine Reynolds (Mary Magdalene) and Jack Forrest (Pontius Pilate). Reynolds gives the prostitute character warmth (Everything's Alright/I Don't Know How To Love Him) and Forrest invests Pilate with an uncharacteristic sympathy as he is forced into the decision to put Jesus to death (39 Lashes).A scene stealing turn as Herod (Martin Kelly) brings gruesome humour to the proceedings (King Herod's Song) with Caiaphas (Stuart Davis) and Annas (Jeff Harpin) adding menace, reminiscent of musical Mitchell brothers, as the high priests plotting the death of Jesus.
Director Mal Wood and his team moved the story along at a great pace, the entire production coming in at two hours including interval. I felt that the decision to not incorporate any scene changes at all made the portrayal lack a certain clarity at times but enjoyed the innovative crucifixion reveal very much. The rock/blues anthemic score was played with tremendous skill and gusto by the ten piece band, however the sheer volume was detrimental to the audience hearing the lyrics and dialogue leading to a lack of nuanced understanding of motive and story. It was also noticeable that some of the ensemble lacked diction and storytelling, noticeable particularly during 'The Temple' which brought down the energy of the show when the principal performers were not present. This is partly due to the nature of some of the scenes which have dated and feel incongruous in a modern staging.
Overall, a strong production lifted by superb leading performances delivered with soul and passion.
Jesus Christ Superstar continues at The Met, Bury until Saturday https://themet.org.uk/event/jesus-christ-superstar-woads/
Reviewer: Paul Wilcox
Reviewed: 3rd October 2018
North West End Rating: ★★★★