"Guys and Dolls" is the much loved musical from the golden era, made into the 1955 film version starring Frank Sinatra and Marlon Brando. It sets the bar high.
Tonight Manchester Musical Youth transported the audience back to that wonderful golden era and it was delightful to spend several hours there!
Set in New York, we follow the infamous Nathan Detroit, forever trying to find a venue for his illegal 'crap' game and his long-suffering fiancée, Miss Adelaide, who is forever trying to persuade him to marry her. Into the mix comes Sky Masterson, a renowned successful gambler who will bet on anything if he thinks he can profit from it and his unlikely love interest: Sarah Brown, a Salvation Army Sergeant.
The show opens with a New York busy street scene and we see that all life is there: tourists, con artists and gamblers, to name but a few. I liked the way this was done and it was very reminiscent of the MGM film: the colourful costumes being an homage to technicolour.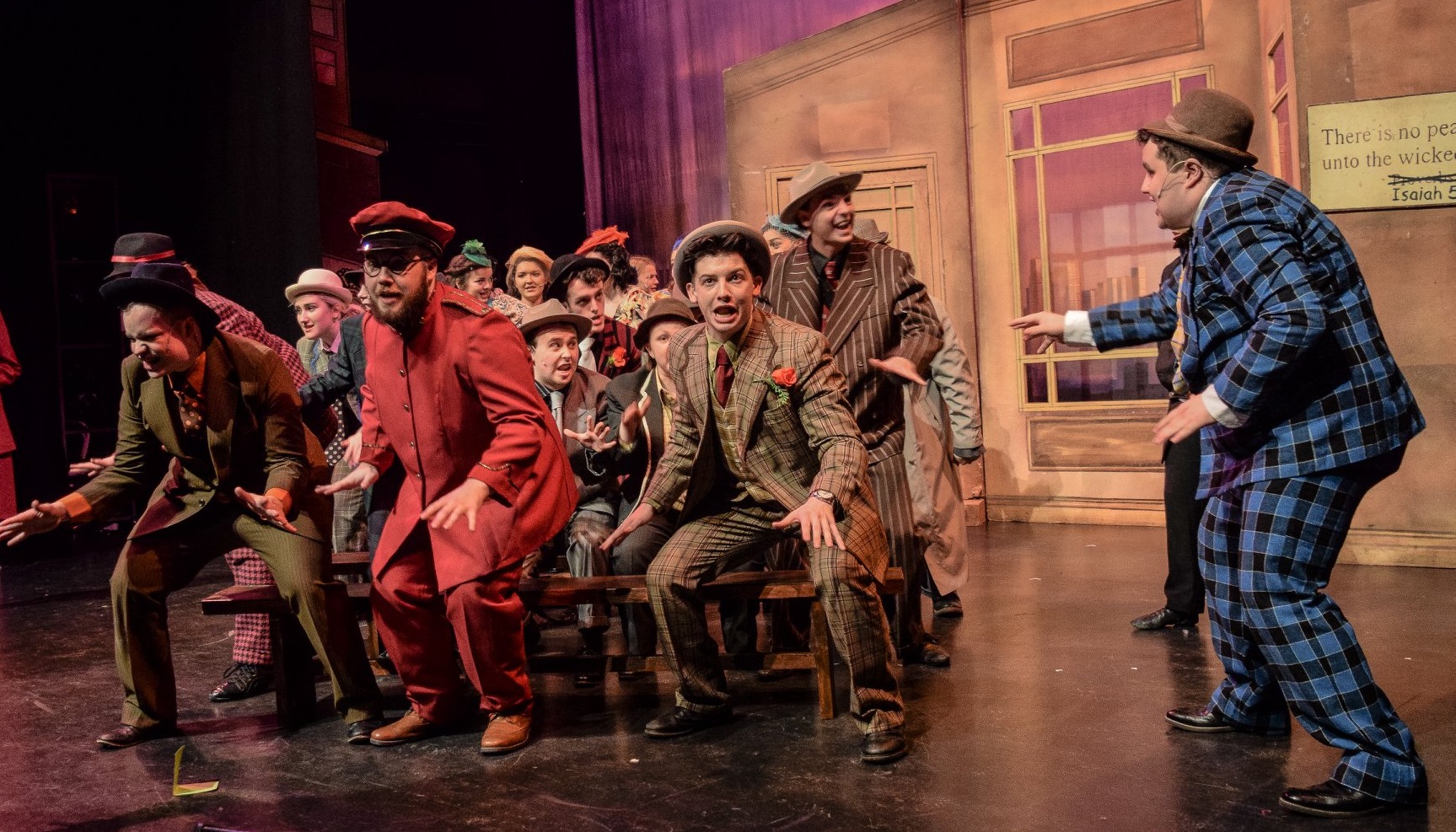 As soon as I saw Nicely Nicely Johnson (Daniel Meyer), I knew he was going to be fabulous. He looks the part and absolutely sounds the part to a tee. He was strong and confident with charisma and he was cast perfectly for this role, it could have been written for him. The opening song "Fugue for Tin Horns" contains tricky harmonies and timing but it was performed to perfection.
I must mention Matthew Bache as 'Harry the Horse' - I totally loved the way he played this character as being on edge all the time and hopping from one foot to another as if he'd had about twenty espressos! His delivery and comedy were excellent.
Miss Adelaide was played by Sarah Binns and my goodness...this is another example of MMY genius casting. She is absolutely outstanding in this role and her portrayal was worthy of a West End stage. She completely understands the character and was absolutely spot on the whole time. From the New York accent right down to the flamboyant flourishes and outraged shrieking, she was a joy to watch. She also deserves a bravery award for "Take Back Your Mink" which was quite revealing and I take my hat off (they took off a lot more!) to Sarah and all the other 'dolls' who took part in this sassy little number.
One of my favourite numbers was "Guys and Dolls" when Nicely Nicely and Benny Southstreet (Connor James Boyle) took the lead – they performed it brilliantly together with great timing and choreography and I loved it – it was one of the high points.
Another special mention now for Aidan Maj as Big Jule. I laughed so much! He didn't even really have to say anything to make me laugh so when he did, it was just a bonus. His stance, delivery and accent were just perfect and he maintained it all throughout. He's one of the best Big Jules I've seen.
Marlon Brando famously played Sky Masterson in the film and tonight, Tom Forth captured that same element of smooth coolness, together with his own addition of charm. Billy Morrison played Nathan Detroit: the lovable rogue and bit of a loser and he also did a fabulous job.
Sarah Brown is the seemingly untouchable Salvation Army Sergeant who is the subject of a bet between Nathan and Sky and Heather Harrison played her with the prim haughtiness that the role demands. I thought she and Tom Forth managed to convey the "dislike at first sight" extremely well. The prim haughtiness soon disappears in Havana and Heather revealed the hidden side of Sarah Brown to us without overdoing the tipsiness.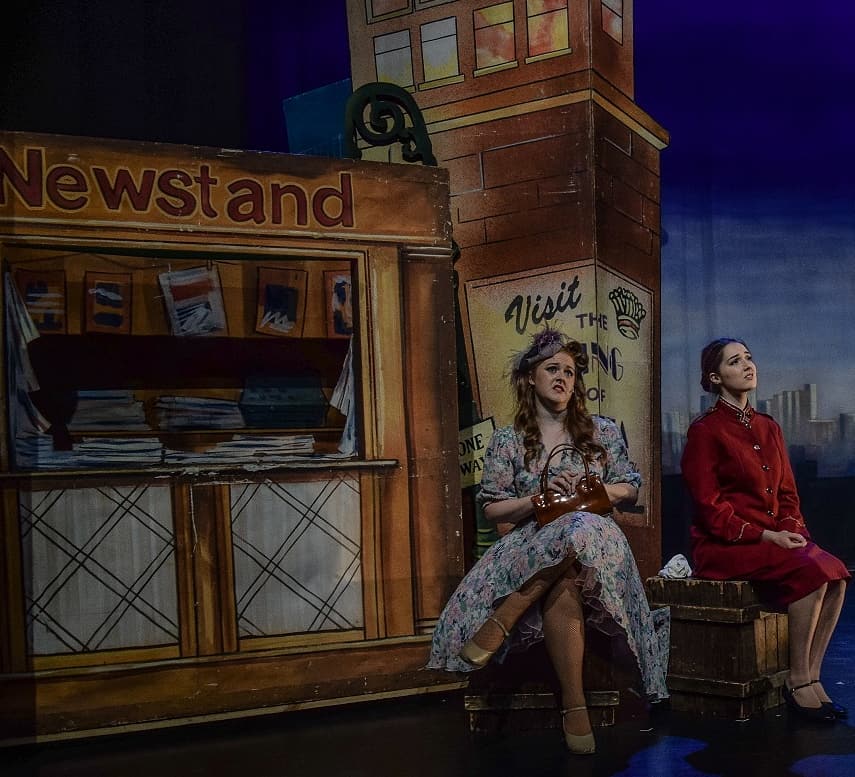 I absolutely must give a special mention to Tom Jennings who played a Crapshooter, Rumba Dancer and compere. He is completely hilarious – if you go to see the show, keep an eye out for him. I really liked the way he addressed the audience directly after the "Take Back Your Mink" number, making a very clever and funny reference to the fact that some of the audience members would have just seen their granddaughters performing in very skimpy outfits. His dancing in the Havana scene was hilarious (look out for his shimmies!) as were his hysterical facial expressions and put me in mind of the film "Strictly Ballroom". He gets my "Hidden Gem" award!
The dancing scene in Havana was very enjoyable and I liked the way it was done. The nuggets of conversation between Sky and Sarah Brown were interspersed with the dancing – there was plenty going on and lots to look at and the way it was done highlighted the comedy of the scene between Sky and Sarah and the fact that she becomes increasingly inebriated. This isn't usually one of my favourite scenes as it can seem to drag on sometimes but I very much enjoyed it tonight.
The 'crap' game scene which takes place in the sewers is one of the highlights of Guys and Dolls. The choreography was excellent and became increasingly exciting and adventurous with a leaping forward roll which made me "oooh". Unfortunately in parts, some of the timing and synchronicity was a little off and this needs tightening up because when everyone was together and in time, it was spot on and breathtaking. During the song "Luck Be A Lady", I was a little surprised that the choreography wasn't a bit more adventurous and lively but I did enjoy it and the ensemble singing was perfection. I liked the way it built up and became quite fierce towards the end.
Nathan and Adelaide sing "Sue Me" together and this was a perfect showcase for Sarah Binns' talents. I love her squeaky rage and Nathan's attempts to sweet talk her. She can also wield a handbag like a dangerous weapon! Well done to both of them for this wonderful and entertaining scene.
I was expecting "Sit Down You're Rocking the Boat" to be good as this is usually a show stopping number....and I was certainly not disappointed. This was a stellar performance and was the highlight ensemble number of the night. The choreography was perfect and the whole scene was a surefire high point of the evening. Daniel Meyer was outstanding and his performance was another worthy of the West End.
"Marry the Man Today" performed by Sarah and Miss Adelaide was done complete justice tonight – they made a fearsome duo and this is the song that reveals that Miss Adelaide isn't quite the ditzy blonde that she may appear to be.
I really enjoyed the scenes where all the gamblers were together, every one of them was great to watch and as an ensemble they were fabulously entertaining.
Credit must go to the technical team as the costumes and set were fantastic and really set the scene.
Another hit for MMY and the whole creative team which deserved a much larger audience than tonight: disappointingly there were many empty seats so I hope the next three nights see three full houses. It's no less than Miss Adelaide deserves for putting up with her reluctant betrothed!
So, guys and dolls, Follow the Fold and get down to Z-Arts to experience some vintage glamour of the golden era of musicals while you can. I'll bet you my marker that you'll have a great evening.
Reviewer: Nicky Lambert
Reviewed: 28th November 2018
North West End Star Rating: ★★★★
Pictures: Mark Russell