It's hard to find a greater enjoyment at the theatre than going to see a good farce comedy and they don't come much more enjoyable than 'Business Affairs' written by Jeremy Lloyd (Allo Allo, Are You Being Served) and John Chapman.
The story follows two businessmen; Stanley and Norman who are attempting to sell their failing haulage business to a pair of European businesses. The contract is to be completed at a London hotel where the services of two female escorts are tasked with making proceedings go smoothly but the arrival of the sellers' two wives complicate matters as they are mistaken for the escorts and well, it's a hilarious situation which provides lots of laughs.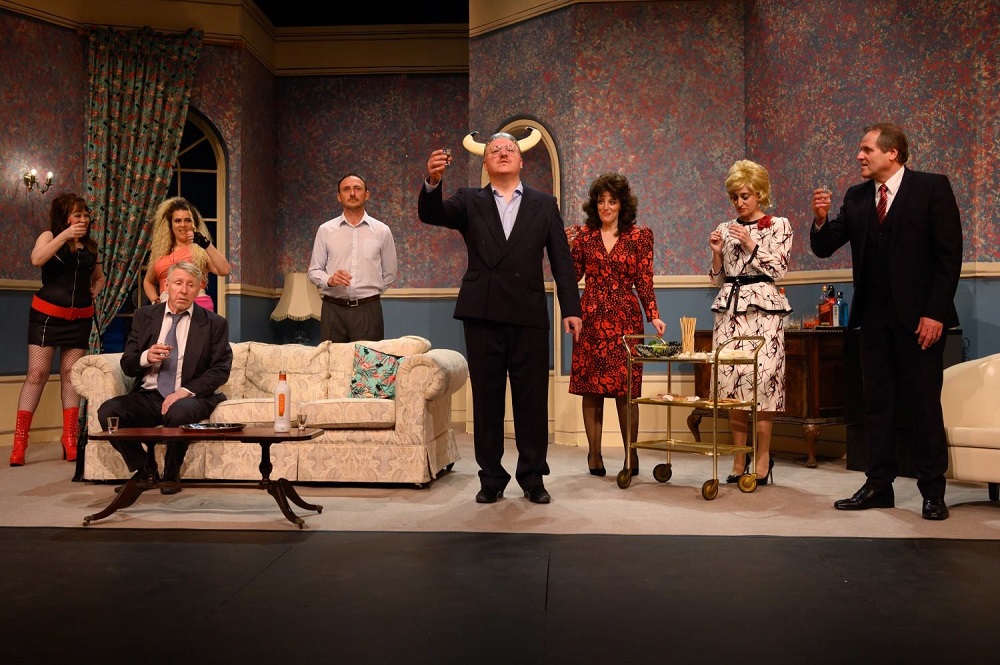 Farce comedy is a true art form, and as such it needs to be well executed and you can always rely on the Altrincham Garrick Theatre to deliver a high calibre production, and this latest production is no exception.
The cast are a real credit to this show; their timing and delivery throughout is really commendable, the two vendors; Stanley and Norman are played by Jonathan Black and Mike Shaw who are both regulars on the Garrick's boards, work well together in this production rifting off each other, setting each other's gags up and working well as a duo; Black's ability to create the off the cuff remarks after Shaw's dialogue almost always gets a laugh from the audience.
Their on stage wife's; Hilda and Rose played by Sarah Reilly and Kim Armston add some extra humour while entertaining the European businessmen; Kurt and Sven played by Matthew Foster and Nick Lowe; both very capable comedic actors; special mention should go to Lowe who has a real talent in physical comedy and his facial expressions are priceless. The cast is completed with escorts Sabrina and Valerie played by Lindsey Barker and Emma Turner.
The staging and props set in a London hotel has been given nice little touches of detail and it looks the part and doesn't look cluttered, it's always incredible to see the level of effort that goes into these Altrincham Garrick productions; from the acting on stage to the lighting, stage and directions - it's truly remarkable and a true testament to this local theatre. Director; John Chidgey has brought out the best in this cast and it was a fun filled evening for all who attended.
Verdict: Another great evening at the Garrick!
Reviewer: Max Eden
Reviewed: 9th April 2019
North West End Rating: ★★★★