'Remembering The Movies' is a celebration of Hollywood films and musicals and stars Strictly Come Dancing's Aljaz Skorjanec and Janette Manrara. Supported by ten dancers and two live singers, Aljaz and Janette pay homage to a broad range of films and musicals: sometimes putting their own stamp on iconic dances, sometimes reproducing the originals.
The show pays tribute to leading men and leading ladies and there are sections devoted to West Side Story, Dirty Dancing, James Bond and Moulin Rouge, to name a few.
A large screen is used to great effect on the stage ensuring that there is constantly an appropriate background to match the routine.
The show opened with the crowd pleasing "The Greatest Show" from 'The Greatest Showman' which was a great way to start.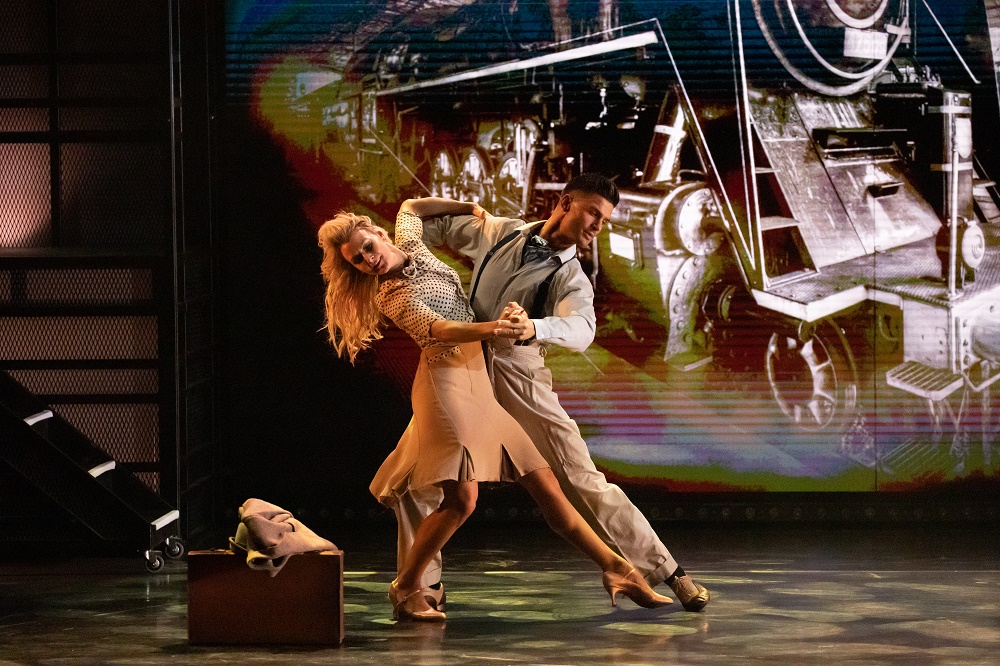 One of the best parts for me was the Fred Astaire tribute when Aljaz and his partner danced 'Cheek to Cheek' - a beautiful Foxtrot which seamlessly morphed into a wonderful Quickstep – I could have watched that all night. Now that's how you cover a dance floor!
The 'Dirty Dancing' section was an interesting take on the iconic scene at the end of the film with that lift...it was given a contemporary makeover with a different interpretation.
The emphasis does seem to be more on contemporary dancing than traditional ballroom and Latin, with Janette demonstrating her balletic talent and the company of supporting dancers showing off their jaw dropping abilities in contemporary dance styles.
Other highlights were the 'Cabaret' tribute, "Mein Herr" - complete with basques, stockings and other Bob Fosse essentials – and the West Side Story section which was a medley of truncated versions of 'Maria', 'America', 'Dance at the Gym' and 'There's a Place for Us'. The choreography for this section stuck very closely to the original and ensured rapturous applause from the audience.
The first half ended with a 'Saturday Night Fever' tribute which was so high energy and full-on that it could have been a show stopping finale. It really did make everyone feel that they were out on a Saturday night having a great time.
The second half opened with a James Bond section. The search for the next Bond is over: Aljaz can more than carry this off! The Rumba danced to 'Licence to Kill' was exciting and dramatic but retained traditional choreography and it was extremely effective. This was followed by a Paso Doble to 'Live and Let Die' which really delivered the required drama and power.
The choreography is very dramatic in parts, particularly in the 'Moulin Rouge' section – they really did save the best till last as far as I was concerned. Aljaz seemed to effortlessly 'throw' Janette around and she executed some seemingly gravity defying moves which were brave and fearless yet somehow looked effortless.
Special mention must go to Janine Johnson, one of the live singers who was absolutely amazing. She has a powerhouse of a voice which makes you sit up and take notice, coupled with a wonderfully sassy attitude. She also had some gorgeous dresses and nearly as many costume changes as the dancers! I liked the way that both singers were involved in the performance, rather than standing on the sidelines, it was very effective and inclusive.
Aljaz and Janette chatted quite a lot to the audience – they are both instantly likeable and their enthusiasm pours off the stage. Aljaz is endearingly excitable and exuberant and just a little bit bonkers with his infectious giggle and funny comments. There is a lot of humorous interaction between them as a couple (they married in 2017) and the affection between them is very touching.
Aljaz shamelessly charmed the Manchester audience, telling us how Manchester is his favourite city and that he hopes one day soon to become a Mancunian. I am sure that if this happens, both he and Janette will be made to feel very welcome if the response from tonight's audience is anything to go by.
This show delivers drama, fabulous choreography and stunning moves and it is a delightful tribute to some of the wonderful films which have inspired it.
Reviewer: Nicky Lambert
Reviewed: 30th April 2019
North West End Rating: ★★★★