'Rent' is set in Lower Manhattan and tells the story of a group of struggling, impoverished artists living under the shadow of HIV/AIDS and also facing eviction. When it closed in 2008, it was one of the longest running shows on Broadway. It ran for eighteen months in the West End.
The plot can be quite difficult to follow as typically, much of it is revealed in the songs so unless you can pick out every word, you do miss quite a bit of it.
There are strong dynamics between a lot of the characters (Mark and Roger, Roger and Mimi, Angel and Tom) and these were well demonstrated in "Tune Up", "Light My Candle" and "I'll Cover You" where you could feel the connection between them.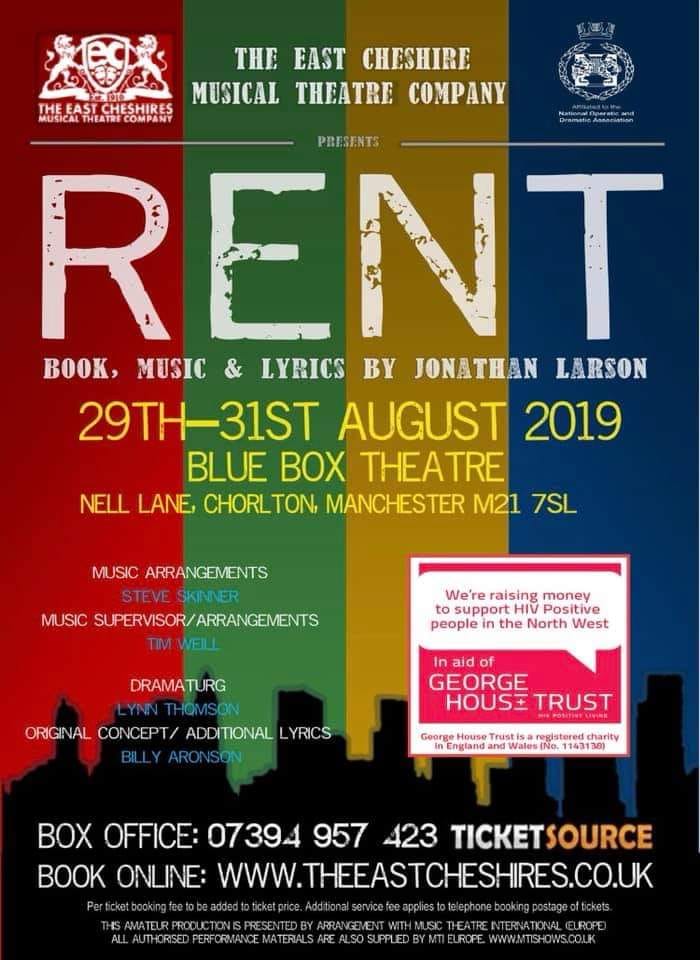 Chris Wagstaff plays the role of Roger, a struggling musician dying of AIDS. This character has a lot of angst and anger and Chris channelled the rage and emotion expertly. Roger's continual struggle and torment was well portrayed, and I think the role suits Chris very well. We also saw the softer, vulnerable side of him when he met Mimi for the first time and I liked his nervousness.
Roger's roommate, Mark, was played by Sam Bate who was extremely likeable and warm as this character.
Whoever plays the character of Angel is never in for an easy ride but Connor Wyse took it all in his (white booted) stride and revelled in the camp glory that is Angel. The character is totally full on and out there. Oh - and in drag. Connor was appropriately flamboyant, not to mention master (mistress) of his knee high boots, strutting confidently up and down steps and jumping on and off tables.
Grace Stubbs as Mimi was impressively strong and confident and Grace played the role with total assurance, ably demonstrated during her solo number "Out".
One standout performance was Maureen's (Lucy Thorburn) rendition of "Over the Moon" - a song/performance which requires confidence and someone who isn't going to shy away from really being off the wall. It's offbeat, random and needs someone who can pull off appearing to be slightly insane. Lucy did a fantastic job with her feisty sassiness. I also loved the input from the spoon and the fork, not to mention the dancing cow.
"Contact" is a racy number and was performed with revealing bravery by the cast.
This is a very talented cast indeed who all seemed ideal for their roles and there was much outstanding singing and vocal strength. There were some stunning individual performances but also the power of the ensemble numbers was quite spectacular and certain numbers were very impressive, particularly "Will I", "La Vie Bohème", "Seasons of Love" and the finale. "La Vie Bohème" was a highlight: very entertaining and enjoyable with a particularly strong performance from Sam Bate and "Seasons of Love" was strikingly performed with several soloists standing out, although the song showcased everyone's talent.
I found all the songs to be well directed by Andrew Lee with good use of the stage.
Unfortunately, I did struggle to distinguish some of the song lyrics which made it difficult to follow all of the plot which is quite fast and you need to keep a grip on it or you get lost. Some of the nuances of the plot did pass me by.
The nature of the subject matter (HIV/AIDS, drugs) means that 'Rent' is gritty and deals with difficult themes so it may not be for everybody. There are some lighter moments – the running theme of the 'Christmas Bells' song which was comically performed and also Elaine Thorburn's "honest living".
East Cheshire Musical Theatre Company have done a great job with a very strong cast and I look forward to their next production.
Reviewer: Nicky Lambert
Reviewed: 29th August 2019
North West End Rating: ★★★★