Coronation Street is a national institution, set in the fictional area of Weatherfield in Salford – and if you don't know that, then you must have been hiding under a rock (or a cobble) for the past 60 years.
"Corrie" is a play featuring characters from 1960-2010. Written by Jonathan Harvey, himself a Coronation Street writer with over 200 episodes to his credit, it promises to be a celebration of the first 50 years, featuring many familiar and much loved characters.
Tonight was the World Amateur Premiere and it was surprising and disappointing to see the very low attendance on opening night – at a rough estimate, I think were less than 60 people in tonight's audience.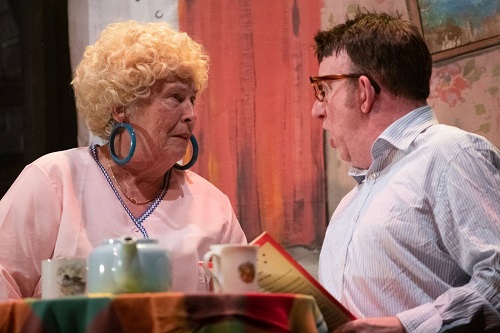 I wasn't really sure what to expect and I have to say I found the premise quite odd to start off with. There is a narrator (Martin Oldfield) who also doubles as St Peter at the pearly gates and the opening scene is him debating with Blanche Hunt (Deirdre's mother) whether she can get into heaven or not. It was all a little surreal. Elsie Tanner (Beverley Stuart-Cole) then appears under a street lamp and says a few words about the street itself, then the play begins in earnest and that most archetypal of stern, northern women, Ena Sharples (Val Watkinson – who also played Vera Duckworth absolutely superbly), makes her presence known in a scene from the very first episode of Coronation Street.
The play is a compilation of vignettes really. We are literally hurled down the cobbles as numerous iconic scenes are recreated, including the confrontation between Ken, Mike and Deirdre when Mike and Deirdre's affair came to light and also the demise of Alan Bradley under a Blackpool tram!
Some of the scenes worked very well and were absolutely hilarious but I do think this play will only hit the mark for those who have watched Coronation Street over the years and are familiar with the characters and storylines. There is a lot of humour in some of the linking narrative and asides by the characters which will be lost on people who aren't fans. A lot of the interlinking humour relies on the audience already having knowledge of the storylines otherwise it probably wouldn't make sense or be that funny on a standalone basis. As someone who watched Coronation Street through the 70s, 80s and 90s, I found the asides absolutely hilarious.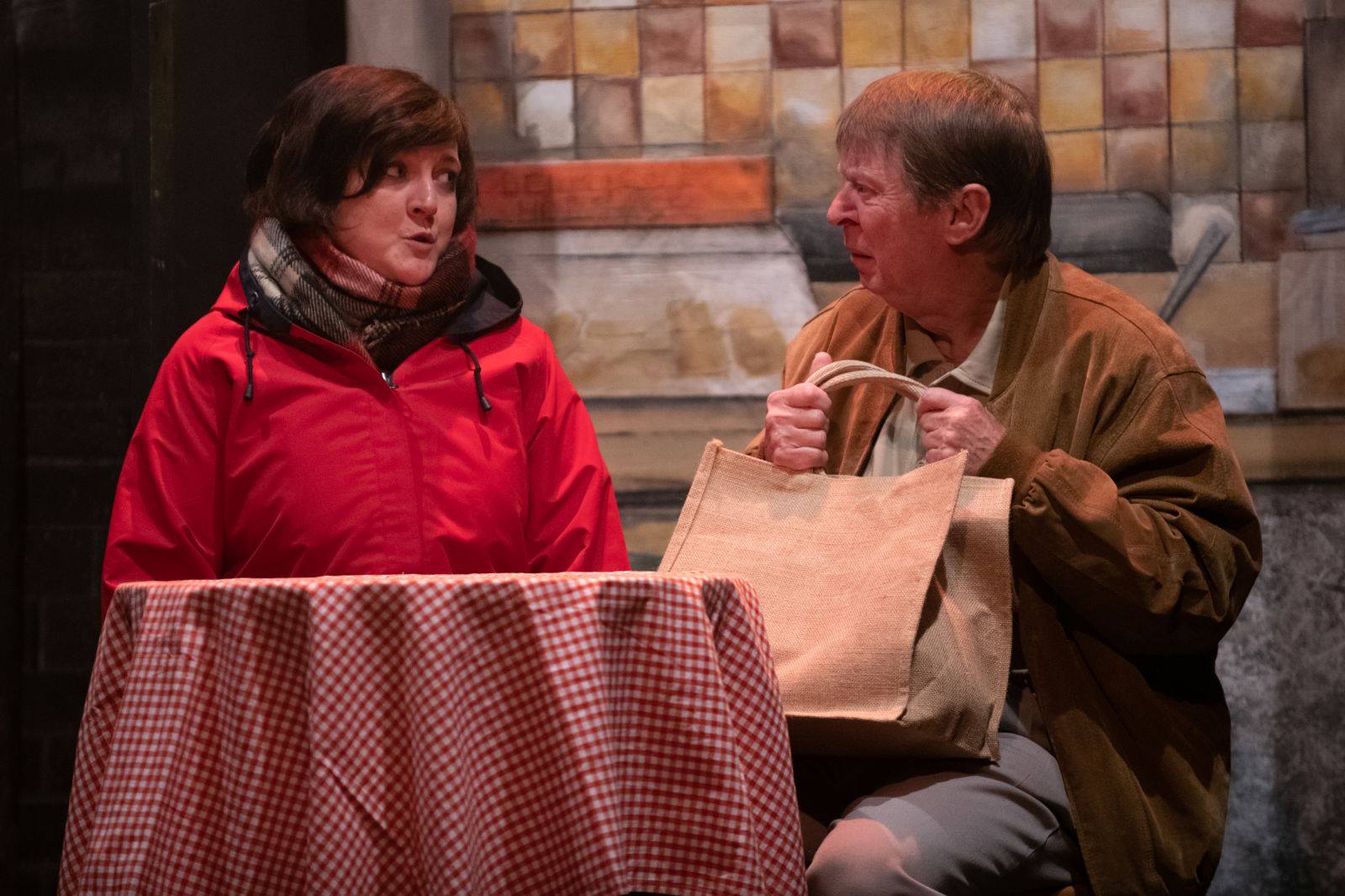 A lot of the scenes crammed in potted versions of various storylines and the pace was sometimes frenzied and a little chaotic but once you realise this is how it's going to be, you really get into it. By contrast, however, I found a couple of the scenes in Act 2 to be overlong and I was surprised they had been chosen over others.
Most of the actors played various roles tonight to great effect. The nuances of the characters were, on the whole, captured perfectly. Many of them were instantly recognisable even if they didn't look like them. Beverley Stuart-Cole as Elsie Tanner and Bet Lynch caught the essence of these two man-eaters perfectly. Her Elsie Tanner was particularly impressive and realistic. Andrew Higson's Ken Barlow was eerily similar and as for Eddie Beasley's Roy Cropper, well, he absolutely nailed the part, right down to the shopping bag which he never let out of his clutches! I think my favourites, however, were Michael Gallagher as the sinister and homicidal pantomime baddie, Richard Hillman and also Charlie Gallagher as Hilda. Hilda had one of the best lines of all time and Charlie paid tribute to it superbly: after Stan has kissed her and asks "what's that lipstick taste of?", Hilda replies "woman, Stanley. Woman!"
The set was imaginatively done using railway arches to great effect with the actors appearing out of them on sliding scenery and the infamous tram crash from December 2010 was recreated in such a way that it got the loudest laugh of the night but no spoilers here, you'll have to go and see it!
By the end we have gone full circle and are back with Blanche and St Peter to round it all off.
It might be grim up north but it's also laugh-at-yourself hilarious at times and to sum up, I would say that this is a warm and affectionate tribute which doesn't take itself seriously and is a wonderful trip down a cobbled memory lane.
Corrie continues at the Garrick until the 15th September with matinee performances on Saturday and Sundays. https://www.altrinchamgarrick.co.uk/shows/corrie/
Reviewer: Nicky Lambert
Reviewed: 6th September 2019
North West End Rating: ★★★★