Towards Zero was written by the Queen of Crime, Agatha Christie, first published as a novel in 1944 and reworked as a play a decade later. It revolves around a summer gathering of friends and family at the lavish home of a wealthy widow, Lady Tressilian, a frail, but sprightly and spirited gal, hilariously played by Garrick veteran, Pat Williamson, who delivers some classic one-liners. "You should never let your affairs interfere with your marriage." (I suspected her straight away.)
Her ward, Neville, is played by David Glover, who shows a wide range of naturalistic acting. (I suspected him straight away.) He rather awkwardly brings his current wife (Lara Hancox) and ex-wife (Arianna Glenton) along with friend and lethario, Ted (Ben Moser). (I suspected all of them.) Thomas (Chris Catney) is the spurned lover of Neville's first wife, a young man who lives in the shadow of his much better looking and more successful (and dead) brother. (I really suspected him.) Then there's wise old Mr Treves (David Reynolds), trusted family friend – and possible murderer? Last but not least, we have Lady Tressilian's hard working, long suffering aide, Mary, (Lindsey Barker). (I suspected her immediately.)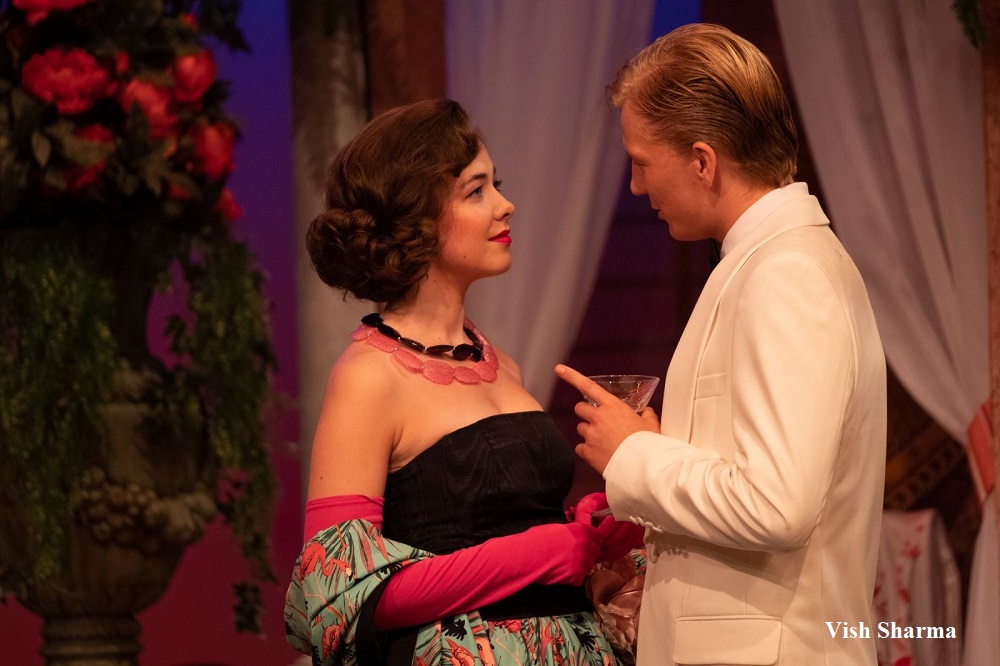 We've got a lot of wealthy but fractious people in one place, we've got a rambling and isolated location on a Cornish river estuary, we've got envies, bitterness and acrimony… we've got summer sunshine, but there is evil under the sun.
The first half does contain a lot of sometimes rather clunky exposition. All the characters and their backstories are laid before the audience and it can be somewhat overwhelming and confusing as a barrage of names, relationships, inter-relationships and situations are fired at you in rapid succession. It's too easy to get bogged down and lose track of who married who and who divorced who, when and why. This is not a criticism of the engaging cast at all, who all performed ably and indeed admirably. The characters are all very clearly delineated and – thanks largely to their excellent portrayals – it all starts to fall into place.
This is a period piece in more ways than one. It was written in a different era, when people could sit through something longer than a viral video on Facebook. It unfolds gradually, probably too gradually for most audiences today, but that's also part of the beauty of it. It's an Agatha Christie, it does what it's supposed to do and almost follows a formula. Thankfully, there is no attempt to bring it up to date, which has seldom worked. It is set proudly, unmistakably in the past and the wardrobe department have gone to town… and come back with a plethora of vintage costumes. The men are always dapper in a variety of formal or casual suits, and the woman are vibrant in an array of florid and sometimes gaudy dresses and trouser suits, creating an effective feeling of yesteryear.
With the characters established, the in-fighting, backbiting, breakdowns, acrimony and threats ensue… and by the end of this endless night one of the assembled players has an appointment with death. In the morning a murder is announced: someone has been brutally bludgeoned in the night… and one of their number is a murderer.
Part two involves the police investigation and the various suspects being interviewed, as they fall under the moving finger of suspicion. This was, unfortunately, less tight than the first half had been, with a few pauses and a few fluffs, but it was still hugely enjoyable. I felt sure I'd worked out who the murderer was; I thought this repeatedly and was wrong every time. I won't give the game away, but the actor playing the murderer was fantastic. When required he – or she – changed into an obvious, but still credible villain. There is an unexpectedly exciting and action-packed finale, which was absolutely thrilling, including some very well-staged physical acting, a bit of a tussle and a few punches thrown, all incredibly well-executed. The audience were loving it.
If you don't like Agatha Christie and aren't a fan of the whodunit genre, then this probably won't appeal to you, but if you do, then it's a beautifully indulgent treat. It delivers everything an Agatha Christie should deliver and at the climax, quite a bit more. The wonderful cast make it look like murder is easy. Incredibly enjoyable.
Reviewer: Gray Freeman
Reviewed: 23rd September 2019
North West End Rating: ★★★★