This unmissable collaboration between Nouveau Riché and Omnibus Theatre shines a light on the experiences of black British women which, in the wake of the #MeToo movement, is more relevant than ever before. Jessica L. Hagan's poignant words are brought to life through a combination of masterful acting and an uncompromising setting that is sure to leave you reeling upon departing the theatre.
Queens of Sheba showcases the racism and sexism faced by black women daily in contemporary Britain, which is deftly referred to as "misogynoir": a term that mainstream dialogues should be more familiar with. Workplace discrimination, unwelcome biases and the perpetuation of prejudice through popular music are just some of the issues explored in this memorable piece of theatre, adapted effectively by Ryan Calais Cameron.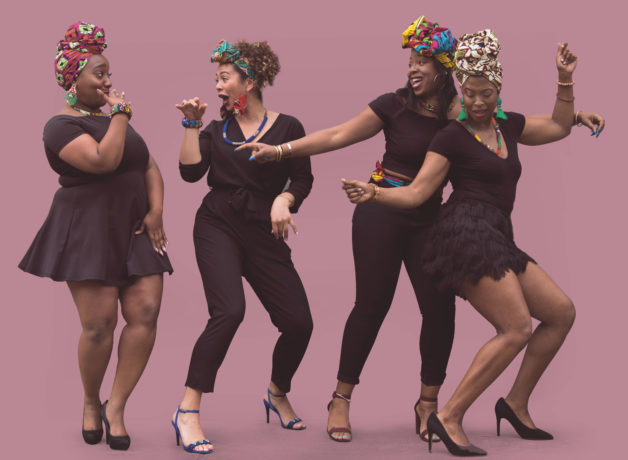 Taking direct inspiration from real-life stories, this production offers an authentic look at the everyday microaggressions directed at black women, and the toll which this inevitably takes. Despite the hard-hitting subject matter, Queens of Sheba also succeeds in evoking belly laughs from the audience at times, demonstrating not only the skills of Hagan as a writer, but also the comedic talents of the four leading actresses. This often sudden contrast between comedy and realism provides a rollercoaster theatre experience worthy of its remarkable reputation.
Jessica Kaliisa's confident direction provides clarity amongst a non-linear structure, adopting an effortlessly intertwined blend of acapella and spoken-word to create a unique and compelling series of narratives. Notably, also, is the powerful use of silence. As an audience member, these moments of drawn-out stillness on stage evoked a sense of vulnerability and contemplation, allowing the poignancy of Hagan's words to stand out even more. Tosin Alabi, Eshe Ashante, Kokoma Kwaku and Elisha Robin excel both individually and as a collective, taking on a variety of often opposing roles through a range of different scenes, executed seamlessly. The use of minimal stage design gives the performers the opportunity to deliver raw and emotional portrayals which truly engage with the audience. All four express unwavering passion behind each line, whilst also displaying genuine chemistry amongst each other to further drive home the powerful theme of sisterhood shown throughout.
Never has a show had such an emotional, long-lasting impact on me post-viewing, and is without a doubt worthy of a five-star rating. Queens of Sheba offers much needed representation for black women in Britain, and demonstrates that a change in prejudice attitudes in desperately needed.
Queens of Sheba will play again at HOME on the 2nd to the 6th of October before moving on to numerous locations across the UK. Check out @OmnibusTheatre on Twitter and www.omnibus-clapham.orgfor all the details.
Reviewer: Cariad Hughes
Reviewed: 1st October 2019
North West End UK Rating: ★★★★★