It is right and proper that our big regional theatres don't do panto so Bolton Octagon have wisely chosen the rollicking Treasure Island for their big Christmas musical.
The Octagon is currently closed for a massive refurbishment, so the matinee school parties are sat in a huge function room at the nearby football stadium watching a six strong cast bring Robert Louis Stevenson's classic to life on James Perkins' expansive set.
All the key elements are here as Jim Hawkins - here reinvented as Jemima – finds a treasure map as she sets off for adventure on the high seas to find the booty before the dastardly pirate Long John Silver gets to it.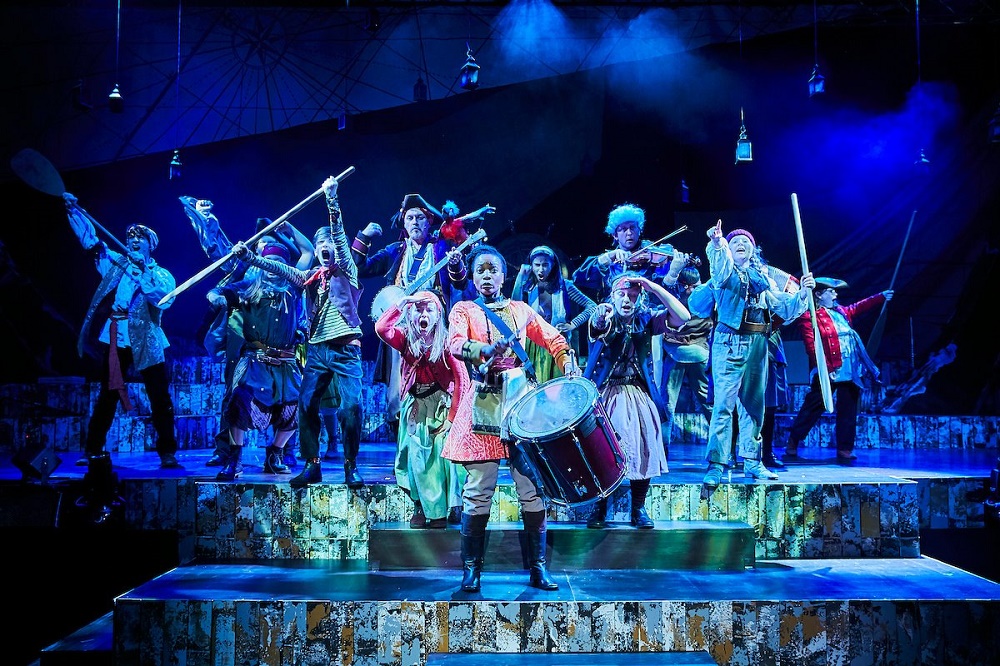 And therein lies the problem as this is a complex tale, and although Kate Ferguson's breezy book does streamline things, it may be too much to follow for the really young theatre goers. Sure, this isn't panto, but the one time the audience can actively participate the noise levels lift the roof off, but they do need to break the fourth wall a bit more, or not bother at all.
Mitigating that is the fact that the cast work really hard to keep the audience's attention, with Ami Okumara Jones a suitable modern and perky Jim bouncing off Jack Lord's Long John Silver who has great fun as the (not too scary) villain of the piece.
Ben Simon's daft local Squire Trelawney is nicely over the top tempered by Heather Phoenix's thoroughly decent Doctor Livesey who teams up with Ebony Feare's dignified Captain Smollett. Tim Jackson's nimble direction really tests the big youth cast who are given plenty to do, carrying it off with great confidence and skill.
The other star of this show are Susannah Pearse's bouncy songs with positive messages that replace the pop hits of the panto world. Uplifting anthems like Worse Things Happen at Sea, Watch Your Ps and Qs and Munity really lift the production, as does a lavishly staged Cheese as the audience finally joins in the action.
The cast follow the current vogue for acting and playing instruments, which they do really well, especially Simon's evocative and punchy violin that really pushed some of the sea shanties along. Oh arrrrr.
There is much to admire in this show, but you can't help feeling that it would have really come to life for this audience in the more intimate confines of the Octagon.
Treasure Island is on until Saturday 28th December. To book 01204 520661 or www.boltonoctagon.co.uk
Reviewer: Paul Clarke
Reviewed: 16th December 2019
North West End UK Rating: ★★★