The Altrincham Garrick Playhouse kicked off its 2020 programme this week with a Murder mystery which once again cemented the Garrick's reputation for delivering high quality productions to a local audience.
This latest production; Fatal Attraction written by Hollywood screenwriter; Bernard Slade originally premiered in 1984 and is a classic murder mystery which keeps you guessing till the very end.
The plot follows movie star; Blair Griffiths played by the talented Antonia Whitehead sorting out her divorce in a Nantucket beach house where she spots a paparazzo who has been stalking her, she takes a bold step in an aim to shake him off and it's left to the unconventional Lieutenant Braden; played by Nick Sample to solve the mystery.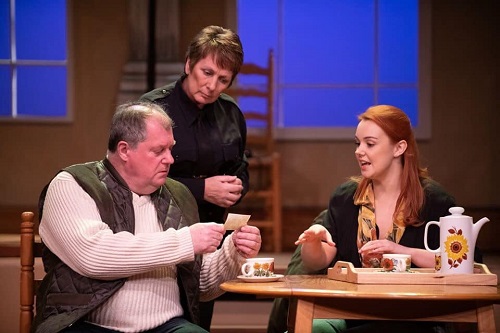 Directed by Bill Platt, the production never feels dull or tiring and although is quite dialogue heavy at times, it's always captivating and you will be hooked throughout, thanks in part to a clever script and an extremely talented cast.
Whitehead plays the role of Blair Griffin with areal air of mystery and it's fascinating to watch especially in one scene as she cross examines Sample/ Braden while he is trying to quiz her, it's very cleverly written and executed perfectly. Sample is believable as a long in the tooth Lieutenant and has a likeable personality that shines through, you immediately want to be on his side, perfect into character.
The paparazzo; Lombardi is played by Sam Evans and his portrayal is just as chilling as one would expect from a stalker, creating an unease and tension which adds to the plot.
Light relief comes from the character; Sgt Doris Aylesworth played by Adele Higson who has mastered her comic timing and adds touches of humour to the story throughout.
Jake Taylor plays Blair's husband; Morgan Richards and Beverley Stuart-Cole completes the cast as her Agent; Maggie Stratton who is full of energy on stage and is always animated.
All the cast manage to master the American accent, something I was particularly impressed about, not breaking even once into a northern English accent.
The staging compliments the production with large windows and a hot tub to create the appearance of a beach house and the props fit the story and setting.
The whole production is delivered to a high standard, just as one has come to expect from a Garrick show. Looking forward to the next.
Verdict: An edge of the seat mystery with a stellar cast!
Reviewer: Max Eden
Reviewed: 20th January 2020
North West End UK Rating: ★★★★