For many years the book that sat closest to my bedside was a Jeeves Omnibus by the masterful Pelham Grenville 'Plum' Wodehouse. I've always treasured the world of Bertie Wooster and his unflappable valet; a quintessentially English place, peopled with indomitable Aunts and hopeless nephews, always getting into scrapes that are resolved in time for tea and crumpets.
In 2013, brothers David and Robert Goodale took one of Wodehouse's early stories 'The Code of the Woosters' (1938) and adapted it into this Olivier winning comedy for a west end audience. Director and Designer Barry Purves, with the assistance of an astonishingly versatile amateur cast, has successfully delivered the madcap, farcical spirit of the original production to the Cheshire stage this week.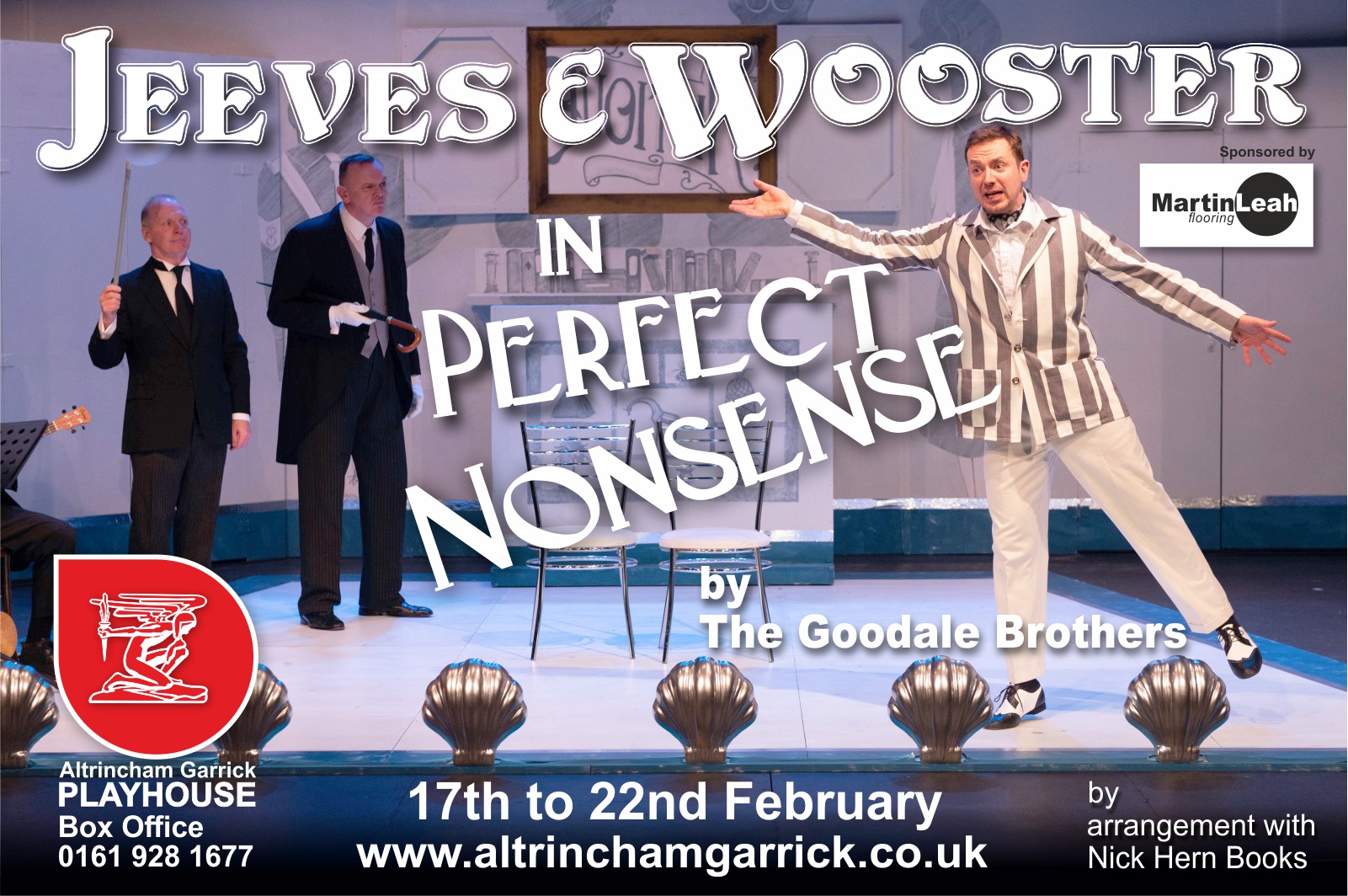 Anyone with a passing knowledge of the 'Jeevesian' milieu, will know that a large part of the beauty is derived from the first person delivery by Bertie Wooster. His unique voice when storytelling is the driving force behind the series of plots and misunderstandings which drive the absurdity. Yet, this humour is very difficult to portray on either stage or screen. Many have tried over the years, with Hugh Laurie coming closest to achieving the blend of gormless stupidity linked with innate likeability, during the '90's television series.
This production cleverly allows Wodehouse's language to shine by breaking the fourth wall, with Bertie Wooster (Jamie Sloan) addressing the audience directly throughout, as he attempts to relate the story of an incident he recently was involved in at Totleigh Towers. His narrative develops into a 'Mise en abyme' (play within a play), with Wooster calling on his Valet Jeeves (Andrew Higson) and the household Butler, Seppings (Graham Simmonds) to portray a variety of characters he encountered.
This structure is deceptively clever as it allows all forms of absurdist behaviour to be incorporated into the evening using minimal sets, props and cast. So, in addition to his portrayal of the buttoned up Jeeves, Higson gets to demonstrate his range as Gussie Fink-Nottle and 'Stiffy' Bing (a female character despite the misleading nickname) to great pantomime effect. Similarly, Simmonds is great value as a wide variety of characters, particularly Sir Roderick Spode, employing an ever expanding balloon to represent the huge head, as well as a group of nuns and a gaggle of geese during an eventful car journey!
Amidst all this madcap nonsense, Sloan is the strong centre that holds the piece together. He displays admirable froideur throughout, especially when exiting a bath with nothing more than a rubber duck to hide his modesty. The portrayal of Wooster was engaging and faithful to the spirit of the character, also his skilful stagecraft covered a few opening night blushes with scenery and lines from his fellow cast and crew, without the wider audience being aware of the errors.
Purves design gives a nod to Art Deco and the simple stage is complimented by knowing use of props and costuming. Virtue is made of vice with the cardboard cars, statues and furniture adding to the pretext of Bertie's 'play within a play'. The UkuHalee Band, onstage throughout provided spirited musical accompaniment, as well as acting as foil to the company. I look forward to their forthcoming performances in USA (Urmston, Sale & Altrincham) throughout the Summer months.
Wodehouse is a deceptive author, ostensibly his work is light as a feather but it's chock full of classical allusion with frequent biblical, mythological and Shakespearean references. This shows a writer who wears his learning lightly and has a deep understanding of the way farce can hold a mirror to current events. The plotting of his books is similarly dense and convoluted. This production slightly lacked the clarity of exposition required, the recap at the beginning of Act Two was much needed by most of the audience and there was some confusion in simple storytelling due to the myriad number of characters displayed.
However, what is missing in subtle nuance was balanced with a feeling of shared fun, throughout the evening. The cast clearly had as much fun producing this excellent show, as the audience did watching it. It sent me home to reread Wodehouse in high spirits.
A top notch spiffing show!! https://www.altrinchamgarrick.co.uk/shows/jeeves-and-wooster/
Reviewer: Paul Wilcox
Reviewed: 17th February 2020
North West End UK Rating: ★★★★