Bolton Octagon have pulled off a real coup by persuading Willy Russell to relocate his frustrated housewife who finds a new life from her traditional Merseyside lair up the M62 to Accrington.
It was the brainwave of the theatre's Artistic Director Lotte Wakeham and Mina Anwar who takes on this King Lear for actresses of a certain vintage. The resetting works perfectly as East Lancashire native Anwar uses their own accent and she tweaked the script to add local references.
This bittersweet classic touches on class and gender stereotypes, but it's really about lost dreams and having the courage to find them again. Russell created a one-woman piece for an older actress so they would naturally have all the emotional range and firepower needed to take on 15000 plus words, with nowhere to hide if they aren't up to it.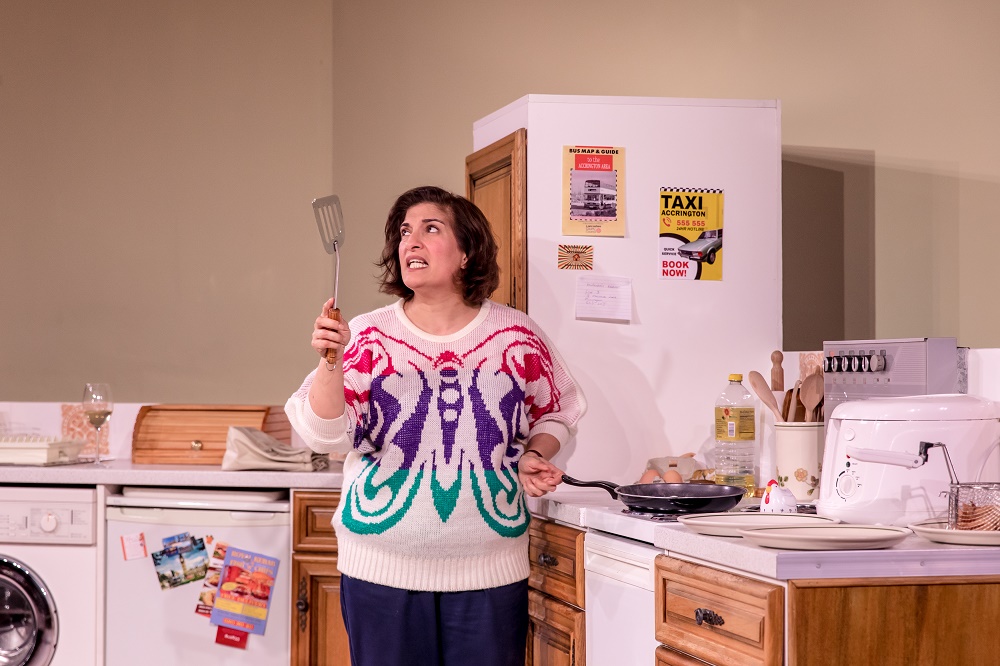 From the moment Anwar onto comes this temporary set at Bolton Library she wins the audience over pottering round making egg and chips – which she does live as she tackles the text - for her husband who she has fallen out of love with, and agonises over taking a two week solo holiday to Greece she knows the idiot she lives with will veto.
In the long first half in her suburban kitchen that also operates as a cell the lonely Shirley only has a wall for company, and Russell smartly uses that blank space as a semi character that Anwar bounces his still witty lines off with impeccable comedy timing.
As well as nailing the gags, Anwar has the depth in her work needed to bring to life a motley supporting cast, including an up herself next door neighbour, her feckless grown up kids and an old school rival turned hooker. In some ways a piece set and written in the 1980s could seem dated, but the knowing laughs ringing round this intimate space suggest that loveless marriages and thwarted ambitions are still not unfamiliar.
The much shorter second half sees Shirley taking the plunge on a Greek Island rediscovering the feisty woman she lost in herself with a rock replacing the wall as Shirley's mute sparring partner. Anwar masterfully changes Shirley's body language to show the new woman emerging from her self- imposed cocoon.
Wakeham's unfussy direction wisely lets a top-flight actress find her own voice, but she deftly uses props and movement to make this a dynamic Shirley despite there being only one person onstage
Relocating Shirley is a masterstroke because as Russell saw when presented with the idea of relocating the Lancashire accent is just as musical as the original Scouse, but maybe this should be the model for all future productions because Shirley is an everywoman who renders geography irrelevant.
Shirley Valentine is at Bolton Octagon until Saturday 29th February. To book This email address is being protected from spambots. You need JavaScript enabled to view it. or 01204 520662.
Reviewer: Paul Clarke
Reviewed: 17th February 2020
North West End UK Rating: ★★★★