To say I was excited regarding Joseph's Houston and William Whelton's announcement that Hope Mill was to stream an online concert is an understatement!
Hope Mill should currently be hosting rehearsals for their upcoming show of Cinderella but unfortunately due to the situation in the UK all theatres have gone dark. Until the theatres reopen theatre goers are hungry for the entertainment they love most in live theatre and Hope Mill has never disappointed anyone who has attended this stunning venue. So, what could be more fitting whilst rehearsals are on hold to host an online concert to showcase the wonderful work of the American Lyricist Oscar Hammerstein and American Composer Richard Rodgers.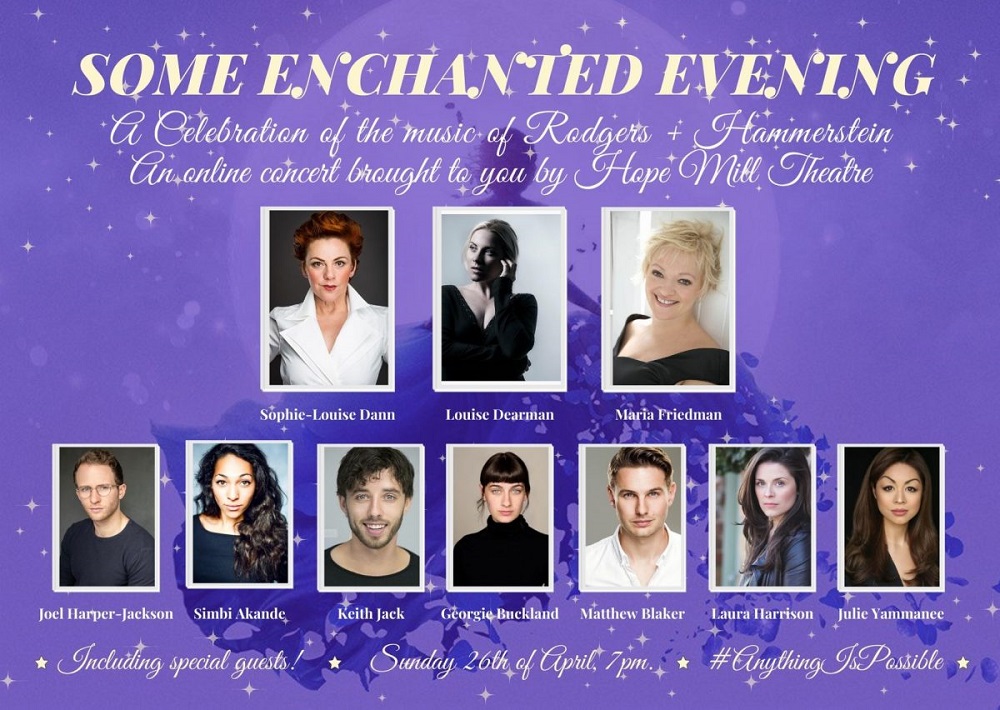 'Some Enchanted Evening' is a celebration of the music of Rodgers and Hammerstein work such as Carousel, Allegro, The King and I, South Pacific, The Sound of Music, Oklahoma and Cinderella. With a fantastic line up of stars announced for the online concert had me hugely gripped for what promised to be a remarkable evening.
I make no secret that Hope Mill is my favourite venue in the UK, Joe and Will makes this theatre space the most phenomenal experience with their friendly and family atmosphere. I am sure there would be a huge amount of people in mourning if this theatre were to close due to financial difficulties, so this is a perfect opportunity to help this amazing couple by donating to watch the concert - throughout the stream you are prompted on how you can donate from as little as £5 to £20 by texting 70085.
The concert is pre-recorded with guest hosts speaking in-between each performance and all actors and actresses singing from their homes. 'Some Enchanted Evening' has a magnificent amount of talent with performers such as West End stars Sophie-Louise Dann, Louise Dearman, Keith Jack and triple Olivier Award winner and musical theatre star Maria Friedman. Guest hosts include an array of people/patrons who have been or are presently attached to Hope Mill Theatre with special appearance from American Musical Composer Stephen Schwartz.
Throughout the stream you are given fun facts about each individual show and the history of the production by various host, the cast of Cinderella are also included in the concert with their very own Cinders Georgie Buckland singing beautifully throughout her number.
Personal highlights were from the sensational Laura Harrison singing 'I Cain't Say No' from the show Oklahoma, Joel Harper Jackson's seductive version of 'If I Loved you' from Carousel and Cinderella's very own Mathew Blacker with his breath-taking rich vocals had me covered in 'Goosebumps' whilst listening to him sing a piece from the show.
A stunning tribute at the end which I have to admit brought a tear to my eye "You'll never walk alone" and that's true of Joe and Will as they have so many people behind them wishing them well and a prosperous future at Hope Mill.
This is a must-see online concert for anyone who loves musical theatre or who wants to help this amazing couple sustain Hope Mill Theatre, 'Some Enchanted Evening' will be available for viewing until 3rd May HERE.
Well done Joe and Will another fantastic performance created by my favourite duo in the theatre world. I had to delete my intoxicated version of Do-Re-Mi as the embarrassment and shame kicked in when sober…… cheers boys….
Keep safe and do not miss this outstanding online concert which can be viewed until 3rd May 2020.
Reviewer: Katie Leicester
Reviewed: 26th April 2020
North West End UK Rating: ★★★★★