Whether you are in party mood or just want to be guaranteed an entertaining night out, there is no better place to be than in the audience at the Grand Theatre Blackpool on any Tuesday night from now, until and including 30th August to for the Chicago Blues Brothers show. Donning trilby hats and shades is optional but you won't be out of place as Chris Hindle and Gareth Davey dance onto the stage as Jake and Elwood Blues to 'Soul Man'. These guys are so full of energy and happiness that you just can't help being swept away by the enthusiasm and I can guarantee that you will be singing and dancing along before you know it.
The Chicago Blues Brothers are supported by an amazing four piece band with Paul Boocock on drums, lead guitarist JP Levell, on bass guitar Paul Crouch and Justin Dodsworth on keyboards. Also we are treated to the skills of the' horny' section (Jake and Elwoods name for them and not mine!) with Sam Houghton on saxophone and Adrian Gibson on trumpet. Unfortunately I have only the first name Dale of the trombone player who was standing in for the regular player, but with his performance you would not have known he was a newcomer! All of these talented artists exude the fun factor of the show and you can see they love what they do.....if they don't, then they are first class actors!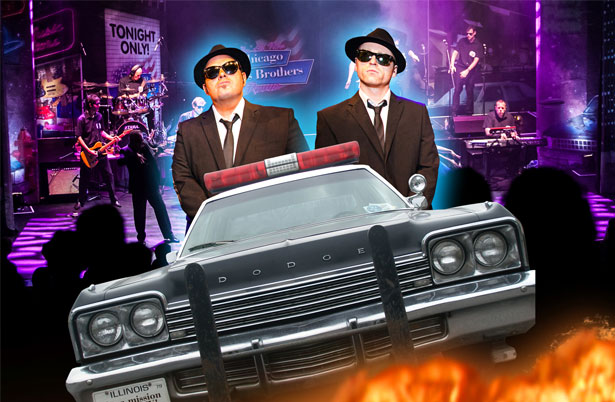 No show would be complete without glamorous backing singers and this is no exception with the wonderful vocals of the Sweet Soul Sisters, Bridie May Miller and Laura Erby. Miller performed a couple of Aretha Franklin songs 'Think' (Freedom) and 'Respect' and was joined by Houghton with the saxophone, both giving an incredible performance. This was equalled by Erbys' rendition of 'Proud Mary', both of these girls can own the stage as shown during 'Rescue Me' and present a confident and professional manner.
Onto the (main) stars of the show..... Hindle and Davey (Jake and Elwood respectively), they are born entertainers with a chemistry between them that reflects in their performance. They work fantastically together and the energy they have is unbelievable as they sing and dance through an incredible amount of songs. Davey has a wide vocal range and has a fabulous deep bass as shown during 'Rawhide' but reaches all the high notes on other songs despite suffering from a chest infection this evening. Hindle adds even more comedy to the show introducing The Reverend Brown and 'Sex Machine'. The audience, although low in numbers tonight needed no encouragement to join in with 'Flip Flap and Fly ' and certainly knew how to 'Shake Your Tail Feathers'.
There is a very artistic stage backdrop of a Chicago street scene which was designed by drummer Boocock who also co-produced the show along with producer Chris Hindle. A special mention should go to the lighting department who were 'spot on' (pun) with perfect timing for highlighting the audience at key points of songs. The overall show is one of professionalism with a whole load of fun and will leave you with the feel good factor afterwards.
Shake away those Blues and get along to a show!!
The Chicago Blues Brothers plays the Blackpool Grand Theatre every Tuesday night until the 30th August. For more details of how to book click https://www.blackpoolgrand.co.uk/event/chicago-blues-brothers-2/
Reviewer: Jeanette MacPherson
Reviewed: 26th July 2016
North West End Rating: ★★★★★