Elaine Paige, doyenne of the Musical Theatre was at Manchester's Bridgewater Hall this evening as her fourth stop on her latest tour, which, in her own words is very much a 'stripped back' concert; just a 5-piece band, a microphone and her.
Born in 1948 in Barnet, Ms. Paige's career has simply gone from strength to strength and has endured and delighted over 6 decades. She made her professional debut at the tender age of 16 in a touring production of 'The Roar Of The Greasepaint; The Smell Of The Crowd', and her West End debut came just 4 years later being part of the ensemble for 'Hair'. It was in 1978 however that she took the world by storm, and starred as Eva Peron in Lloyd-Webber's 'Evita', thus winning her wider critical acclaim and bringing herself to the attention of the Musical Theatre world - and me! I am proud to say that I was, aged just 11, an audience member enthralled and totally in love with what I was watching!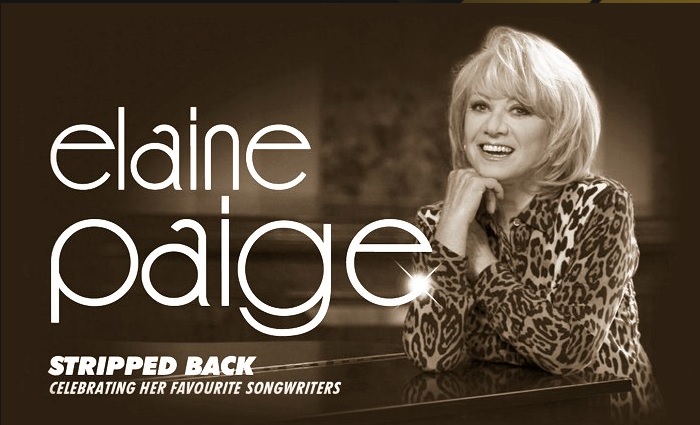 Since 'Evita', Ms. Paige has created the role of Grizabella in 'Cats'; performed leading roles in the West End productions of 'The Drowsy Chaperone', 'Anything Goes', 'Chess', and made her Broadway debut in 1996 playing Norma Desmond in 'Sunset Boulevard'. But that is just a micro-slice of this multi-award winning lady's amazing and seemingly unstoppable career.
And tonight, we were privileged to see the real Elaine Paige; no fancy costumes or character to play, just her, chatting candidly to us, delighting us with anecdotes from her early career and life, and most of all showing us in both words and song the music which has inspired her and stayed with her over the years. Surprisingly, most of this wasn't actually from Musicals at all, but came from the pens of popular songwriters such a Newman and Webb.
To start with she did however sing a song from a Musical; Steven Schwartz's 'Pippin', and the song, 'Magic To Do'. Her choice of music favoured more ballads than anything and went through such standards as Paul Simon's '50 Ways To Lose Your Lover'; Carol King's 'One Fine Day', The Beatles' 'Yesterday', and a lovely and touching tribute to her older sister Marion; Jim Webb's, 'If These Walls Could Speak'.
Of course fans were not disappointed either since she interspersed these with those Musical hits for which she is so famous; and so we were treated to a solo rendition of the duet, 'I Know Him So Well' from Chess; 'With One Look' from Sunset Boulevard, and of course, 'Memory' from Cats.
And proving beyond all doubt that at 68, she still has 'it'; she danced and sang her way through Webb's 'McArthur's Park'. Her voice still sounds young and fresh and the long sustained and high notes which she had to sing not only in this song but at the end of some others too were pure and without vibrato. Just beautiful!
But before any of this happened, the audience was able to hear a few numbers from just her band; most of which, if I am to have understood correctly were original compositions from the band leader and Ms. Paige's Musical Director, John G. Smith.
Musical Theatre aficionados will surely know this name already, as he is currently the Musical Director for the West End production of 'Beautiful!' (Carol King); and has previously conducted countless shows including Les Misérables, Starlight Express, The Lion King. Jesus Christ Superstar and Fame. But here we got to hear him too as he played and sang a few items he had written himself. His music is very much influenced and infused with American jazz and I really enjoyed listening to it. I am not sure I have the titles correct but, 'I Need To Think It Over' was my personal favourite and I really enjoyed the instrumental piece inspired by the two sisters from Yorkshire separated at birth and reunited 50 years later, 'Too Far To Walk'.
With John G. Smith (keyboards and vocals), were James Graydon (guitars and vocals), Zoltan Dekany (bass), Dave Elliott (drums), and Andy Panayi (saxophones and flute).
It was a once-in-a-lifetime opportunity to watch the lady who has quite rightly been given the epithet 'First Lady Of Musical Theatre' in an intimate, informal concert of epic proportion! A thousand times 'bravo!'
Her tour continues with dates up and down the country until the 18th December when her tour ends with the final concert at London's Drury Lane Theatre. Tour dates and tickets here: http://www.gigsandtours.com/tour/elaine-paige/
Reviewer: Mark Dee
Reviewed: 8th October 2016
North West End Rating: ★★★★★