Pink Martini was founded in 1994 by American, Thomas Lauderdale. The band is inspired by music from all over the world and perform using different genres of classical music, jazz and pop. Initially, it was created to provide nicer soundtracks for political fundraisers for worthy causes.
Vocalist, China Forbes - a friend of Lauderdale's - came on board one year later and they began to write songs together. Their first collaboration, "Sympathique" became an overnight sensation in France and became a mantra for striking French workers. There are a dozen musicians in Pink Martini and they have performed all over the world, collaborated with numerous artists and had various special guests appearing on albums and on tour.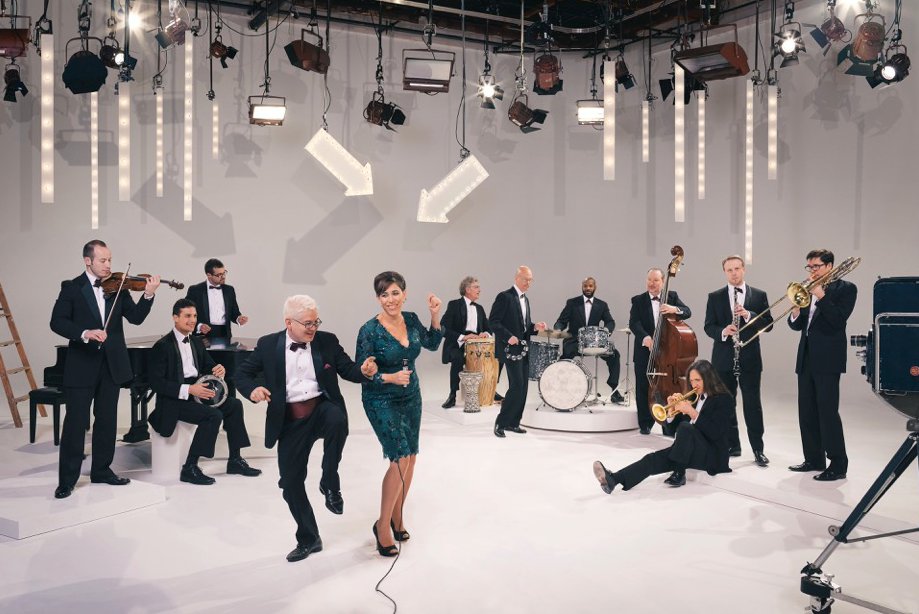 Having only recently made the acquaintance of Pink Martini (thank you, Spotify), I can honestly say I have never encountered a group who embrace world music so broadly. They sing in English, French, Armenian, Portuguese, Arabic and Farsi...to name but a few...! The style is laid back, elegant, vintage cool, sometimes with upbeat Latin rhythms, sometimes with a real 1920s and swing feel. The songs are made up of different styles and genres and it all really works. For example, 'But Now I'm Back' combines African rhythms with a swing beat and it's fantastic! Basically, there is something in there for everyone. The music is fun and lively and it's really great to listen to, even if you don't know the songs – because you don't need to, the joy of the melody infuses you and makes it impossible not to join in somehow.
Right from the first song, 'Amado Mio', my feet were tapping and I had to supress the urge to break into a Cha Cha. The melodies are instantly accessible and likeable and China's vocals are stunning. Not being a huge fan of female vocalists, I'm not easily impressed but she won me over completely. Her voice is pure and strong and, well, simply gorgeous to listen to.
'Ich Liebe Dich' was a great song and I switched from wanting to Cha Cha to wanting to Quickstep. The rhythm and tempo of their music is simply irresistible, it is music to sing, dance and be happy to!
Timothy Nishimoto sang 'Yolanda' whilst playing percussion and he too couldn't resist the urge to dance. His vocals were also quite mesmerising.
There was a lot of audience participation tonight. One lady was invited onto the stage to play the triangle – and she certainly made the most of her fifteen minutes of fame. I'm not sure whether it's a Manchester thing or whether Pink Martini bring out the extrovert in their fans but people were certainly not backwards at getting up on the stage when invited to do so – at one point I counted about 40 people who took their place on stage to 'get up and dance'.
They performed five songs from their brand new album 'Je dis oui' in the first half and then we had some cheeky product promotion from Thomas Lauderdale but he did it in a humorous and entertaining way!
The first half ended with a lot of the audience on stage to dance to an instrumental song. Whilst I did enjoy the music, it did go on for quite a long time and after I'd witnessed every style of movement on stage from Dad dancing to wannabe Charleston, I thought it was going on for a little bit too long.
Into the second half and we had a few classics, including 'Sympathique' and 'Hey Eugene'. Again, the audience were invited to come up on stage, this time it was "do we have any Greek people in the audience". I was a little confused by this whole episode...the eight or so Greek people stood behind China and seemed to know what to do and what they were singing but no reference was made to them – so I was a little lost as to the meaning of it but they seemed to enjoy themselves. During 'Pata Pata', the audience were encouraged to get onto their feet – this is a real bugbear of mine as if you don't want to, or are unable to stand up, you have your view obscured by all those in front.
The encore was 'Brazil' - and the audience were encouraged to get up onto the stage (again) and form a huge conga line so that Thomas could film it. This was hilarious to watch and everyone was laughing and smiling – a really fun way to end the evening.
The music and songs of Pink Martini are made to dance to. This is real music performed by real musicians and it was a joy to watch and listen to them tonight. The ambience is warm and welcoming and they perform in a relaxed and easy style. If effortless cool, combined with vintage style, swing and elegance ticks your box, then Pink Martini are for you.
Reviewer: Nicky Lambert
Reviewed: 31st October 2016
North West End Star Rating: ★★★★★