Presented by JMG Music Group and direct from Ireland, the audience at the Theatre Royal St Helens were treated to an evening of classic country hits featuring the songs of many of the great American artistes which included Dolly Parton, Patsy Kline, Johnny Cash, George Jones, Kenny Rogers, Merle Haggard, Don Williams and Alan Jackson, featuring Joe Moore, Tracey and Rod McAuley and the band Keltic Storm, who performed together to bring us 'The Legends Of American Country Tribute Show.'
The audience participation with toe tapping, clapping and singing along, began from the start along to 'Blanket On the Ground' performed aptly by husband and wife, Tracey and Rod McAuley followed by 'Country Roads'. Relating a tale of Johnny Cash visiting Ireland and writing a song which was released in 1961 about the Emerald Isle, Rod, also playing guitar, delighted with '40 Shades of Green' and other Johnny Cash hits. He also performed several songs of Don Williams during the show.
Billed as one of Irelands top female country stars, Tracey, from Co. Down, has been singing and performing from a young age and took on the songs of the late Patsy Cline including the memorable 'Crazy' and several Dolly Parton hits, 9-5. There was a medley of Kenny Rogers numbers performed by Joe Moore and Rod together, so I was a little disappointed that the Dolly Parton and Kenny Rogers iconic 'Islands In the Stream' was not included in the playlist.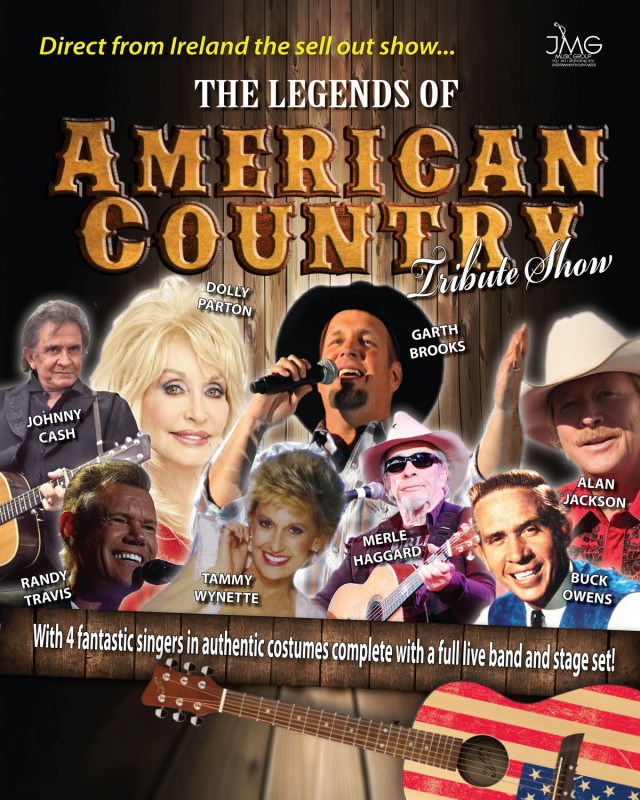 Joe has an amazing deep voice and his rendition of 'The Old Rugged Cross' was a particular favourite of mine tonight. Amongst records of other great country artistes, he performed a song originally written and sung by Merle Haggard, 'Mama Tried' which, as with most country songs, has a story to tell, this one being about a young man in prison.
Keyboard player and singer in the band, Keltic Storm, James McGarrity took lead vocals with a moving song 'The Dance'.
Many associate tribute acts with the artistes being impersonated in every way, from voice, look and style but this show does not represent that. The singers do not emulate the legends, they celebrate their music and songs, each performing several sets and giving a superb accolade to them. Although not a follower of country music I was familiar with many of the songs this evening and those I wasn't I enjoyed just as much. The sound was good, all voices could be heard clearly and the band perfectly complimented. Lighting was simple, but I did find the stage setting a little distracting with too many posters on display.
The backdrop featured a large image of the singers who were portrayed tonight which was repeated on smaller scale on each side of the drums. There was also a poster advertising JMG Music Group and a promotional poster of Tracey McAuley fronting the stage, which are unnecessary. Two other backdrops with the words 'The Ole Opry' were also displayed which is possibly a referral to the weekly country-music stage concert in Nashville at the Grand Ole Opry. With band members and singers totalling seven, plus seven stars and stripes American flags also adorning the stage, it made it all appear very cluttered. Although advertised as being in the show Evan O Donnell did not perform and there were no reasons given for his absence.
The debut album 'Ways of Man,' was available to purchase of the band Keltic Storm featuring 12 tracks of country and folk songs.
Reviewer: Lorna Weekes
Reviewed: 10th February 2017
North West End Rating: ★★★★