Billed as musical powerhouse of a show guaranteed to take you on a journey through the decade that changed the face of music and culture, Twist and Shout certainly didn't disappoint its Liverpool audience at The Epstein Theatre.
With non-stop 60's sings, this show quite literally left the audience (many of whom were around in the 60's) on their feet, dancing and singing in the aisles. A real crowd pleaser, and in Liverpool the home of many of the songs on the playlist, was guaranteed to be a winner.
There is a very thin storyline to Twist and Shout that supports the songs, but nothing that could be described as definite plot. That is fine though, as this is definitely more of a fast paced music show than a jukebox musical. With six Lead Vocalists (three male and three female) who ploughed their way through what seemed like every popular song in the 60's songbook. As they are listed in the programme we know for certain that there were 55 songs in total spread over two Acts.
Without doubt all six Lead Vocalists gave powerful vocal performances throughout, each taking their turn to sing solos, duets and ensemble numbers with clear enthusiasm and passion. Each number was choreographed by Suzi Budd with authentic 60's dance moves such as the Frug, the Twist and the Watusi and each Lead Vocalist approached these with strength and confidence.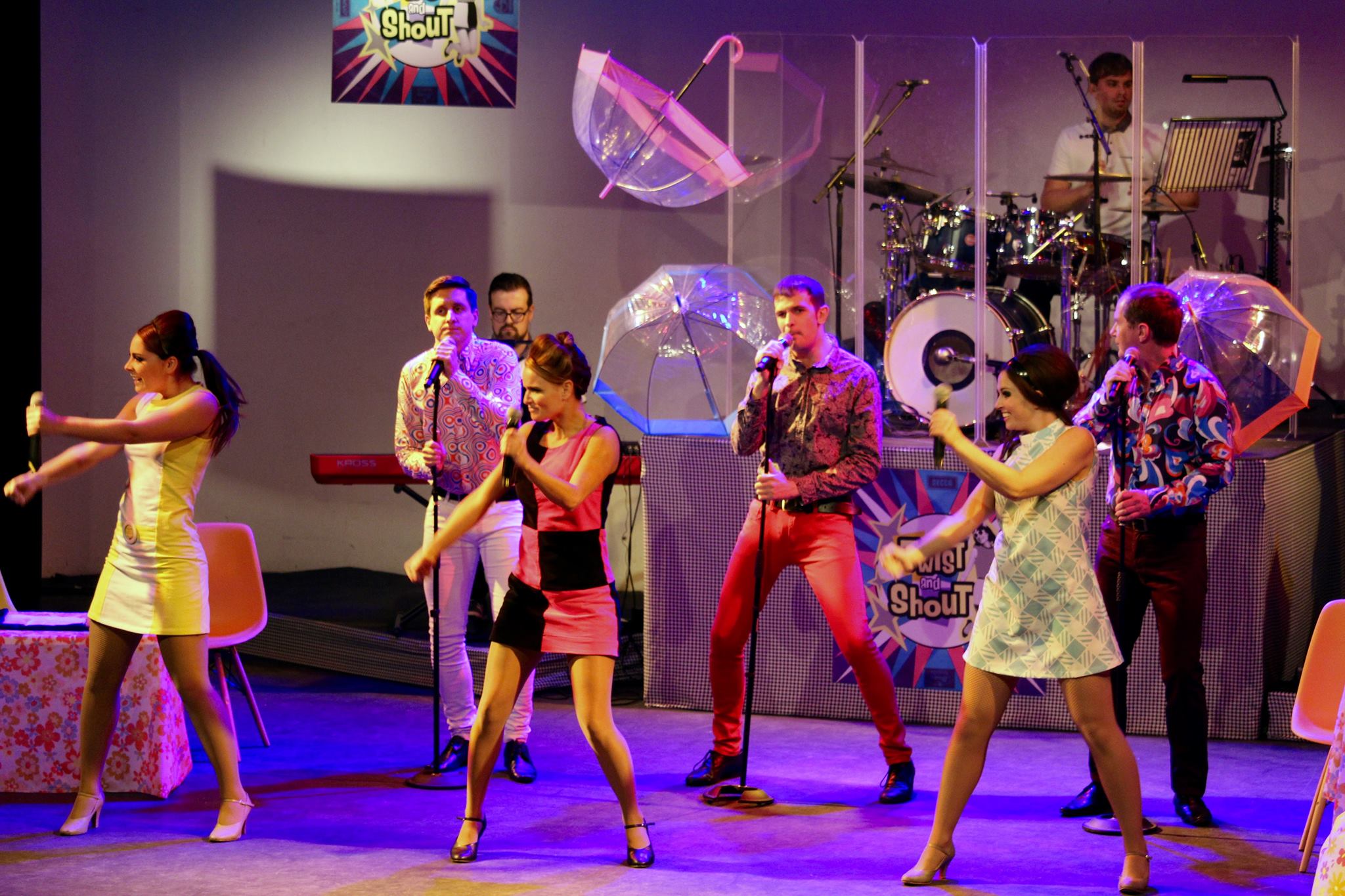 The stand out performances tonight came from Sophie-Mae Meeson with a powerful version of Dusty Springfield's "You Don't Have to Say You Love Me" in Act One and a breath taking rendition of Cilla Black's "Anyone Who Had a Heart" in Act Two.
The other star of the night was Mark Woodford who consistently drew attention away from the other performers with high quality vocals and convincing acting ability. Woodford took lead on many of the songs performed throughout the show which was a positive for the Liverpool audience as he demonstrated real talent tonight and was quite believable as a 60's musical heartthrob.
Huge recognition goes to the band tonight, led by Greg Arrowsmith (Musical Director, Arranger and Keyboards) who quite literally didn't stop playing and who expertly appeared to master every musical style and genre of the 60's.
From a technical perspective Twist and Shout appears very low budget with basic staging, props and lighting. However, this certainly helped to support that this show is 100% all about the music as there was nothing else on stage to detract from that. It was impossible not to notice the many costume changes though, so a special mention has to go to Susan McFarland for her authentic 60's Costume Design that really complimented the musical numbers.
This was a pleasing sing-a-long musical show that is sure to please the audience that it attracts and will continue to do well in the smaller venues in which it is billed.
Twist and Shout continues on full UK tour throughout the year until November: www.twistandshoutshow.co.uk
Reviewer: Alan Stuart Malin
Reviewed: 4th March 2017
North West End Rating: ★★★