So who was this lady who strutted and pouted across the stage paying tribute to one of the biggest female rock stars of all time who is able to put on a show worthy of the title of Best Female Artist at the National Tribute Music Awards 2016? Whose dancers took the 'Best Choreography' and whose production team took 'Best Sound and Lighting at the same awards? Look no further than Justine Riddoch, a talented artiste who guarantees you a show that will leave you in no doubt that every attention to detail has been meticulously covered.
After winning ITV's 'Stars in Their Eyes' in 2002 as Anastacia, Justine continued as a tribute over the following years but as Anastacia's popularity diminished she knew she had to take a new direction and after being likened to Tina Turner on many occasions she set herself the daunting challenge of becoming the closest representation of her.
Close your eyes and Tina was there, open them and she was still there! Justine and her dancers and band are outstanding with one of the best tribute shows I have been to. From the opening dramatic start with everyone on stage for 'Steamy Window's' to the finale of 'Simply The Best' not one minute did the standard drop, the dancers excelled with energetic routines but did not distract from the star performer in any way. The band consisting of drums, two guitarists, sax and keys were amazing and the duet between Jimmy (lead guitar) and Justine with 'It Takes Two' was another treat for the audience. Lighting and sound complimented and there was a also a back drop subtlety screening various images throughout the performance.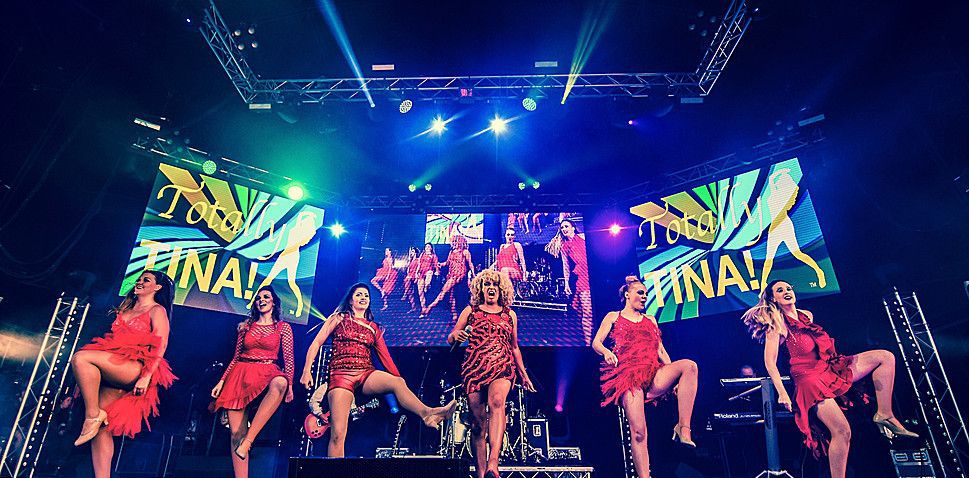 Needless to say the audience were wild about the act from the minute the show started. This is not just some stage production, this is a full on concert show, worthy of filling arena's. The costumes of the dancers were wonderful, sexy and sparkly as you would expect and Justine's were fabulous recreations of Tina's and she looked absolutely stunning complete with Tina's 'big hair' wig as she sang, danced and recreated the infamous strutting dance moves on high stiletto heels, no mean feat!
I could not possible pick out a best moment of the show, Justine has great stage presence and involves the audience and her band continually. A touching moment was showcasing the 14 years old niece of one of the band members, allowing her to join her dancers on stage for a song. Well done Alicia you were amazing and showing a great talent, a future awaits you on stage.
Totally TINA! has all the hits, plus some unexpected, such as Peaches and Herb's 'Shake Your Groove Thing' which had the theatre audience up and dancing along (Although not needing encouragement as many were dancing at their seats and in the aisles seemingly almost mandatory from the first notes belted out!)
Totally TINA! is Totally Terrific, A fitting tribute in every way with pure passion pulsing through the whole performance. You leave the theatre feeling you have actually been to a top stars concert. For further touring dates and info: http://www.totallytina.co.uk
Reviewer: Lorna Weekes
Reviewed: 19th May 2017
North West End Rating: ★★★★★