Set in the conference room of the Floral Pavilion, arranged in a table and chairs fashion, The Paul McCartney Anthology was there to entertain us in a relaxed environment.
The five-piece band, fronted by Neil Tudor were to play an array of numbers from The Beatles, Wings, and Paul McCartney's solo career.
Proceedings started with 'Got to get you into my life' which was a perfect choice to get the audience excited about the evening ahead. The energy, music and vocals were both accurate and inviting, and the anticipation of what might come next was felt throughout.
However, despite the next song being the infamous Wings number 'jet', the show took rather an early low point. The song was weak, uninspiring, and worst of all often out of tune. The tuning problems seemed to be in relation to the harmonies. Jed Flowerday just couldn't seem to hit the right notes, and his harmonies seemed flat and awkward. I initially put this down to nerves on his part, but then it continued on into 'Drive my Car', where the whole arrangement was sloppy, and quite frankly a bit of a 'car crash'.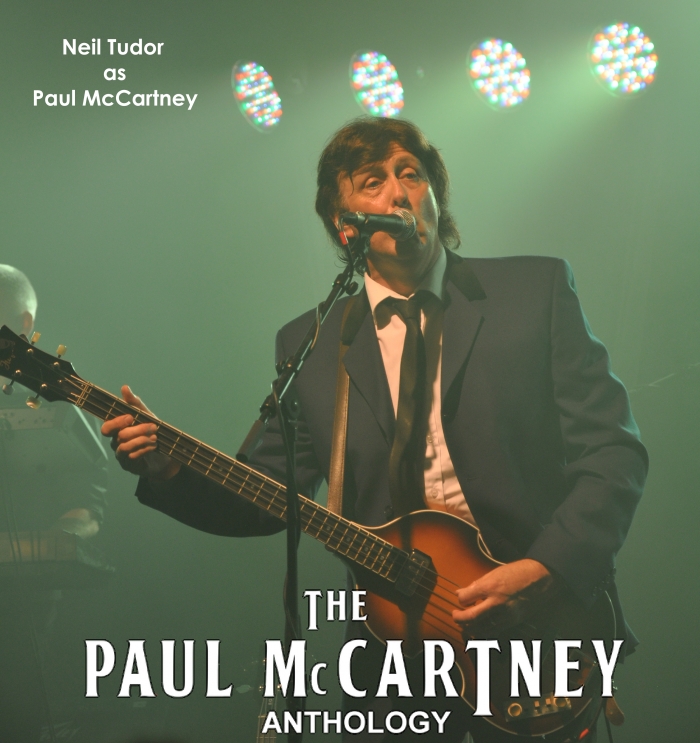 Thankfully things started to pick up again with 'Letting go' and this paved the way for a run of well performed songs, which was a reassurance for being there.
Tudor started to shine, showing what he was capable of both musically and vocally, even playing his guitars left handed which was great to see, as few McCartney tributes (in Beatles bands) tend to do that.
Flowerday's vocals took a huge turn for the better, and his playing of various guitars was immaculate all night. It was brilliant to see and hear the others coming into their own as well. Andy McColl on Keyboards, Lance Donnelly on drums, and Steve Chan on guitar. Each musician clearly gifted in their own right, and played with precision.
It all seemed to be moving along successfully now, that was until it came to 'Yesterday' and 'Eleanor Rigby'. Unfortunately, two songs which I normally enjoy getting lost in were a bit of a struggle. Both for the artists to play, and the audience to hear. It seemed to form the pattern of the night, wherein five clearly talented musicians, couldn't always get that collective element right.
That said, there were some wonderful renditions of some classic songs, and the highlights of the first half seemed to come when Tudor took to the piano. 'Let it Be' and 'Maybe I'm amazed' were faultless, which led on to 'Band on the Run' which was probably my personal favourite of the evening.
The second half arrived, and again it was more of the same, inconsistent. There were some fairly average performances in the likes of 'Helen Wheels' and 'Can't buy me love' but then some outstanding performances in the likes of 'Live and Let die' and 'The long and Winding Road'.
It must be noted, that throughout the up's and downs of the show, most of the audience were having a highly enjoyable evening. There were many people up dancing for a lot of the second half, and people were very eager for the band to come back and do an encore, which they did.
Despite having experienced the show as being quite patchy, I was still glad to have been there. When they were good, they were fantastically good. It was just a shame that it went alongside much weaker sections. I would still recommend that Paul McCartney fans go and see it, but just don't expect too much, to avoid disappointment.
Reviewer: Sara Woodruff
Date: 30th June 2017
North West End Rating: ★★★