Well the evening was certainly 'party central' as one member of the audience shouted, with an evening packed full of 2 and a half hours worth of some of the 80s best known hits from iconic artists.
Whilst in parts this tribute act was a little 'cheesy', from memory 'cheesy' was probably synonymous with 80's pop culture as a whole. The performers completely got into character and uded an air of believability with just the right smattering of tongue in cheek, not taking themselves too seriously.
The vocals weren't always the best but this was more than made up for by the high energy and enthusiasm of the performances. Who bounced about the stage and involved the audience, encouraging them to sing and dance which gave the feel of a 'real' gig.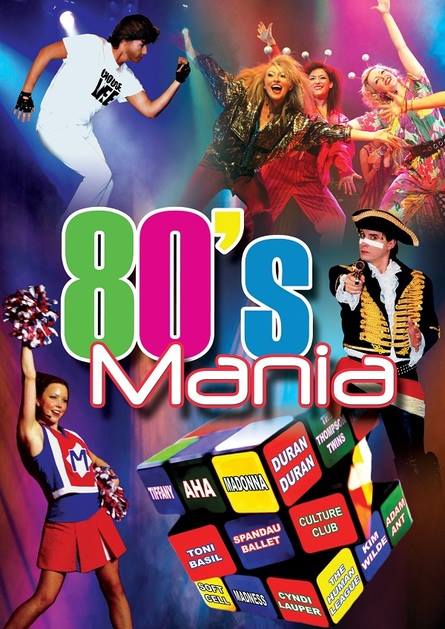 The performers comprised of a decent four piece live band, all of whom looked the part as well as sounding it; a team of five female dancers, who effectively and energetically recreated the moves of the era, some of whom doubled up as lead vocalists/backing singers alongside a female vocalist they imitated Madonna, Cyndi Lauper, Kim Wilde, Aneka, Toni Basil and Bananarama, with songs such as 'Like Virgin', 'Material Girl', 'Girls just wanna have fun' 'Kids in America' and 'Venus'.
Two male vocalists who covered a wide range of characters, including Boy George, Wham, Adam Ant, Holly Johnson, Tony Hadley, Gary Numan, Biggles, Soft Cell, Kraftwerk, Duran Duran, Madness, Tears for Fears, Dead or Alive, Erasure, Thompson Twins to name a few, and managing to capture the differing variety of vocal styles convincing range of vocal styles. Songs included 'Karma Chameleon', 'Relax', 'Two Tribes' (complete with Tae Kwondo fights replacing Regan and Chernenko), 'True', 'Gold', 'Cars', 'A Little Respect', 'Video Killed the Radio Star', 'Stand and Deliver', 'Ant Music'...and the list is endless!
All performers managed to capture the essence of the artists they were emulating, with considerable detail being given to dance styles, body language and idiosyncrasies, which was done to hilarious effect on occasion. The costumes were credible as were the wigs (for the most part), with a good use of props, by both performers and dancers, to add interest and authenticity.
The back drop involved effectual use of original or convincing replicas of the videos of the songs were being streamed on two large screens at the back of the stage.
The audience without exception has a fantastic time, up in the isles, singing and dancing along and transporting them to their youth...'It's just like being at the youth club!'
Reviewer: Elaine Hardie
Reviewed: 15th September 2017
North West End Rating: ★★★★