With an earlier than usual start for an evening show at the Theatre Royal, St Helens I was curious as to the reason and upon arrival it was evident that it was aimed at a predominately younger audience with ages ranging from six to sixteen (plus of course parents so I didn't feel completely conspicuous!)
The Big Pop Party is a tribute show with a difference, not featuring one tribute but no less than four different acts Katie Perry Tribute, Sheeran - The Tribute, Taylor Swift Tribute and the Olly Murs Music Box Show. Katy Saxon and Tristan Drew are making their debut, together for the first time this evening each performing as two of the artistes each. Both perform usually in their own shows across the country and internationally.
Saxon kicks off the show with the support of a three piece band consisting of two guitarists, drummer and two female dancers on a fairly basic set with a back screen depicting a promotional photo of Saxon as Katy Perry in 'California Gurls' pose. There are also two giant red and white swirl candy lollipops at each end of the stage from the song California Gurls. First song up is 'Teenage Dream' and Saxon looking the part with wig and costume is very popular with this young audience who immediately join in singing along from the start. In fact this is repeated throughout the night for whichever artist is being portrayed, the kids know all the words to almost every song featured!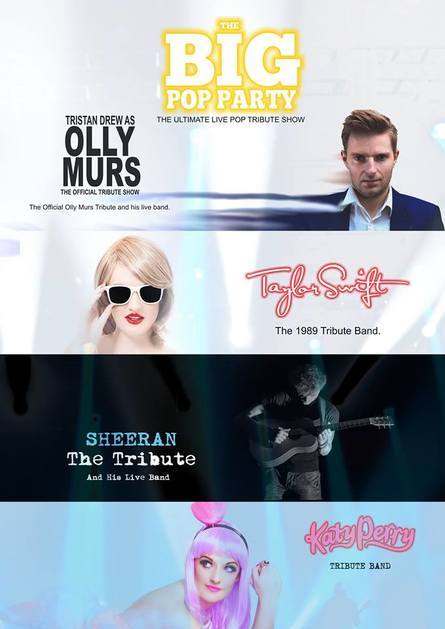 Personally I am familiar with several of the songs performed during the course of the evening so therefore feel I can comment on the 'sound-alike' performances. Saxon gives great vocals as Katy Perry as she continues with more of the hits and we are treated to several costume changes. Saxon works the audience but I feel really came into her own in the second half of the show when she performs as Taylor Swift, she appears more comfortable in this role and certainly looks like Taylor Swift more so than Katy Perry. Singing many of Taylor's hits her vocals sound incredibly alike and she has the audience with her all the way, especially when encouraging the audience to join in with 'Shake It Off' and copy the dance moves.
Tristan Drew as Ed Sheeran takes to the stage in Sheeran's casual style of check shirt and jeans and playing guitar to 'Bloodstream' and once again the audience are singing along especially during 'Galway Girl'. Sadly there are no 'ginger locks' to help the visual look but vocally Drew does a great impersonation although a couple of times he actually sounds like Olly Murs when singing as Sheeran so it's no surprise that when he appears on stage as Olly he absolutely owns it. I know Olly chants out 'Olly Olly Olly' to replies of 'Oi Oi Oi' and Drew certainly uses this several times to gain interaction with the audience but it feels a little panto'ish, however taking the audience age into consideration it works tonight. Drew has charisma and is very relaxed as Olly performing hit after hit and appears to be enjoying himself.....so much so that the show overruns by an hour!
The band played brilliantly throughout the evening but it was a little disappointing that backing tracks were used in conjunction and the addition of a keyboard player would certainly be beneficial. The change over from artiste to artiste could be improved upon with a personal introduction from one to the other rather than curtain fall and then a recorded intro before the curtain is lifted some minutes later. I initially thought maybe the set was changing necessitating the curtain fall but it was the same set for all tributes (including the Perry lollipops in the first half for Sheeran which looked a little out of place, maybe cover them if difficult to move?). The Big Pop Party is in its infancy and needs a little polishing to appear more professional as a combined show but has great potential to develop. I'm not sure where the direction of the audience they wish to attract will go as I am sure individually they attract an older following, but this evening it was definitely 'One for the kids'.
Reviewer: Lorna Weekes
Reviewed: 10th November 2017
North West End Rating: ★★★