For many, if something works well you don't change it.......this is where the production team for That'll Be The Day break the mould, every year they raise the bar, adding to the show and making changes and are now in their 32nd year filling theatres and delighting audiences up and down the country. I had previously seen this show just two years ago and was not aware they changed annually and had actually really enjoyed seeing that one and fully expected to be watching the same one again. Tonight was amazing, 3 hours (not including a 20 minute interval!) of song after song from early 50's onwards from an amazing cast of talented musicians and singers including writer, producer and director Trevor Payne. The majority of the group have been performing with TBTD for many years with Gary Anderson clocking up 30 and alongside Payne has the audience in stitches with some hilarious comedy moments as well as both being accomplished singers. The whole show is fun to watch, I'm sure they all take their roles as entertainers very seriously but their ability to laugh at themselves is infectious and the audience is committed to them from the start.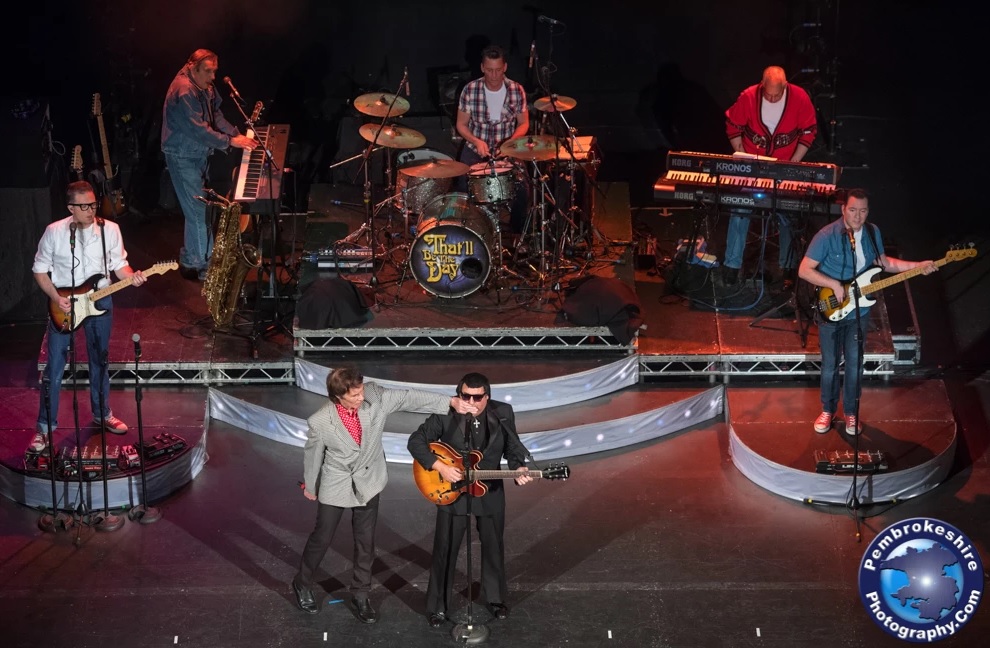 The show starts with an opening song of Elvis's 'Blue Moon Of Kentucky' in the Grand Ole Opry, a radio studio in Nashville and renowned for playing country music but where Elvis appeared in 1954 and was famously told to stick to truck driving! Following on with Little Richard's 'Lucille'' accompanied by our two lady members of the cast Nikki Renee Hechavarria (TBTD 10years) and Jane Watkins who look stunning as they dance along wearing the fabulous fashion of the day. Hechavarria goes onto perform as Dionne Warwick and Tina Turner amongst others and her vocals are incredible. Watkins is a newcomer to the show, although you would never guess as she fits right in and looks totally at home as she brilliantly sings as Dusty Springfield, Olivia Newton John and playing the drums as Karen Carpenter plus other artistes. Payne and Anderson follow with some comedy before the stage erupts with more rock 'n' roll songs from Buddy Holly, Eddie Cochran, Jim Reeves and Roy Orbison.
There are so many groups and artistes covered it is impossible to list them all, also apologies as to crediting who performed as who as appearances changed so much with band members wearing wigs and changing costumes for each number as they became the above listed. There were brilliant portrayals of Rod Stewart, Freddie Mercury and the amazing Sgt Peppers Lonely Heart Club Band although I have to mention a never to be forgotten portrayal of Mick Jagger by Payne! I really wanted to see Anderson's full version of 'Pretty Woman' but it was not to be, but we were compensated with Tom Jones.
The multi-instrumentalists are extremely talented and after the interval we are treated to a demonstration including the use of two sets of drums and with a heart pounding rendition of the theme track from 'Hawaii Five 0' bringing cheers from the audience.
Peter John Jackson, Phil Hollender (Keys), Clive Fishlock, Mark Street, Ollie Gray and Jarrod Loughlin make up the members of TBTD with a total of 87 years with the show between them alone and give it their all, whether playing instruments or singing and ensuring everyone in the audience will have a night of nostalgic pure fun and comedy rock 'n' roll entertainment that can't be beaten......until the next production! I can't wait.
For tour dates and more information: http://www.thatllbetheday.com/tour
Reviewer: Lorna Weekes
Reviewed: 2nd February 2018
North West End Rating: ★★★★★