As a big fan of Elvis I have attended many shows, festivals and competitions featuring ETA's (Elvis Tribute Artistes) from around the world and of course, like many others have my favourites. Tonight I have added another to that list after watching Gordon Hendricks appear at the Epstein Theatre, Liverpool.
Oh wow! are my opening thoughts as he stepped onto the stage clad in the 1968 'Comeback Special' black leather. Looking the part is one thing but when he started to sing it was a double wow, Gordon Hendricks has an incredible voice, the charisma, look and mannerisms of Elvis and it's no wonder he has a massive following of dedicated fans as evident in tonight's audience. Even from our seats at the back of the upper circle he still managed to draw us into the show and feel a real connection. Hendricks has many awards under his star studded belt, including the prestigious Elvis Presley Enterprises 'Ultimate Elvis Tribute Artiste' which he won in 2017. An amazing achievement, competing against some of the best in the world.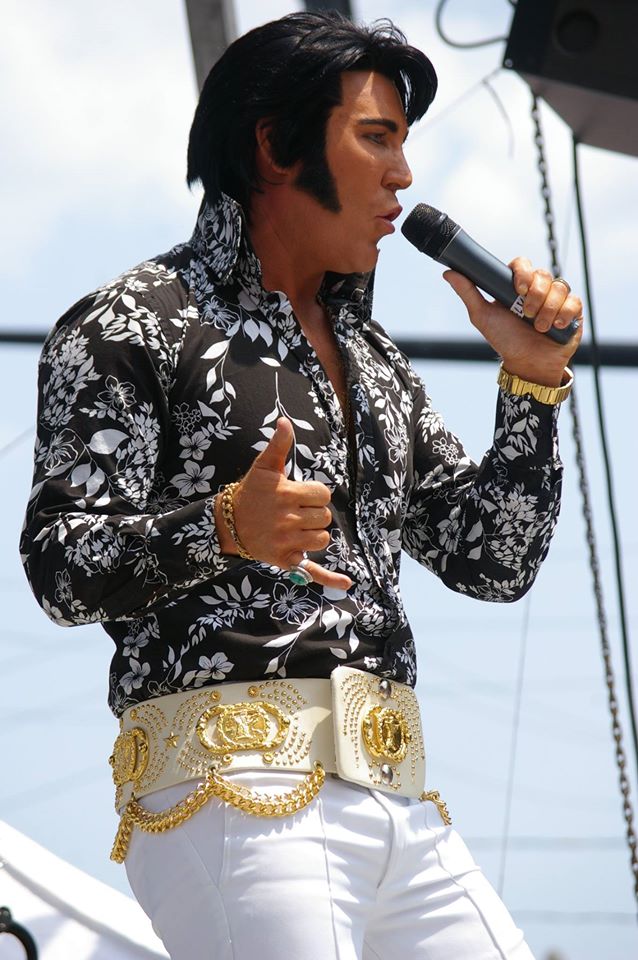 Accompanied on stage there are no less than 11 band members including five back up vocalists who all work extremely well together and there is a genuine rapport between them. Band members include Steven Evans MD/keys, Chris Savage/keys, Steve Fielding/bass guitar, Ryan Quartermaine/lead guitar, Kevin Magill/Drums and with Hendricks son, Jamie Hendricks on guitar. Hendricks and his son are no strangers to working together having a family run barber's shop in Stoke On Trent and joined by another son Josh, who knows? one more son and there may have been a 'Barbershop Quartet' and we could have been deprived of 'The Spirit of Elvis'!
Backing vocalists tonight are two ladies looking stunning in glamorous red sequinned dresses, Dionne Collins and Louise Hartley are joined with less stunning, but equally amazing Neil Oakden, Colin Benfield and Frank Collins. Together they performed a fantastic acapella of 'Sweet Sweet Spirit'. During the 70's Elvis would have the tenor Sherrill Nielson perform a few bars in Italian of 'O Sole Mio' before commencing with a version with lyrics especially written for him of 'It's Now Or Never' and tonight Hendricks replicates that with Oakden performing a fabulous Italian rendition.
Wearing colour co-ordinated red outfits the band strike up with the opening bars of 'Memories' and Hendricks walks onto the stage to massive cheers and applause. He continues with other well loved songs, many from the movies Elvis appeared in, including 'Fool Such As I' (1970 That's The Way It Is) ''Return To Sender' (1962 Girls Girls Girls) and 'Don't (1957 Loving You).
With a costume change into a white two piece suit, Hendricks then performs a Gospel section with 'If I Can Dream' before continuing with a wondrous 'Stand By Me' taken from the album 'How Great Thou Art' followed by many more equally moving songs.
After a short interval the music starts again with Elvis's infamous introduction of Strauss's 'Also Sprach Zarathustra' which builds up the atmosphere and intensity before Hendricks bursts onto stage resplendent in the 'White Nail' studded suit Elvis wore during his 1973 tour and performs the upbeat 'C.C Rider'. Interacting with his audience he performs songs for a couple celebrating their anniversary, others with birthdays which is a nice touch. The show continues with so many more iconic songs, far too numerous to mention and besides, if you haven't already, you really need to get along to The Spirit of Elvis and 'Stop Look Listen' to a sensational show that will leave you exhilarated.
Reviewer: Lorna Weekes
Reviewed: 10th March 2018
North West End Rating: ★★★★★