To culminate the festival hosted by The Halle Orchestra and The Bridgewater Hall, Echoes Of A Mountain Song, The Bridgewater Folkfest And Country Fayre was a festival which celebrated the countryside and in particular the local countryside, and how the landscape has moulded and influenced local folk music and composition.
The main event of today was a community folk opera performed by students at Chetham's School of Music [see separate review], but performing in the foyers of the Bridgewater Hall both before and after this were several folk singers and performing groups.
Starting at 2:15pm in the afternoon, the whole event was kicked off with some music from the border regions of northern Cumbria. The border pipes (a form of bagpipe) were played by Carolyn Francis and both her and Scott Hardy played fiddles. It was a very lively start to the day with tunes called 'Kinsdale' and 'Turning Point'. Francis is both a composer and performer and her obvious skill and love for the music she is playing shines through.
More music from this duo was to come but it was interspersed with poetry readings by Bill Lloyd who also acted as the whole event's MC. First he read three poems by Ted Hughes, an ex poet laureate who has an undeniable fascination for both the beauty and harsh cruelty of nature. The three poems were, The Angel, The Swifts, and For Billy Holt.
The location for this concert - the rear of the cafe bar in the main foyer - was ideal. Outside the window behind the performers was the canal basin, a playing fountain with a large weeping willow tree behind and on one side a very modern office building whilst directly opposite on the other, a Victorian building built during the height of the industrial revolution. Ted Hughes would have been immensely pleased at this. An ideal backdrop for a concert about nature and the effect industry and man have upon it.
Another poem followed, as Lloyd read only part of this epic work; Briggflats, by Basil Bunting.
More fiddle music followed; 'Trip To Yorkshire' and 'Captains Of The Hedge'.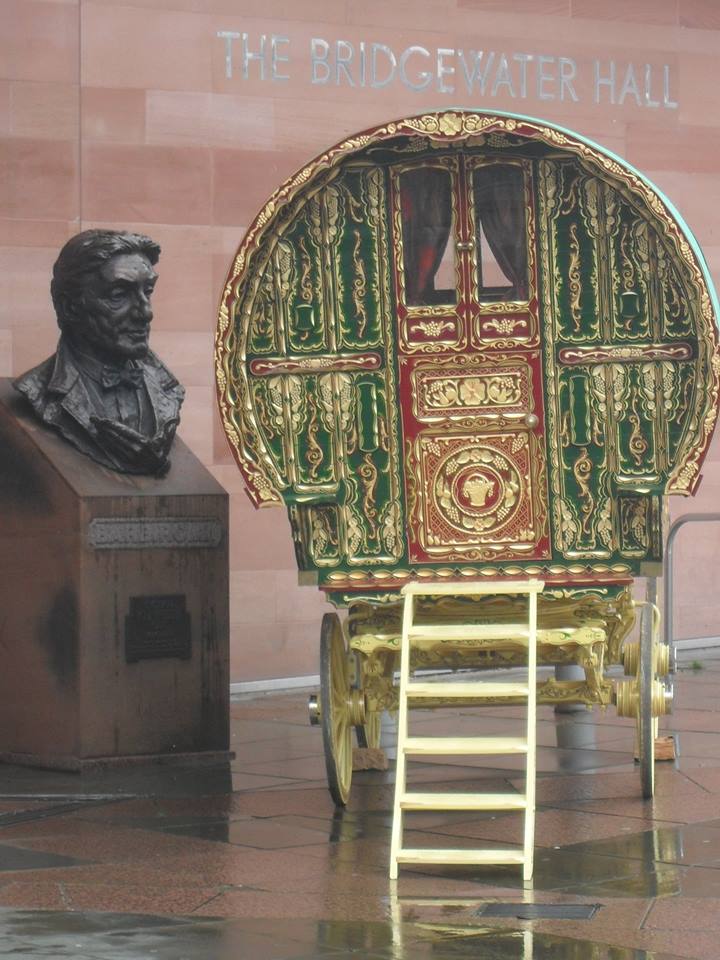 They were then joined on the podium by Cumbrian dialect expert, poet and raconteur, Steve Grundy. He spoke a poem in this dialect all about fell scrambling in Eskdale, written by Lancelot Porter, and then sang a song, unaccompanied, again in dialect about the Ullswater Fox Hunt.
This first concert then concluded with some more jigs and reels from the fiddles and an impromptu dance from Bill Lloyd.
The action then moved to the circle foyer, where chairs were all laid out in rows and a stage floor of hard board had been prepared. We were there to witness a group called Fosbrooks.
Fosbrooks, or more correctly, 'The Fosbrook Folk Education Trust School of Traditional Music and Dance' come from Stockport, and here we saw only a part of their company. 17 musicians took to the stage all dressed beautifully. Men and boys in black trousers and waistcoats with white shirts, and the girls - the 11 who took the front two rows - in black skirts and waistcoats, a white blouse, and red sash and trimmings. It was a lovely uniform, but somehow reminded me more of Eastern Europe than it did of northern England.
However, their performance was both highly professional and proficient. The back row was for the musicians who didn't dance - the boys and men. A keyboard, guitars and accordions. The two front rows of girls, aged between I would say 13 - 17, were not only very good musicians (they played violins and accordions) but they were also excellent dancers too. Wearing clogs, and using the boarding on the floor as their soundboard, the clog dances were both highly energetic and interesting. Totally different from tap dancing but using similar principals. Some of the foot-work was mesmerising, and I really loved the rhythms created. Sadly the boarding really wasn't quite sufficient and so much of the dancing was done on the carpeted floor, which was a real pity.
There were also some Irish dances too. At least four of the girls would take their clogs off and don soft dancing shoes and dance some lovely traditional Irish steps too. We even were treated to a mish-mash of both clogs and Irish steps as they performed some Irish-Lancashire dance steps from the Nelson - Colne area.
Their principal dancer, Sarah Davenport, performed at least one solo and led the rest of the troupe, whilst two others also grabbed some limelight, Lydia Smith, the Junior Director of the group performed one solo and Zoe Moores made up the first three.
The Irish dancers were Holly Wyld, Emily Carrington, Louise Brown and Jenny Burrows.
The most amazing thing for me watching this 45 minute performance was not the obvious talent, it was not their dedication, nor was it their professionalism and coordination, it was simply that folk music and clog dancing is for young people not at all trendy and is most definitely a niche interest, and to see so many teenagers both enjoying this and being so obviously brilliant at it was truly wonderful. They are keeping traditions and customs alive for future generations and that surely must be applauded. At the end of their performance they were given a much deserved hearty round of applause - so much so that an improvised encore was given.
I am not really a fan of folk music per se, and to be frank I had only once before witnessed clog dancing; that being in Uppermill some years ago danced by majority older middle-aged men. This was totally different. This was urgent, alive and also 'modern' in feel. I can certainly recommend this company and its dancers.
And now back down to the main foyer again for two more pieces of entertainment. The first of these was a group known as The Lakeland Fiddlers. A community group formed in 1998 and hailing from Keswick, they are led by Carolyn Francis.
The group comprised today of 12 fiddlers (why is the violin always called a fiddle when referring to folk music?) and one cellist.
The group performed reels, jigs, laments and hornpipes from the Cumbrian area, but the sound was not particularly co-ordinated and the playing somewhat ragged sadly. They were obviously enjoying themselves, and as such, that is the main objective of a community organisation, however, their standard was not particularly high. Such a pity.
Steve Grundy came on stage again and recited the rime of The Fell King, and then we were back to more fiddle music, this time with Francis playing the border pipes again.
We had some Scottish music; a lament presumably written by a young man condemned to the gallows, and their finale was a Norwegian Scots' Polka.
The final piece of entertainment before Get Weaving! was a community sing-a-long. Song sheets were handed out and Bill Lloyd led both performers and audience in the Rambler's anthem, "The Manchester Rambler". This song was written by Ewan McColl, one of the 400 or so people to ascend Kinder Scout in 1932 in the protest which has become known as The Mass Trespass.
After the opera Get Weaving!, there was one remaining performance to close the day and the whole festival. They were a trio from The Isle Of Man and were called Barrule. Playing fiddle, accordion and guitar they proved to be professional and accomplished musicians who worked very well together. Their opening set, 'Wheel Of Fire' setting the pace and mood, and allowing us to hear traditional Manx dance tunes.
They played for about an hour and was a rather fitting finish to a festival dedicated to folk music inspired by nature. The Isle Of Man is a small country surrounded by water, and with a small population, nature there takes on a huge significance; so little wonder that all of their music has been written with the power and beauty of that country's landscape in mind.
Reviewer: Mark Dee
Reviewed: 24th April 2016