I have headed the review thus, so as to give you some perspective on the longevity and progeny of this Manchester institution. The Halle Orchestra was formed in 1864, and has been based in this great and ever-changing city ever since, and tonight saw the orchestra's opening concert to its 159th season. And although things have undoubtedly changed since the days of Sir Charles Halle, it is most gratifying and heart-warming to note that people's hunger for and love of classical music has not diminished, and the orchestra continues to go from strength to strength.
And tonight the concert was an easy, popular and unthreatening start to the season with a well-chosen programme of well known and well loved composers and pieces, all three of which proved to be a huge success and definite 'crowd pleasers'.
The concert opened with a piece of music which I hold quite close to my heart, and has remained with me for many years; and yet, although written by the most Romantic of all Russian Romantics, Pytr Ilyich Tchaikovsky, it remains one of his lesser known works, which is a shame since it is thrilling, dramatic, exciting, beautiful, and in the word of tonight's conductor, Sir Mark Elder, 'demonic'. The Russians have long held a fascination with Shakespeare, hailing him as some kind of God. There is even a part of Moscow where the streets are named after characters in his plays! And musically, the dramatic possibilities of writing music to tell his stories is endless. Tchaikovsky was not the only composer to keep returning to Shakespeare for inspiration with many other composers realising the scope and possibilities; and although we all know and love his Romeo And Juliet Fantasy Overture, tonight we heard no less a work than this, his Fantasy Overtire to Hamlet. Of course, Hamlet was a Prince of Denmark, and the playwright was English, but that didn't stop Tchaikovsky writing undeniably Russian music.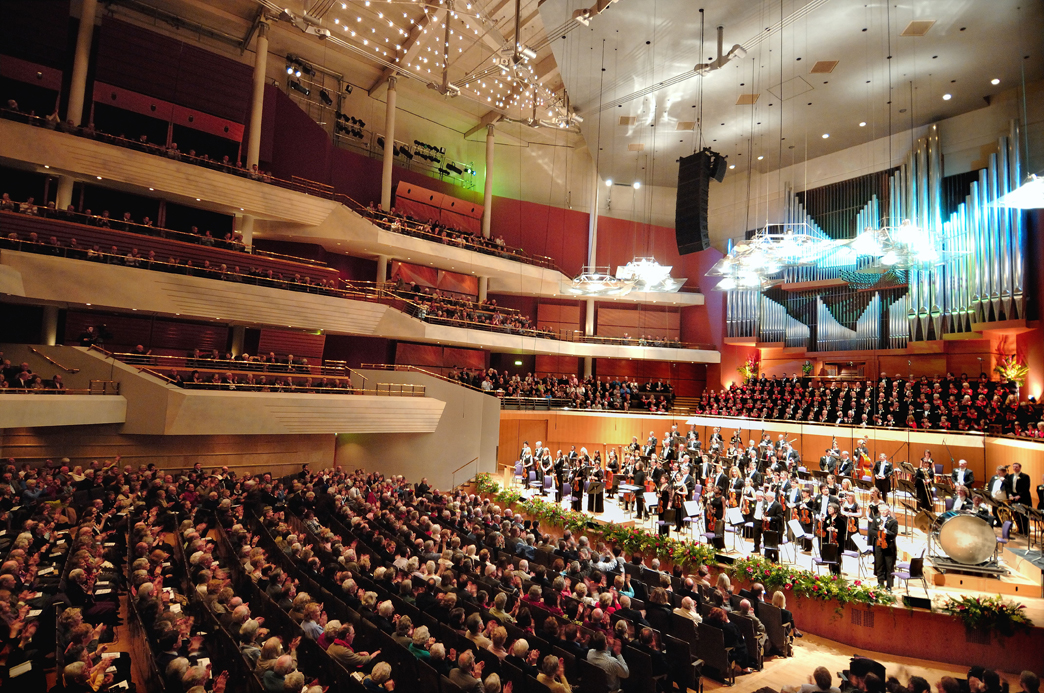 Under Sir Mark's baton, the orchestra rose to this challenge to show us the tormented Prince and his journey magnificently through music. I absolutely loved it!
The second piece on offer tonight was again a highly Romantic and dramatic piece; Ferencz Liszt's first piano concerto. I am sure I don't need to tell anyone the anecdote that when Liszt performed his own works the pianos, which were then made entirely of wood, needed to be strengthened with metal supports because he pummelled the keys so hard, the piano's would break under the strain. Maybe that is just apocryphal but it's an interesting image nonetheless. For the premiere of this piano concerto it was the composer playing whilst another great composer, Hector Berlioz, conducted. In tonight's instance however it was Sir Mark Elder and the pianist was the young and highly gifted Benjamin Grosvenor.
All too often does a soloist of a concerto take on an attitude that they are the 'star' and the conductor and orchestra must work around them,. I have noticed this many times of late, even once or twice at The Bridgewater Hall; however, I absolutely take my hat of to Grosvenor. Despite his status and his obvious talent, he constantly was checking back with both conductor and orchestra to make sure all three elements were together and in sync; acknowledging the beat of the baton and blending with the orchestra superbly in the full orchestral passages where he plays too.
The playing of Liszt's pieces are notoriously difficult, and the soloist requires not just technical excellence but also to be able to put all of his (and Liszt's) emotion behind the notes with an abundance of passion. To my mind (Russians notwithstanding for the moment) the two most Romantic composers ever were Chopin and Liszt. I am happy to report that Grosvenor was more than able to emote to this music and brought the first half of the concert to a superb and stunning conclusion.
I did hear one thing though which jarred and concerned a tad. The highest notes on that piano did sound somewhat tinny; certainly not out-of-tune, but most definitely tinny.
After the interval and the orchestra had reconfigured yet again, and this time to a somewhat smaller and more intimate group, losing some of the orchestra's brass and percussion sections. In fact, the percussion section consisted entirely of two kettle drums, and were played only for the fourth movement!
I talk of course about one of the best loved symphonies of all time, Beethoven's Symphony no:6 dubbed 'The Pastoral'.
I was once fortunate enough to hear two movements from this work played on the instruments of the early 1800s; the time Beethoven composed this work; and although the melodies were the same, the timbre and quality of tone were very different. I think it is very important to keep all music in context and to understand why, when, how and for which instruments the pieces were written. Such as here; Beethoven's fascination with and love of nature and the countryside - a place where he found solace and peace - is represented daringly and boldly in this work more than any of his others; even down to the, at the time, highly original idea of giving each movement a title. Although for Beethoven these titles signified more than just a whim or an idea.
Beethoven was also something of a rebel within the music establishment of the time, and was a great innovator and successfully managed to bridge the gap between Classical music and Romantic, making way for a whole swathe of composers to follow in his footsteps and continue where he left off...including Tchaikovsky and Liszt!
The symphony starts with an 'Awakening Of Happy Feelings Upon Arriving In The Countryside', a 'Scene By A Brook', and then we observe the 'Peasants' Merrymaking' before boldly braving the 'Thunderstorm', and finally we hear one of Beethoven's most famous melodies, and possibly one of the reasons this symphony is so beloved - no-one can resist a good tune, not even Beethoven as his realised he was onto a good thing he made this movement more in the style of a theme and (slight) variations giving the final movement the long and informative title, 'Shepherds' Song - Happiness And Thanksgiving After The Storm'. And indeed the symphony finishes quietly and sedately on a perfect cadence. All is at peace and harmony again after the tempest. A lovely yet somewhat unconventional conclusion.
And a lovely, peaceful and perfect conclusion to tonight's concert too. A wonderful start to your new season, more of which I am looking forward to greatly.
Reviewer: Mark Dee
Reviewed: 22nd September 2016
North West End Rating: ★★★★★