The Hallé's autumn season is loosely themed around the notion of legends and folklore from Nordic, Slavic and Celtic cultures. Later, it will feature Wagner's Rheingold, but tonight it was Verdi's version of Macbeth that provided the mythical element to a programme which also featured Beethoven's Choral Symphony as its main event.
Sir Mark Elder, sporting his trademark Nehru jacket, addressed the audience beforehand, drawing some connections between the two pieces. Verdi was inspired, of course, by Shakespeare, and Beethoven by Schiller's 'Ode to Joy', so it was appropriate to bring these two monumental compositions to the Bridgewater stage on National Poetry Day. Elder also pointed out the innovative quality of both, with Verdi's being the first modern music theatre piece, and Beethoven challenging convention in every aspect of his work. Apparently, Verdi insisted on a dress rehearsal – with kilts – before the first performance, and so established a theatrical tradition.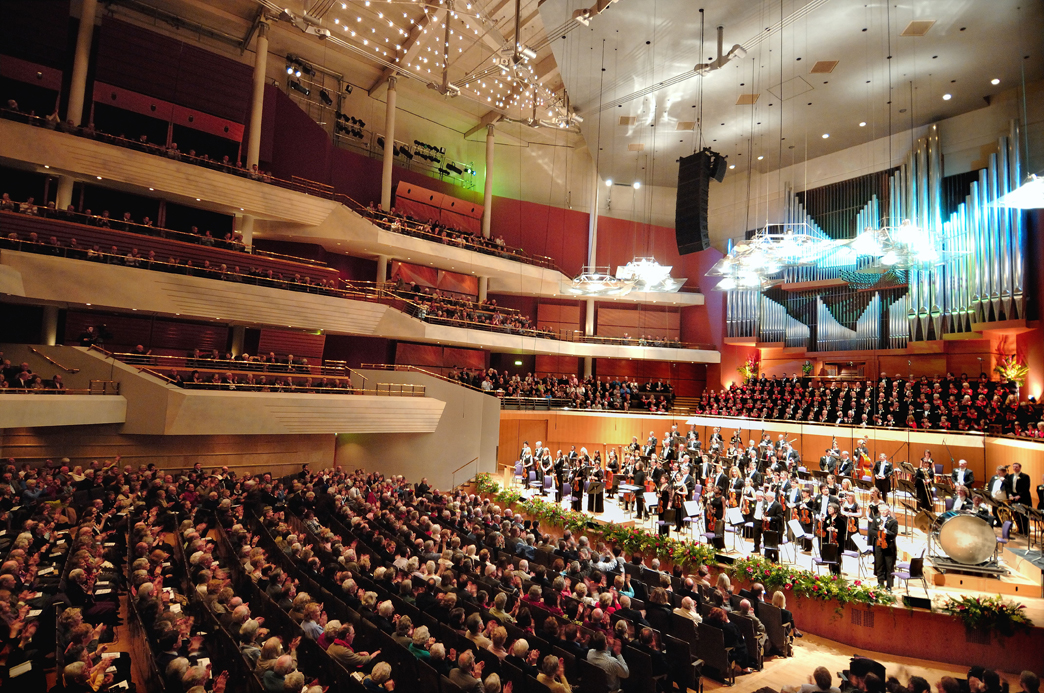 For this staging, Elder chose three highly significant and dramatic scenes from Verdi's reworking of Shakespeare, giving Scott Hendricks and Béatrice Uria-Monzon as the Macbeths a solo piece each, preceded by a duet. After the orchestral prelude, we had the murder of Duncan scene and the subsequent exchange between the couple, then Macbeth's final soliloquy and finally Lady Macbeth's sleepwalking scene.
Scott Hendricks has played Macbeth in a fully staged version with the Dutch National Opera, and brought some actorly energy to this semi-staged variant. Eschewing the kilt, he wore a black teeshirt and trousers, but immediately inhabited the part, investing the "I see a dagger" line – Mi si affaccia un pugnal – with anguished intent. His powerful baritone held its own well against the massive forces controlled with verve and precision by Elder. Uria-Monzon, when she entered, plainly but stylishly attired, did not at first seem to be as intense as her partner, but grew quickly into the role, and was suitably steely in her attack on Macbeth's weakness. In his individual scene, Hendricks gave full weight to the desperation of the king as he begins to realise his position is hopeless. It was a superbly judged performance by Hendricks, which earned him a well-deserved ovation. Not to be outdone, Béatrice Uria-Monzon, fresh from her debut as Lady Macbeth at La Monnaie in Brussels, was passionate and thrilling in her scene, particularly so at the chilling line "Who would have thought the old man / Could have had so much blood in him?" – Chi poteva in quell vegiardo / Tanto sangue immaginar?
After that feast of blood and gore, the second half was devoted to Beethoven's colossal and life-affirming work. It seemed appropriate that the anthem of the European Union should resound around the Bridgewater at this particular juncture in our political life. Elder and the Hallé choir, augmented by Hendricks again, with soprano Natalya Romaniw, mezzo Madeleine Shaw and tenor Allan Clayton, certainly ensured that Beethoven's masterpiece was fully realised, in a performance that was rapturously received by a big Bridgewater audience.
Sir Mark Elder is not the most flamboyant of conductors, using expressive hand gestures in lieu of a baton, and sometimes just a look is enough to maintain his absolute command. And certainly, Beethoven's Ninth demands a strong leader, given the huge forces at play. The Hallé choir was more than a hundred strong tonight, and the orchestra filled the stage with seventy musicians, so Elder needed to be decisive and authoritative. He was supremely in control, managing the multiple modulations of the work with ease, and giving full rein to the Sturm und Drang of the choral passages. The choir, especially the women, were magnificent, singing, unlike the featured soloists, without texts, and really producing what Richard Bratby, in his excellent programme note, calls a "shining halo of sound."
This marvellous work, the fruit of Beethoven's late period, when he was profoundly deaf, must be one of the best-known classical pieces, and one which certainly everyone in the hall must have heard on numerous occasions. How brilliant, then, to hear it gloriously and freshly rendered by an orchestra, a choir and a conductor at the peak of their powers. This was a remarkable evening, and the climactic final passage, with that ringing declaration that "Alle Menschen werden Brüder" – all men will be brothers – will live long in the memory. A triumph for all concerned.
Reviewer: Rob Spence
Reviewed: 6th October 2016
North West End Rating: ★★★★★