There really isn't anything better, on these cold winter nights and ever, than stepping into the magical wonder that of Manchester's Bridgewater Hall to tantalise your sense with the world-acclaimed Hallé orchestra and I am a regular attendee to their Pops series.
I could just describe their celebration of 'Movie Classics' as my first-time Hallé and Bridgewater Hall-goer guest did - "Amazing first symphonic experience. Highly recommended" - but I thought I would, as Compére Petroc Trelawny (voice of BBC Radio 3's Breakfast programme and eighteen-time BBC Proms host as well as BBC Proms Australia last year) did, attempt to help you visualise the scenes in which each piece depicts.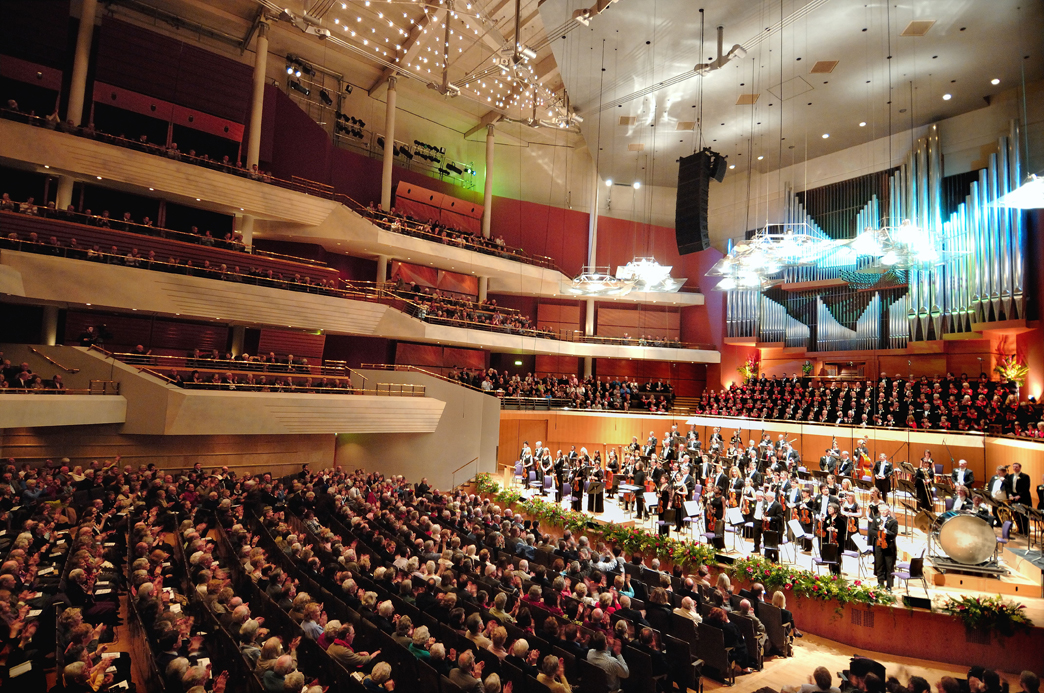 Directed by Associate Conductor of Hallé Pops Stephen Bell who we welcome back since the packed Hallé schedule over the festive period, we also welcome Welsh Soprano Natalya Romaniw (of Ukranian descent) whose voice is simply beautiful and extremely well-controlled and Principal Clarinet Sergio Castelló López was a delight to watch and hear for his solo of Mozart's Clarinet Concerto (slow movement) which featured in Out of Africa.
Some of the arrangements feature in multiple iconic films, "shaping some of cinema's most iconic moments" and the programme was as follows: Mendelssohn's Overture - The Hebrides from LA Confidential, Natalya performed Habanera from the Bizet opera Carmen which appeared in the soundtrack of Trainspotting, Debussy Clair de Lune from Seven Years In Tibet, Offenbach's Orpheus in the Underworld: Can Can from Moulin Rouge and Peter's Friends, Un bel di vedremo of Puccini's Madama Butterfly (performed by Natalya) which formed part of the score of Fatal Attraction and the unmistakable Sorcerer's Apprentice from Disney's Fantasia by Paul Dukas concluded the first part.
Handel's uberly regal and grand Arrival of the Queen of Sheba Four used in the film Weddings and a Funeral opened Act Two before Puccini's Gianni Schicchi: O mio babbino caro which was used in Captain Corelli's Mandolin sung by Nicholas Cage (performed by Natalya) followed by Beethoven's Symphony No.7 (2nd movement) from The King's Speech, Johann Strauss II's Roses from the South waltz from Grand Budapest Hotel, 'saddest classical work ever' Samuel Barber's Adagio for Strings (played at the funerals of President Franklin D Roosevelt and Prince Rainer of Monoco) which featured in Platoon, The Elephant Man and various episodes of The Simpsons. This piece received a huge ovation in the memory of John Hurt, star of The Elephant Man who sadly passed away just hours before this concert. Puccini Tosca: Vissi d'arte from story of retired classical musicians in a carehome 'Quartet', ending with Tchaikovsky's Waltz from Act I of the ballet Swan Lake and used in Black Swan / Anna Karenina.
Lead by Lyn Fletcher, it is always an honour the see the versatile Hallé perform, raising the bar each time and it is a delight to see the likes of PZ Cuzzons and HOW Planning sponsoring such events to make them accessible and possible.
Their next few offerings are Valentine's-themes 'From Broadway, With Love' conducted by acclaimed Broadway Musical Director Larry Blank (Phantom of the Opera, A Chorus Line, etc) on Saturday 11th February and the return of 'Oscars for Orchestra' on Saturday 18th March.
Reviewer: Chris Oatway
Reviewed: 28th January 2017
North West End Rating: ★★★★