I must confess to being a bit of a classical music novice so I was a little nervous at the prospect of reviewing a full blooded classical concert by the famed and beloved Hallé Orchestra. Entitled "A Viennese Celebration", we were treated to a variety of Polkas and Waltzes, some of which were very familiar but even those that weren't were beautiful to listen to and experience and I did feel I had been transported back in time to a beautiful Viennese ballroom.
The concert began with the Overture from Die Fledermaus, written by Johann Strauss II. We were launched straight into it and the sound was so impressive - very smooth and all enveloping. The sound was spectacular and was the longest piece of music played during the afternoon - lasting just over ten minutes. It really whetted the appetite for what was to come.
This afternoon's conductor was Jamie Phillips who is an Associate Conductor of the Hallé. He is also the Music Director of the Hallé Youth Orchestra and his enthusiasm and passion for the music shone through the entire concert.
The music featured today comprised various Polkas and Waltzes of varying moods and tempos - "Annen-Polka" being likened to "street dance" of the time. It struck me as being at the more sedate end of the Polka scale, taking things a bit more gently and ideal for those New Year hangovers.
There was a slight change to the afternoon's programme as the intended Soprano, Malin Christensson, was unable to attend due to a family emergency so her replacement was Elizabeth Cragg. She sang four songs in total and received a particularly enthusiastic reaction to her rendition of "Die Lustige Witwe" which I thought was excellently performed and quite hypnotic. I do feel, however, that the Hallé orchestra does not need a singer to accompany it and my personal opinion is that a singer detracts from the spectacle that is this outstanding orchestra. The music and the orchestra speak for themselves and do not require any additions.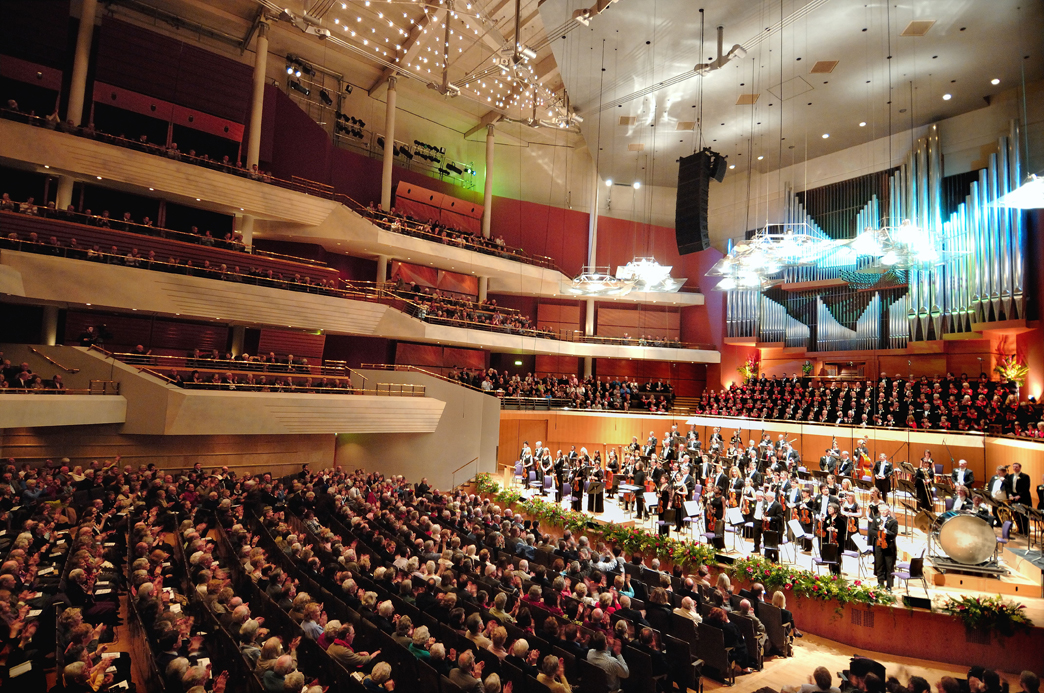 "Unter Donner und Blitz" (The Thunder and Lightning Polka) brought us back up to fully insane Polka speed - there is no rest for the wicked with this one!
The Second Waltz Sequence by Richard Strauss took us to the interval - an elegant Waltz which flowed gently into a rousing finale. A very good way of leaving you wanting more!
Into the second half and Jamie Phillips informed us of various interesting facts regarding the music, including the fact that the Waltz was regarded as a risqué dance 150 years ago as people had to dance continuously in close proximity (I don't know what they'd have made of some of the Latin dances on Strictly then!) Strauss the Second's "Kunsterleben" had me yearning to take to the dance floor for a dreamlike Waltz - risqué or not.
At the end of "Champagner Polka", a member of the percussion section cracked open a bottle of champagne and took a glass to Jamie Phillips - which appeared to surprise him (pleasantly!) and provoked a warm laugh from the audience. Nice that a little bit of humour can be injected into a rather more formal concert, it made it all seem very friendly. (I'm not sure if he drank the champagne but his conducting skills didn't suffer any after-effects).
The Tritsch-Tratsch Polka (two possible interpretations of the meaning here: one is that Tritsch-Tratsch means "chit chat", the other is that it was named after Strauss the Second's wife's poodle) was performed playfully and was very familiar, a real crowd pleaser. It was over too soon!
The penultimate piece was "An Der Schonen Blauen Donau" (On the Beautiful Blue Danube) which I'm sure everyone recognises. (To all the sci-fi geeks out there: it was in '2001 - A Space Odyssey"). This was performed absolutely beautifully. I really didn't want it to end. I totally lost myself in the music and the performance and I've never particularly been that keen on The Blue Danube before. There is something about actually watching an orchestra perform live that adds an extra dimension to the music. I was pacing out Waltz dance steps whilst listening and in my head, I was wearing a fabulous ball gown whilst being whisked around a Viennese dance floor. It truly brought the glitz and glamour of the Viennese ballroom to rainy old Manchester.
The final piece of music was The Radetsky March which is often played at The Last Night of the Proms and the audience are encouraged to clap along to it - which they did. It was a lovely rousing piece of music to end the afternoon.
I do feel that classical music can be intimidating but today's concert was welcoming and really whetted my appetite to attend more concerts like this. It is quite daunting to realise that there is so much beautiful music out there that you don't know and after today, I am determined to better acquaint myself with classical music.
It is a joy to listen to music performed by the Hallé Orchestra. Even unknown pieces are warm and inviting and it is a privilege to hear such perfection in orchestral form. Manchester - be VERY proud of your home-grown orchestra...and to any classical novices out there: spend an afternoon with the Hallé. You won't regret it.
Reviewed on: 2nd January 2016
Reviewed by: Nicky Lambert