Ask Me Anything, performed by theatre company The Paper Birds, takes us on a nostalgic journey through life as a teenager, via a blend of live music, real stories, and questions from the youth of today. It's an often humorous, but also hard-hitting and thought provoking show with a clear message about not just talking to, but really listening to our young people.
We are welcomed by a fantastic homely set; three bedrooms firmly stuck in the nineties and noughties, and full of kitschy touches such as lava lamps and band posters that I certainly recognise from my younger days. There's even audience seating on cushions right in the stage area – this, coupled with the snacks being handed out by the actors, gives the whole performance a relaxed, almost sleepover-like atmosphere. The show also tries hard to be inclusive – there are ear plugs provided for anyone who needs them, and it's a phone friendly production.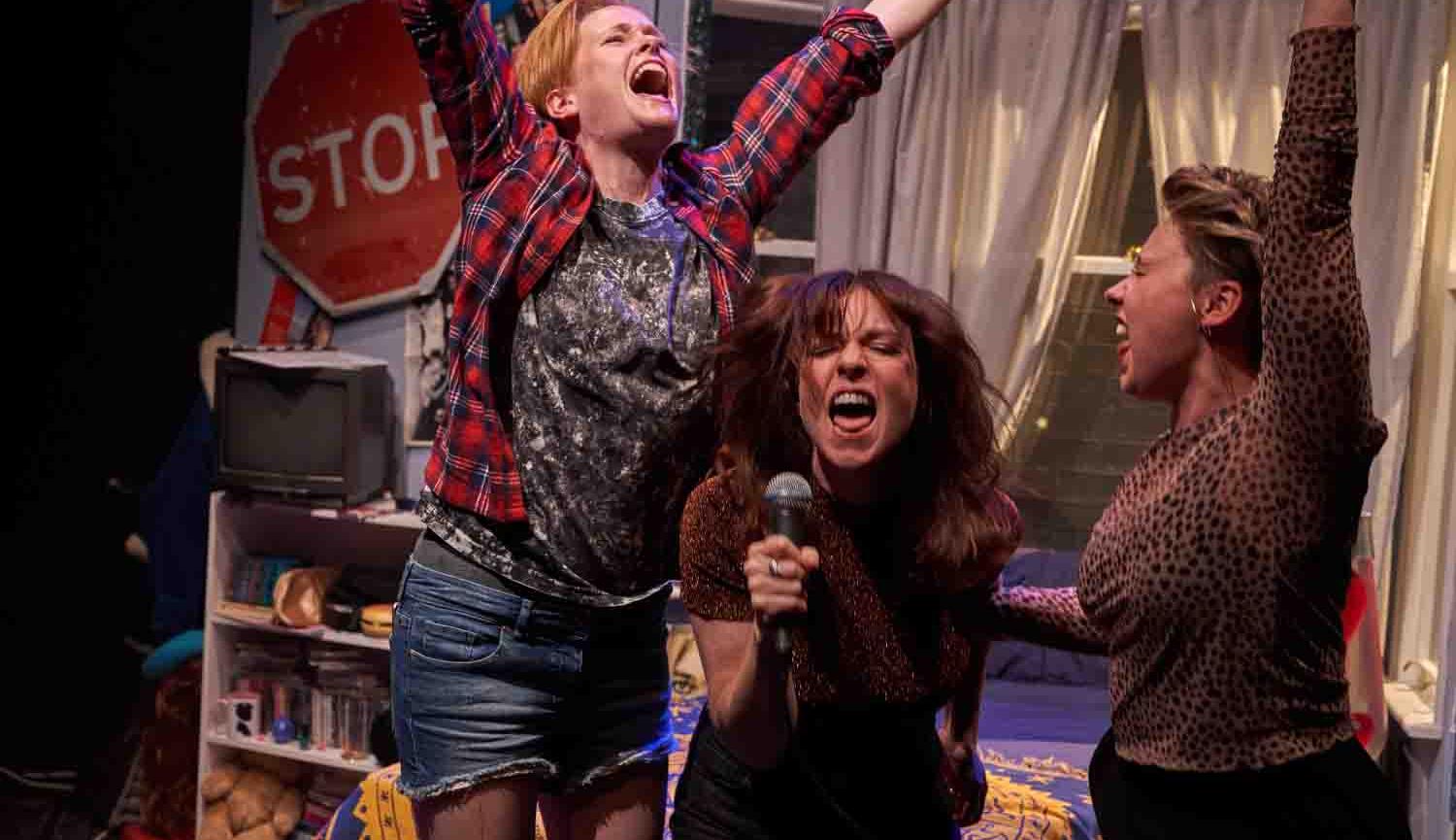 The nostalgia aspects are what this piece does best. The mentions of teletext, dial up internet and the perils of house phones gain chuckles from the audience, despite there being a wide range of ages in attendance. As a nineties kid I could certainly see myself and my friends in some of the characters and moments shared. You also have to appreciate the extensive use of technology in the show – including live camera work, bite-size information being shared across screens, and video responses. Unfortunately, the tech isn't seamless, and when letters were being read out at a different time to the words on screen, this really detracted from the performance.
To the performers – actors Georgie Coles and Kylie Perry, and musician Rosie Doonan, who coped well with the constant changing styles. All friendly and personable, I actually preferred the ad libbed audience interaction more so than some of their scripted conversations, which at times felt a little contrived. Rosie also wrote the music for the show, a range from cheesy 90s tracks reminiscent of educational videos, emotional acoustic solos showcasing Rosie's beautiful voice, and angsty rock numbers. These blended seamlessly with the performance and showed off the trio's considerable instrumental talents.
Overall, I found it very enjoyable, although at times it did feel like a slightly patronising TIE production. It tackles some really important issues such as mental health and suicide, and really made me think about how I as an adult can help and advise teenagers. The Paper Birds are also running a Ticket for a Teen scheme, aiming to get this show to the people who really need it – our young people. Judging by the reactions of the teenagers in the audience, it could be very worthwhile.
Reviewer: Poppy Stewart
Reviewed: 4th February 2020
North West End UK Rating: ★★★★