The story of Cinderella is known far and wide and is currently on at the Bolton Octagon. However, this is not your usual standard production. The story is told from the point of view of the kitchen rats bringing a new life and wonderful twist to the classic tale.
The play begins with a mass of music instruments surrounded by piles of what appears to be generic rubbish. The round theatre with multiple stairways makes the perfect entrance for 5 rat like creatures to crawl onto the stage. They slowly all take an instrument and begin singing their opening number. It is a wonderful surprise to see that the music and vocals come directly from the actors without any external bands or sound system. This continues throughout the show with each instrument easily being moved around the stage with ease and precision. They are also frequently used as props and hiding places in the rat's kitchen. This is a wonderful and genius technique to keep bringing the audience into the rat's world.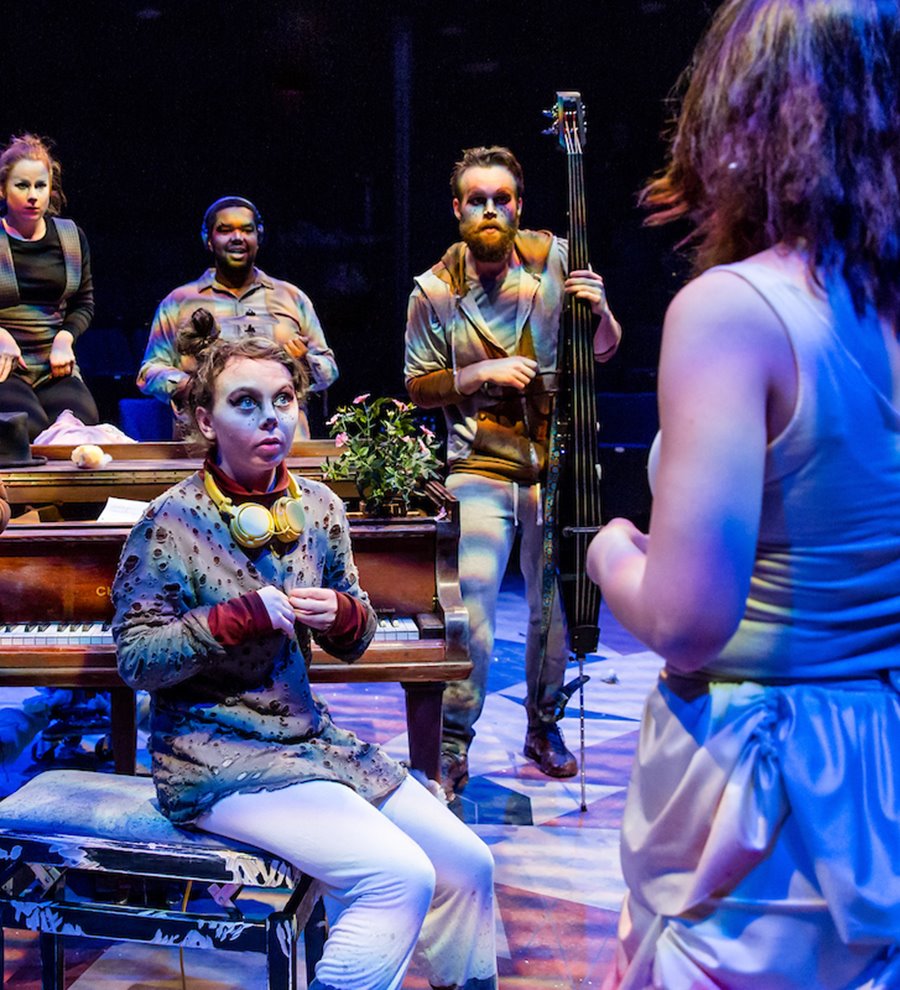 Cinderella is played by Lucy Faint who brings a delightful northern charm to the character rather than being a standard stereotypical princess. She simply wins over the Prince with her wit, charm and a sparkly pair of shoes. The end of act one even sees her getting ready for the ball as her incredible dress lights up in the dimming theatre.
The other characters are played by the rats multi-roling as they tell the story from their perspective. Anne O'Riordan and Alicia McKenzie bring to life the ugly sisters by placing a simple wig on their heads and a quick change of movement style. The way they effortlessly switched from character to character was a joy to watch and they certainly were the stars of the show. The second act continues in the same fashion except with more wonderful character changes to create the Prince, the Mother and the King.
The energetic songs in act two means the audience can't help but tap their feet in time to the music. The ugly sisters again are the highlight as they make the audience roar with laughter throughout. They perfectly perform several hilarious dance routines as they try to win the Princes heart.
The Octagon is the perfect place for this production with its round seating style and multiple ladders and platforms. The play really does take place all around you and there certainly isn't a bad seat in the house. It is even easily transformed from the dark and dingy kitchen to the palace ballroom with the use of a few fairy lights.
This new and original telling of Cinderella is brilliant if you are looking for a festive show with a bit of a difference. Both old and young audience members will find this charming tale entertaining and hilarious. It's incredibly quirky and simply fantastic from start to finish.
Cinderella continues at the Ocatgon Theatre, Bolton until the 14th January 2017. https://octagonbolton.co.uk/whats-on/theatre/cinderella/
Reviewer: Ellie Close
Reviewed: 21st November 2016
North West End Rating: ★★★★
Photo: Richard Davenport