Regal Entertainments have done it again!.........Oh yes, they have! At the Theatre Royal, St Helens yet another fabulous pantomime hits the stage and as someone who has been to almost every panto they have presented my expectations are high and once again I am not disappointed.
Pantomime is a fantastic theatrical experience to introduce children of all ages to with a plot most will be familiar with from bedtime storytelling. The Sleeping Beauty tells the tale of the Princess Aurora who is cursed by bad Fairy Carabosse and destined to die by pricking her finger with a needle by her 18th birthday, but the curse is changed with the help of the good Fairy Sparkle, who changes the curse to the princess falling asleep forever unless a handsome prince breaks the spell with a true love kiss. Will it all end happy ever after?
There is slapstick comedy, song and dance, pyrotechnics, fabulous scenery and costumes and enough innuendo to keep the adults happy throughout. With larger than life characters, no pantomime would be complete without a beautiful princess and of course a wicked witch, wizard or as in this panto an evil fairy. Filling these roles this evening are from TV's Shameless Warren Donnelly, as King Ethelred, the henpecked ruler of the kingdom married to the 'beautiful' Dame Queenie, performed by flamboyant and hilarious Roy Brandon, who dons an array of ridiculous and colourful wigs and outrageous outfits during the show and supplies much of the comedy along with the fabulously funny Tam Ryan, as the loveable Chester the Jester.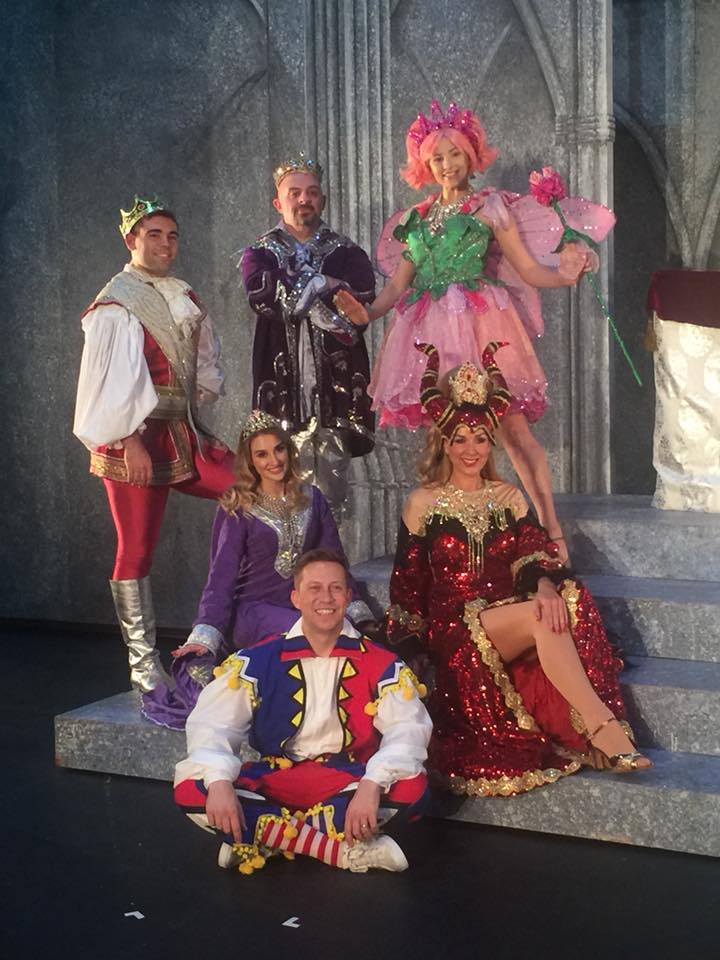 A cake making scene between the two was a little bit lame and could have benefited from more mess and pie throwing and surprisingly this was one time during a panto I have not witnessed the audience getting blasted from water pistols. Go on, we love all that really! Ryan has the audience shouting back to his catchphrase whenever he appears which ensures plenty of interaction and there is a hilarious 'Laughing Policeman' spot where several children from the audience join him on stage and proceed to upstage him. With ad libbing and perfect comedy timing Ryan is the perfect panto fool.
Judging by how many are wearing costumes, little girl's favourites are Fairy Sparkle and Princess Aurora and we were not disappointed with performances from the delightful Jess Pritchard and enchanting Laura Gregory. Playing the handsome Prince George is indeed a handsome male, Corey Rumble and not as confusingly cast in many pantos, a female taking on this role. Gregory and Rumble are in fine voice as they duet together singing popular chart hits. TV and stage artiste and forces sweetheart Claire Sweeney plays the evil Carabosse giving a performance that ensured booing and hissing from the audience at her every entrance and where for once an actor welcomes that kind of greeting. A great performance but never has the 'baddie' seemed so beautiful and I think the character could be even more menacing with more sinister makeup or a wicked cackle as I found it hard to find Sweeney quite so evil. Nevertheless, she earned those boos!
The young dancers choreographed by Sarah Walker were enthusiastic and a delight to watch. Costumes for each and every performer are amazing and on par with any larger theatrical companies if not better and credit must be given to Heather Nolan for the fabulous designs.
Panto is suitable for tots to old-timers. Sleeping Beauty is sure to entertain everyone and tickets can be found at http://www.sthelenstheatreroyal.com/show/?show_id=873570128 showing until 29th October 2017.
Reviewer: Lorna Weekes
Reviewed: 22nd October 2017
North West End Rating: ★★★★