Theatr Clwyd brings back its famous Rock 'n' Roll Panto for another season and this year in the form of Sleeping Beauty. Written by Peter Rowe we are treated to an evening of musical and vocal genius. The script is extremely funny, very current, including the likes of Prince Harry and Meghan and included a skit of a rugby match for Wales. Very clever.
This show is made up of 10 cast members and do they work to bring this show to life. As well as playing all the leads and smaller characters between them they also play all the instruments in the show, on stage, as part of the show.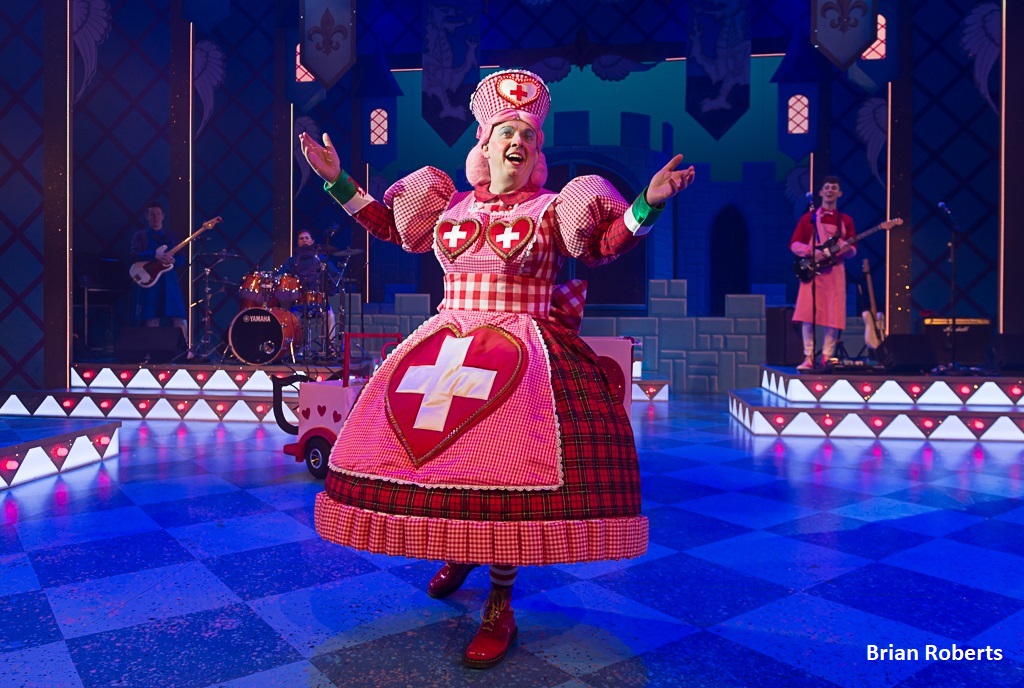 Sean McKenzie returns to play Nurse Tabetha Trott and is an instant hit with the audience. His delivery is very witty but is a true professional and keep the show flowing along with a light heart. McKenzie's costumes are a real delight.
The show opens with Fairy Fanciful played by Zoe West, with traditional rhyming verse but unlike any other fairy I've seen. Very true and real creating a current vibe to the traditional panto feel, even rapping at the end. Fantastic.
Rowan Talbot as King Camelot is a comedy genius. His facial expressions and fancy voice are perfect, a real slapstick character with warmth.
Elian West as Princess Susie and James Ifan as Simon Steadfast were perfectly cast and did a wonderful job of playing out a love story with a twist.
Evil Morgana was wonderfully delivered by Lynwen Haf Roberts and had the audience booing and hissing at her nasty ways and mummy's boy Mordred, David Heywood was played out perfectly. Nasty but strangely in a likeable way.
Greg Coulson as Domestos and Luke Thornton as Harold the Herald were fantastic in their roles adding lots of humour and the amount of music they played in the show was spectacular. Shout out to Thornton for the impressive drumming while the cast were 'busy.'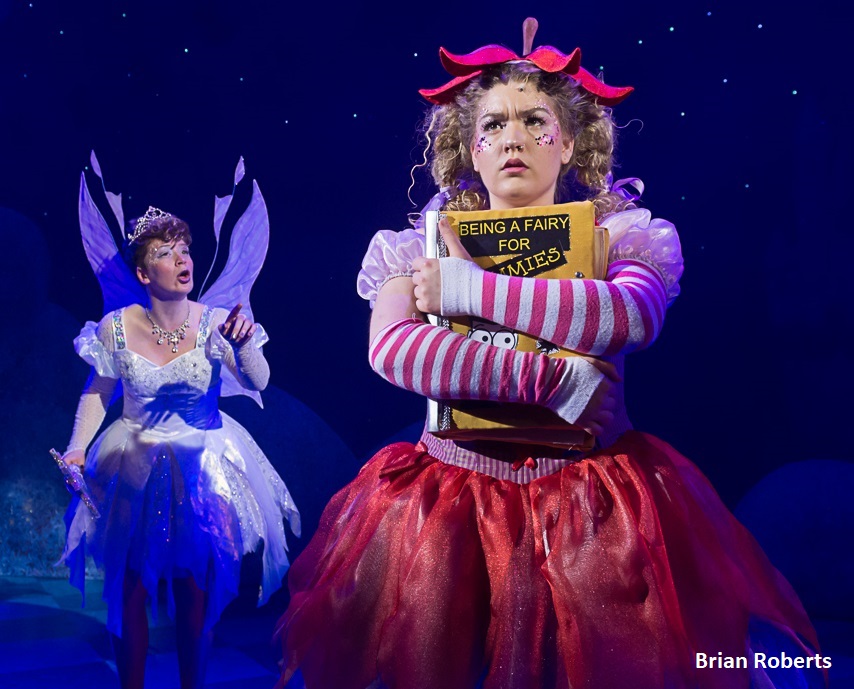 The cast blew me away with how they played all those instruments, swapping from one to another and still go back to character.
For me, Emmy Stonelake as Frederica stole the show. From her first entrance she was loveable, not quite getting things right, making her more endearing. Trying really hard to become a proper fairy, the whole audience were behind her and when she sang, wow, we were blown away. An absolutely amazing talent who I could watch every day.
The set was perfect, from pieces being flown, revolved, characters coming from under stage in a trap, it's amazing to see how they transform this theatre into the land of Sleeping Beauty. Adrian Gee, well done on a fantastic set and Alec Reece and team for running a smooth show.
Zoe Waterman has done wonders directing this highly talented cast. Choreography by Lucy Hind was simple but effective, fitting with the story and era after the "time change."
Costumes were spot on with a current theme running again, Converse, which always makes me smile and shows how these pantos are always a step above and why people return time and again. Well done Deborah Knight and Jo Best for fantastic costumes, hair and make-up.
Lighting was awesome and set up the mood very well. Cleverly designed by Mark Howland.
Finally a huge well done to Musical Director Tayo Akinbode on bringing this perfect group of actor/ musicians together to create and deliver what I can only describe as the most creative and joyous panto around.
Is there any panto better? In my opinion "Oh no there isn't"
You'll be laughing, clapping and singing all night long.
Reviewer: Damian Riverol
Reviewed: 28th November 2017
North West End Rating: ★★★★★