When you consider the high quality of this warm heated show it is staggering to think this is only second year of professional panto in this West Yorkshire theatre's long history.
Made even more impressive when you factor in that they don't have a pedigree in producing their own stuff in-house, but thanks to a smart blend of highly experienced creatives and a charming cast they pull it off.
Joyce Branagh has directed plenty of pantos wisely sticking to the tried and trusted story of daft Jack and his magic beans, but pushes the cast's uniformly sunny personalities to the fore. Equally experienced is writer Andrew Pollard who uses his background as a Dame in eleven productions to deliver a pacey script full of corny jokes, but mercifully kept free of really blue smut masquerading as innuendo that has marred other shows you may have read about in the national press.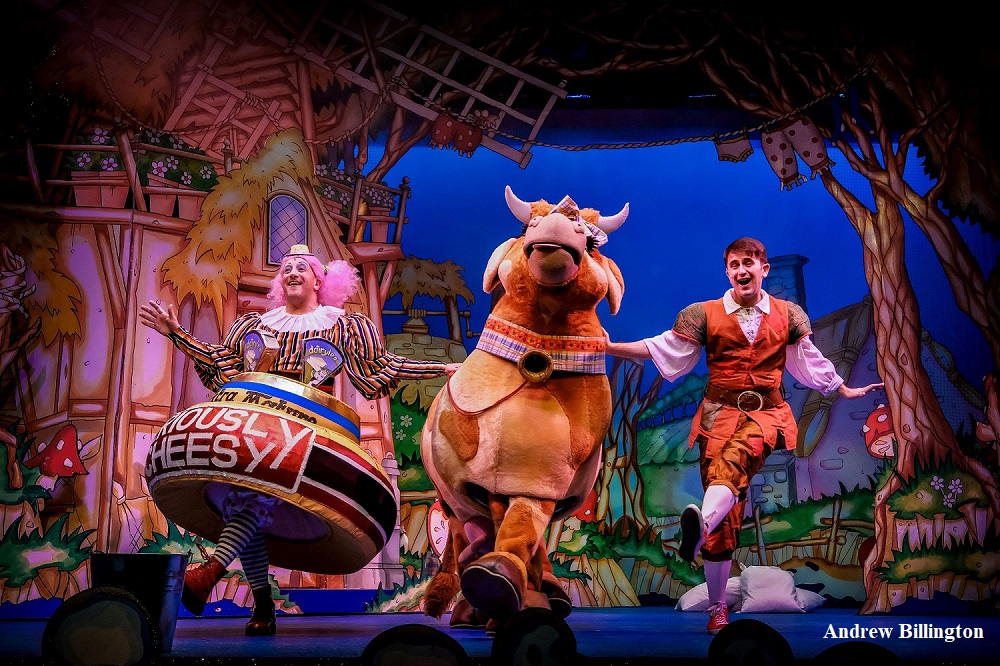 Great pantos needs equally great Dames, and Robin Simpson steals the show as Dame Dorothy Trott who wants the best for 'her' idiot son Jack whilst absolutely nailing every awful gag, and leading the audience in numerous old school call and responses. Simpson also sets a house record for the number of costume changes prancing on in a series of increasingly OTT outfits ending up as a massive Swiss Army Knife….it is pantoland after all.
James McLean was a fab-u-lous villain channelling a very camp Russell Brand as the giant's henchman Nightshade earning some lusty boos especially in his slapstick routines with Declan Wilson's befuddled King of olde Huddersfield.
Usually the old hands dominate proceedings, but the much less experienced Thomas Cotran as Jack and Megan Turner coming back from the cruise ships for her first panto run as scouse Princess Jill give them a run for their money. Both are strong singers belting out Rhiannon and Shawn Mendes hits as well as a magical Bohemian Rhapsody pastiche that closes the first act.
The theatre have rightly thrown some cash at this, and Mark Walters' nimble and bold design transforms us from Trott's run down farm to the giant's lair at the top of the beanstalk as the impressively scary big monster lumbers around the stage.
Given this was a packed Thursday afternoon matinee this jolly mix of bad gags, farts, pratfalls, a tap dancing cow, pop songs and a cast having fun has really found an audience with people flocking from all over West Yorkshire for some good clean fun that won't leave the kids asking any awkward questions.
Early booking for next year is strongly advised as this truly family friendly show is now a firm fixture on the festive circuit.
Jack & The Beanstalk is at Lawrence Batley Theatre until Saturday 6th January 2018. To book 01484 430528 or www.thelbt.org
Reviewer: Paul Clarke
Reviewed: 28th December 2017
North West End Rating: ★★★★