Parents; if you have not yet chosen which panto to take your children to this Christmas, then look no further than the Little Theatre in Bolton.
This is the best panto I have seen so far this season, and is every bit your absolute traditional family fare. Ok, there was a rather unnecessary 'overture', and it did feel a little long, especially for very young children, but a massive 10 out of 10 for upholding and continuing the tradition. So many Christmas time shows appear every year purporting to be pantomimes, and oh so often am I disappointed at their lack of respect for and bastardisation of this very British institute! Here on the other hand, director Paul Cohen has stayed true to this noble art and produced a panto from out of my childhood. Well done and thank you!
We all know the story of Jack and the Beanstalk don't we? Oh yes we do! Jack lives with his mother and brother in a village blighted by an evil and angry giant living in the kingdom in the sky above the village. Jack falls in love with the King's daughter, and when she is taken by the dragon climbs a massive beanstalk - grown from magic beans that his brother Simon got in exchange for selling their cow - to rescue her. Simples! And of course it all ends happily ever after.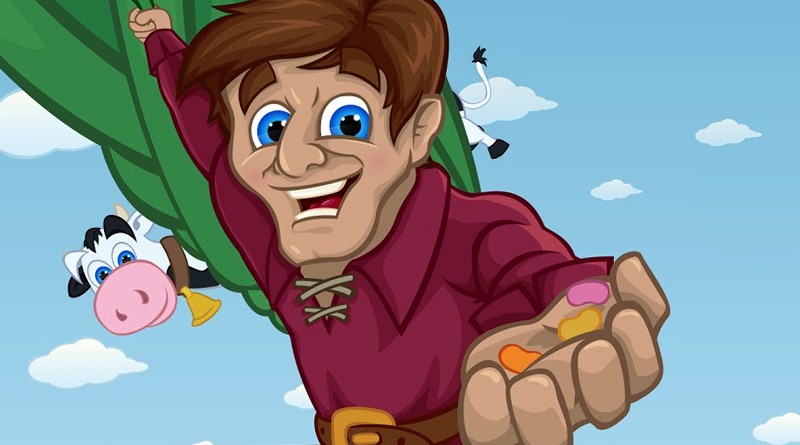 In this production Jack's mother, the panto Dame, was played with more than just a hat tilt to Les Dawson, by Peter Haslam. What a great performance pitching the banter and bravura just right. Her, sorry his, two sons were played by Katie Waller as one of the best Jacks I think I have ever seen on either amateur or professional stage, and more than ably assisted by another very talented performer making the most of his role as Simple Simon, Gareth Mahon.
Add to this a pantomime version of Ant and Dec in the form of Debt Recovery Agents Snatchet and Scarper, Ryan Smart-Stanton and Alex Bradley; [Chaps, if you wanted to find representation and take that act on the road, you worked so well together and were absolutely spot-on, I'm sure you could!], a vile opportunistic servant of evil, Rancid the Ratman, ( Jeff Lunt) no doubt taking inspiration from both Fagin and The Childcatcher, and all manner of other panto character favourites, and you really couldn't go far wrong!
There was really only one thing that stopped this very good show being great, and that was the choreography. You had some great songs, you had a chorus of young and even younger dancers, and you were all very capable singers... so why didn't we see some good dancing?! Surely it would have been better to have given the very young chorus members something very simple and repetitive which they could have done without feeling inadequate or embarrassed about what they were doing, whilst the smaller group of older girl dancers could have been given something a little more difficult to compliment that, and any adults who were also dancers (perhaps Jack?) could have done something centre stage, again a little more adventurous. The poor dancers / chorus not only looked rather unhappy (I never once saw one of them smile!) but also the poor tiny ones were unable to cope with all the moves given them.
However, putting that aside; the set, the costumes and especially the banter and audience acknowledgements were all lovely. A truly traditional family pantomime at its best!
You can see Jack and all his friends, including Buttermilk, the cow, at Bolton Little Theatre until the 19th December.
Reviewer: Mark Dee
Reviewed: 5th December 2015