Drops of Light CIC are back and this time they will take you on an adventure to Old Peking with the Christmas classic Aladdin. Following the success of their critically acclaimed 2017 production Beauty & the Beast, Drops of Light have relocated to Liverpool's newest venue The Hope Street Theatre for a Christmas show that promises immersive fun for the whole family in writer Jessica Lea's very Scouse take on affairs in this classic tale directed by Sam Donovan.
We first meet a moustachioed Lady Abanazer (Emma Bispham) and discover the back story of her Atomic Kitten Heels band and the curse she had cast on the other two members, Jeanie the Genie (Helen Carter) and Slave of the Ring (Maia Johnson), but to carry out any further plans for enrichment she needs to find a scally with a heart of gold.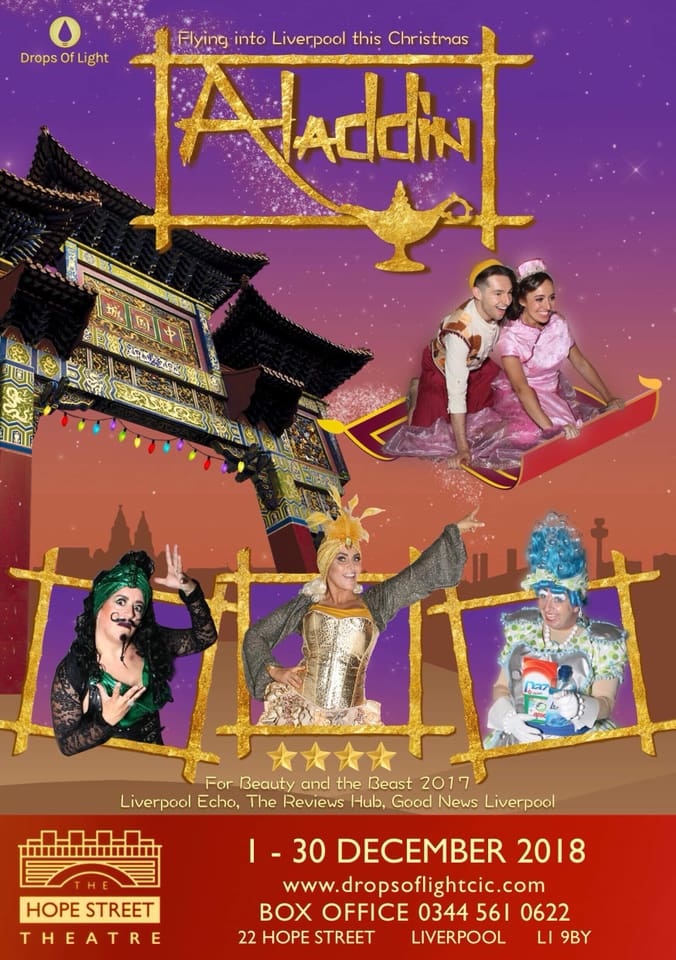 Dropping into Old Peking (suburb of Liverpool) we meet Aladdin (Adam McCoy) who works with his mother, Widow Twankey (Jamie Greer), and brother, Wishee Washee (Liam Dascombe) but dreams of romance with Princess Jazz (Tori Hargreaves) who in turn seeks true love rather than the matchmaking efforts of her father, The Emperor (Tony Sheridan), and Royal Vizier (Louis Quinn) to marry her off to an eligible prince. Does the appearance of Abanazer in disguise really offer Aladdin a way to his heart's true love? Or is the path sullied by too much evil ambition? And will the band really get back together?
Well, it's all there for you to discover in the razzmatazz of entertainment that follows as we are treated to a delightful cacophony of song & dance, slapstick humour, and all-round good fun entertainment, which features local youngsters as dancers with wonderful choreography from Lindsay Inglesby, and the ever-changing costumes are well presented by James Lacey who also designed the set. A special mention too for tonight's ensemble of Bethany George and Anna McKenna who were a constant throughout the evening and who shone in their own light as PC's Chop and Suey.
I only had one concern before tonight and that was whether the venue could work for this kind of production. Under the management of Lacey, it was beautifully decorated as a theatre in the round with four entrance/exits keeping the action unravelling and providing the perfect interaction for all the children present including those big kids like me. There were sadly a few too many sound issues – all easily resolvable – but fortunately they were not to detract as they were more than compensated for by the intimacy of the venue: with the audience and cast up close and personal, the level of interaction a panto relies upon was exceeded in droves as the children completely owned it, leaving me to wonder whether maybe this is the better way to do panto after all – oh yes it did!
The Hope Street Theatre is a new and interchangeable fringe venue in the heart of Liverpool's culture district that encourages and drives new work. Further details available at http://hopestreettheatre.com/
Drops of Light CIC are a not for profit company founded in 2017 with an aim to create accessible theatre for the Liverpool City Region and Aladdin is their latest production under the stewardship of Lacey and Sarah Macauley. Further information at www.dropsoflightcic.com
Performing through to 30th December, tickets are priced at £17.60 for adults, £13 for concessions, and £52 for a family ticket with the show (including interval) lasting just over two hours. Booking details available at http://hopestreettheatre.com/panto-2018/ or by calling the Box Office on 0344 561 0622.
Reviewer: Mark Davoren
Reviewed: 3rd December 2018
North West End Rating: ★★★★