Pantos these days tend to be either trying too hard to be cool, or old school daftness that harks back to a more innocent time, and this version of the evergreen Aladdin is decidedly in the latter camp.
Oh, yes it is.
Across the country there are many different versions of this tale of an outrageous washerwoman's son who finds love with a princess after a series of madcap capers involving genies and magic carpets. Of course, every panto fan really cares about the story.
Oh, no they don't.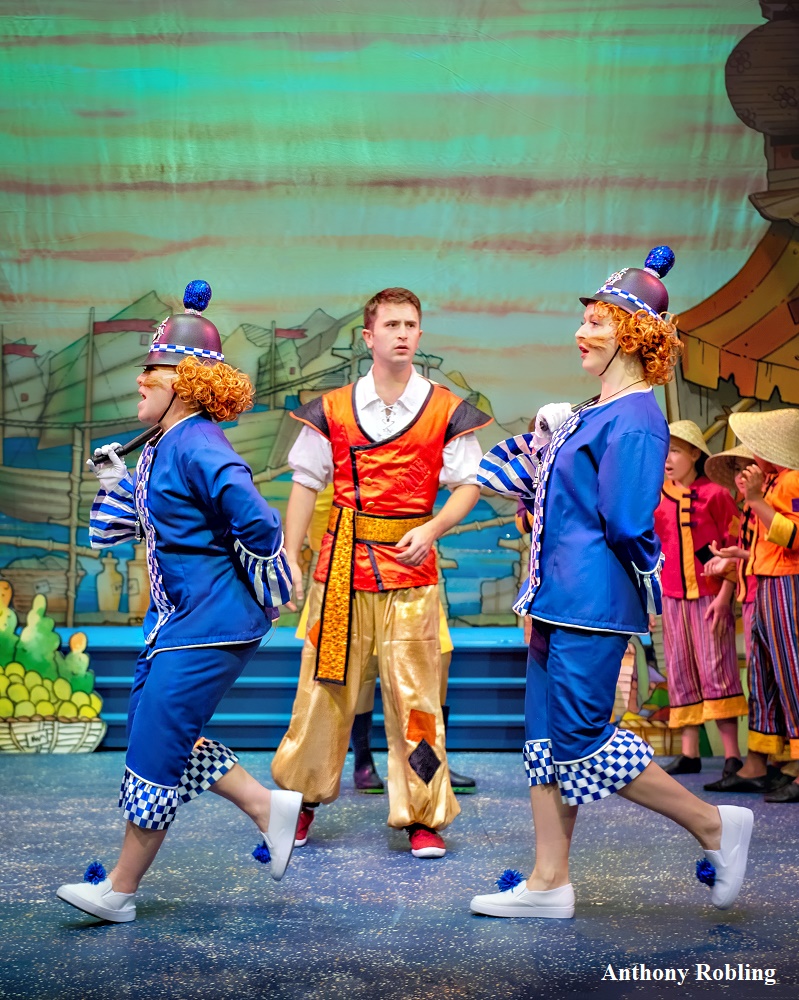 What unites all pantos is that they live and die by how good the Dame is. Old hand Robin Simpson is back for his second turn here playing Widow Twankey in a dizzying array of over the top costumes, and he has the potential to be one of the great Dames. Simpson's easy charm, and spot on comic timing, holds all the chaos together even as he leads the kids through a singalong version of the truly annoying Shark Song, which could have been written especially for panto.
Thomas Conran pitches his cheeky chappy Aladdin just right really belting out his big numbers, including a topical tune from The Greatest Showman. Making her professional panto debut is Alyce Liburd, who learnt her trade on the local amateur scene, and she makes the most of an underwritten Princess Jasmine. You do wonder why such a strong voice isn't given more big numbers.
Krissi Bohn puts the misery of the Weatherfield cobbles behind her as a goofy Empress of Peking. Richard Hand is splendid as useless baddie Abanazar, who is just sinister enough not to scare the really little ones, but gets a lusty barracking every time he appears. One young brownie in the audience even flashed him a loser sign which shows how convincing he is.
The real stars of this show are the genies. Stephanie Hackett channels the Big Bang Theory's neuroscientist Amy in a very funny turn as a bookish Genie of the Ring. Nicola Jayne Ingram is just hysterical as a bluff, no nonsense Tyke Genie of the Lamp, and watching two little girls dancing ecstatically to her ode to Yorkshire Tea, using what once might have been a Queen tune, is absolute proof why panto endures down the generations.
Self-confessed panto nerd Joyce Branagh directs with genuine love and respect for this genre, adding some contemporary hits in all the right places, that make the most of Andrew Pollard's script full of pratfalls and creaky gags that were old when Aladdin was a mere babe in arms. To his credit Pollard keeps it smutty enough for the adults rather than blue, avoiding a tacky road far too many pantos go down.
It is only in recent years the team here have revived their panto and they have certainly not skimped on the production. Mark Walters is one of our best panto designers and his sets were wonderfully over the top, as were the endless succession of wacky costumes. The moment Aladdin soared over the front rows on his magic carpet was one of the best special effects I've seen in panto, and worth the ticket price alone.
Perhaps the greatest treatment to how entertaining this panto is was the reaction of a group of international students from the local university sat on the front row. They would have been bewildered by the age old panto 'rules', endless audience participation and catchphrases that we have all grown up with, but by the end they were singing and clapping along with the same big smiles we all had on our faces.
Oh yes, they were.
Aladdin is on at Huddersfield's Lawrence Batley Theatre until Sunday 6th January 2019. To book www.thelbt.org or 01484 430528.
Reviewer: Paul Clarke
Reviewed: 11th December 2018
North West End Rating: ★★★★