My Big Fat Job Seekers Wedding is a laugh out loud comedy following a family living on benefits on a council estate. The mother of the family; Nelly has recently left her husband and wants to enjoy being single. From the beginning the cast had the audience on their side, the house erupted with laughter at every gag.
Written by Karen Woods, the place is entirely set in Nelly's living room. The audience at the Lowry were definitely up for a laugh and had plenty to drink prior to the show (judging by the amount of people that needed the bathroom during the performance). The tone of piece is set pretty much straight away; dirty and very silly.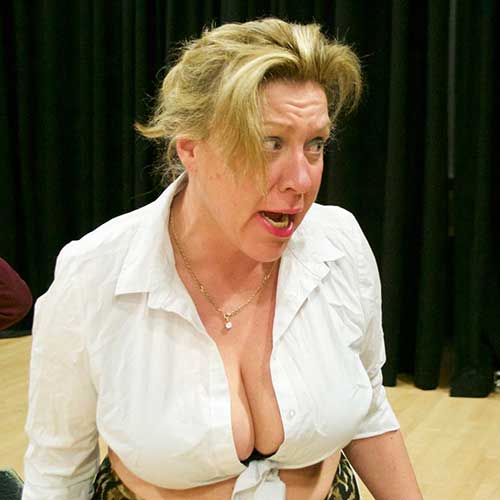 The writing is very witty with plenty of jokes. However, I did have one major issue and that was Nelly's long lost son. This completely came out of nowhere and knocked me for six. Woods had the opportunity here to delve a bit deeper into Nelly's character, however instead she choose to play for laughs.
At times in the play a lack of acting experience was very evident. Mary-Ann stomped around the stage like a spoilt teenager. Some of the actors lacked vocal projection, so it was quite difficult to hear all the lines. The Priest also had a very questionable Irish accent; the tone was good, but the pronunciation was awful - one of the most fundamental aspects of the Irish accent is the rhotic R. Also, between the scenes there was a bit of dead space, a bit of music could easily rectify this.
I was intrigued as to what Woods would do in Act Two. Although it did start off where Act One ended it did pick up pace at the hen party when the male characters did a cringeworthy dance routine to 'It's Raining Men' - complete with umbrellas.
After watching this performance I can't help but feel that Woods was heavily inspired by the Irish sitcom; Mrs Brown's Boys. It may be a coincidence but some of the material is almost a copy and paste job.
The comedy was definitely a hit with the audience tonight. The play definitely has legs and think it could be hit across the UK. If crude comedy is your thing then you won't be disappointed with My Big Fat Job Seekers Wedding. The final performance is at the Lowry on 6th September.
Reviewer: Francis McKevitt
Reviewed: 5th September 2016
North West End Rating: ★★★