What makes Andrew Bovell's play unusual is that it is the result of a collaboration between the State Theatre Company of South Australia and the movement-inspired Frantic Assembly. Recast with British actors since its May 2016 Adelaide premiere, it is beautifully staged and is has been touring the UK since early October. Tonight at the Lowry Quays Theatre the auditorium was bursting at the seams mainly with teenagers on what seemed to be school trips. Giving rise to concerns the production would be constantly distracted by noisy fidgeting teenagers. How wrong I was! This production was so engaging and powerful for the whole two and a half hours you could have heard a pin drop in the auditorium, as the audience was catapulted through an emotional rollercoaster, where we laughed, gasped and cried.
It would be easy to make Andrew Bovell's play sound like glorified soap opera, but that would be a grave injustice. As this is a beautiful and painfully insightful portrait of a family and the frictions that arise when grown-up children try to push beyond the confines of their devoted and loving parents' expectations.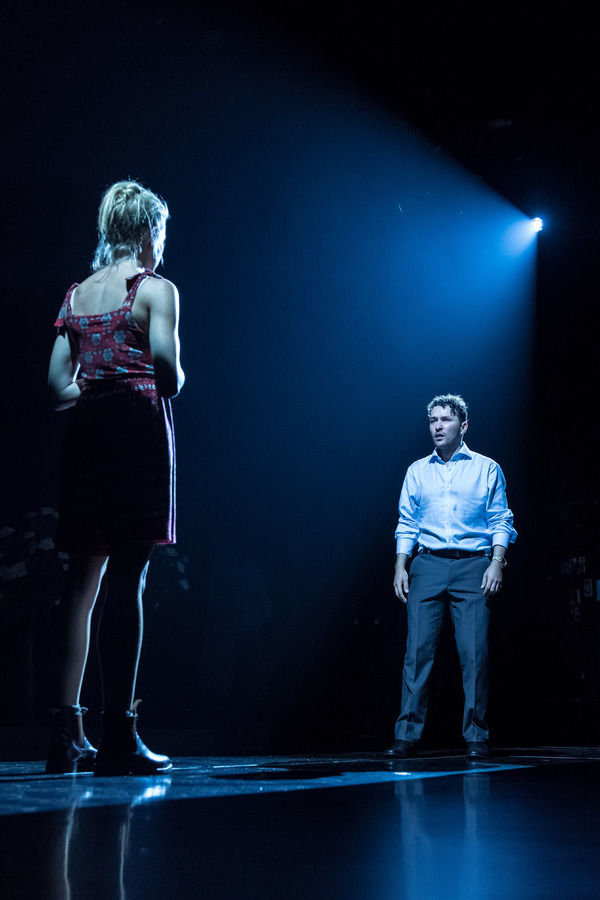 The piece unfolds over a year in the life of the Price family in Adelaide. Father Bob (played by the extremely talented and loveable Ewan Stewart) is a redundant car-factory worker who staves off boredom by tending to his rose bushes in the back garden, which is the setting for the whole play. Geoff Cobham's set grows over the course of the play: initially the stage is baron apart from a constellation of lights and a stage full of smoke, yet as the production progresses and our understanding of the family comes together, the family garden comes together, too. The setting grows into a spectacular family garden complete with bedding boxes full of rose bushes and garden shed. The garden at the house at Hallett Cove is where the Price family life seems to be centralised. It is here the Price family congregate and the coffee is brewed, onions are cut, rose bushes are trimmed. It is here significant past family experiences happened from first sexual encounters, little ones falling off ladders, family events and where marriages took place.
Fran the mother of four grown up children and wife to Bob is very much the lynch pin of the family and a dominant matriarchal figure. Imogen Stubbs, playing her with a strong north-country accent, superbly portrays the character with a rasping anger that conceals the mammoth amount of deep love and devotion she has for her fractured family. Fran is a senior nurse whose bluntness and mind-reading knowledge of her children are as fierce and disconcerting as her dedication to them.
All four of the Price children, however, are all at a point of crisis. The proceedings open with Rosie (Kirsty Oswald), the youngest of the four Price siblings, recounting in monologue the experience that leads her to return home early, broken-hearted and disillusioned, from a back-packing trip to Europe. Whilst the oldest daughter, Pip, (Natalie Casey) is about to walk out on her husband and two children. As for the two brothers, one is struggling with his sexual identity (Matthew Barker), while the other is self-absorbed and involved in some dodgy financial practices (Richard Mylan). To have one troubled child is a misfortune: to have four looks like dramatic excess but Bovell's play is perfectly balanced and believable.
The piece is especially acute as we see the anguish on both sides when their children's choices challenge those they made for themselves and awaken prejudices that they never knew they had. We see first see this when Fran reacts with particular bitterness (and immediate suspicion that a man must be involved) to the announcement by the elder daughter (Casey) that she's leaving her spouse and two children for a better job in Vancouver. The elder son Mark (Barker) has an even bigger bombshell to drop. Bob and Fran brace themselves for the news that he is gay. But in a horribly wrenching scene, a throw away tactless joke from Bob, designed to relieve the tension, crudely uncovers the revelation Mark is about to make.
High praised given and well deserved to the Creative team, Andrew Bovell Writer, Geordie Brookman and Scott Graham co-directors and Geoff Cobham set and lighting designer, Sound designer Andrew Howard, costume designer Ailsa Paterson, the production team and of course the cast for this spectacular piece of theatre. As Bovell successfully captures the pathos of working-class parents who have invested all their hopes in the next generation. The production ignites the low-level fears we all must live with: that we love too much, or that we don't love enough; and that one day we will have to say goodbye.
This is one play not to miss seeing; it runs at the Lowry theatre until Saturday the 12th November. I can genuinely say that this play has to be one of the most powerful and heart-warming productions I have seen in a long time the cast is outstanding and tonight Natalie Casey was my stand out performer as she reduced me to tears with her stunning portrayal of her character Pip. The emotions in the play are true and gritty and I am sure most people who watch it can connect to the dynamics and dialogue of the Price family as most of us have someone we know in our lives that these characters remind us of.
Reviewer: Victoria Wilmot
Reviewed: 8th November 2016
North West End Rating: ★★★★