There's no greater cultural evening to be had than a night at the opera, so imagine my excitement at the opportunity to witness first hand; the talented Opera North Company's production of the well known story of Cinderella.
Now I think I can safely say, everyone knows the story of Cinderella, it's a firm favourite among many but what really impressed me about Opera North's version was that it was familiar but also very different, it's nice to see a story as old as Cinderella reworked and reimagined with a twist.
Of course, it's totally different to see Cinderella as an opera, because it immediately becomes so much more passionate, so emotional raw and it can leave you feeling rather emotional and I did in various acts (which I never thought I'd be saying).
The first thing that should be recognised from the production is the level of talent which is on stage; it's phenomenal.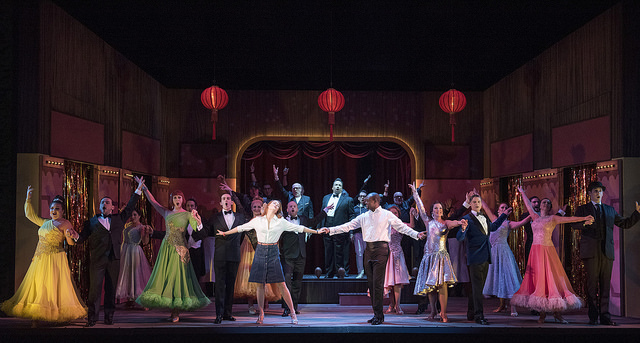 From the opening scene at the Dancing School to the closing number, the entire cast performed magnificently, the principal cast were vocally perfect but also the characterisation of their roles was fantastic too, the playful silliness of the ugly sisters played by Amy J Payne and Sky Ingram or the sweet nature of Angelina played by Wallis Giunta, it was just as you would imagine the characters to be and the charismatic chemistry between the Prince played by Sunnyboy Dladla and Angelina was a joy to watch.
Humour is also supplied from the father; Don Magnifico played by Henry Waddington and Dandini played by Quirijn de Lang with a fabulous routine with paintings, and that's something that must also be mentioned that this production is very funny too, I have been to a few Operas in my time and I haven't come across any that I have laughed quite as much as I did at Opera North's Cinderella, a lot of the humour does come from the ugly sisters and it is rather effortless but without giving away spoilers, there are some fantastically funny moments which all ages can enjoy.
Something I was rather pleased about was the fact that there was a number of younger members in the audience; something as culturally important to the arts such as Opera is often overlooked in recent years and that is a dreadful shame so I was very excited to see an audience of all ages at Cinderella.
The opera, by Rossini is sung in Italian with English titles, and beautifully transports you into the tale, this is also helped by an impressive stage and modern lighting.
If you have never been to an opera before then this is a fantastic one to be your first and if you are a huge opera fan then this is also one to see, to see its adaptation and what I see as the future of Opera.
A beautiful production with a lot of talent, magical!
Reviewer: Max Eden
Reviewed: 9th March 2017
North West End Rating: ★★★★