Austentatious may initially give the impression that you are about to embark on an evening of work based on the literary genius Jane Austen. However, this is a performance like no other. It is not in the least bit serious and mustn't be confused with anything remotely related to Austen's work.
However, what it is, in abundance, is an evening of sheer joy, men in britches, ladies in empire line dresses and language of a different era. It is an evening that is entirely improvised to a very high standard and each performance is entirely different to the previous one.
Each show consists of the audience being initially encouraged to write down or to shout out some of Austen's 'lesser known' (made up!) novels. The story for the performance is then chosen at random by the actors and the evening proceeds from here. Previous suggestions for performances from audience members include 'The Empire Line Strikes back', 'Twelve Northangry Men' and 'Lady Chatterlys Uber'. Tonight's performance was 'Fantastic husbands and where to find them'.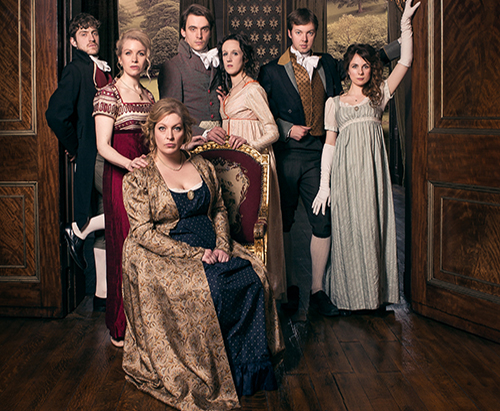 All the actors were hilarious and improvised to a magnificent standard. In this particular performance a special mention must go to Amy Cooke Hodgeson, described as 'a woman of extravagant folly' who played the improvised role of Cassandra, who was searching (sometimes literally) for a husband. She was a natural on the stage and her acting abilities took her to wherever the story was leading. As it was entirely improvised she certainly did not know where it would end. Hilarious in parts when she reminded other cast members of the imaginary scenery such as the time she was proposed to in a church- she reminded the audience that she ought to not trip up on the pews.
Also, it must be said that Andrew Hunter Murray, known for comedy writing for QI and Private Eye could literally have stepped out of any of Austen's novels as his language flowed flawlessly. Excusing himself in one scene as he had 'a bevy of harlots to attend' he was wickedly amusing throughout.
Charlotte Gittins who introduced the show played the role (randomly) of Dame Judy Dench. Her dulcet tones that reminded me a little of Joanna Lumley were perfect for the performance. Clearly a seasoned performer in the world of improvisation it was as if she had done this exact performance before.
Austentatious is utterly ridiculous which made it the most imaginative, impulsive improvisation performance I have ever seen. I would love to see more of this talented group. The best part was knowing you have seen a unique performance different to any other night. Unsurprisingly the show follows rave reviews from several Edinburgh Fringe performances and has now embarked upon a tour of the UK and furthermore is heading to the West End. So put on your bonnet, pull up your britches and saddle your horse to follow them on the rest of their tour. Two hundred years after her death Jane would be proud indeed, if a little shocked at some of the 'newer' novels written in her name!
The performance of Austentatious was wonderful, simply because it was not in the least bit serious and in the words of the woman herself "Silly things do cease to be silly if they are done by sensible people in an impudent way."
Reviewer: Angela Kelly
Reviewed: 15th October 2017
North West End Rating: ★★★★★