Opera North has arrived in Salford this autumn to perform The Little Greats of six short operas that are bursting with passion, I was privileged enough to witness two of their masterpieces.
Opera North is proud of its northern roots and provides a valuable resource for the cultural life of the region and for the development of young talent. Opera North is a vibrant, lively organisation which actively challenges conventional perceptions of opera. Breathing new life into the classics, the company is also a strong advocate of lesser-known works and a champion of musical theatre.
The first Little Greats was Maurice Ravel's bewitching childhood fantasy 'L´enfant et les sortilèges' (The Child and the Magic Spells) where you go on a journey with a young boy who argues with his mother, refuses to do his homework and flies into a tantrum, destroying the objects in the room around him. Sung in French with English subtitles Wallis Giunta who plays the naughty child had the audience captivated by her talents both vocally and visually.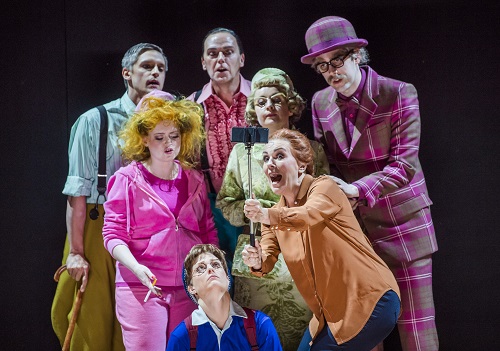 The set was that of a child's bedroom with peeling wallpaper (Kathryn Walker), chaise longue (Katie Bray), armchair (John Savourin), boiler (Fflur Wyn) and grandfather clock (Quirijn De Lang) gradually, the objects come alive to challenge the youngsters destructive behaviour.
With colourful characters including a pair of singing cats (Katie Bray and Quirijn De Lang), a teapot (John Graham-Hall) wearing his spout in a very provocative way and china cup (Ann Taylor) duo, out in the garden, events take an even more disturbing turn when all the trees and animals shun him for the injuries, torment and hurt he has caused them in the past, until he is forgiven after helping an injured squirrel.
Musically it was enchanting to hear, the Orchestra of Opera North play throughout L'enfant conducted by Martin André the conductor. After a short break the audience were ready to watch the next short opera 'Osud' (Destiny) Leos Janáček's tale of the anguish of love – Sung in English.
This semi-autobiographical tale is told in three cinematic acts that unfold over 15 years. Míla (Giselle Allen) and the composer Živný (John Graham-Hall) are in love but Míla's mother (Rosalind Plowright) forces her to take a rich suitor. Four years later they are reunited and living together but as Živný wrestles with the opera he is writing and the mundane of everyday married life kicks in, a tragedy occurs that changes everything.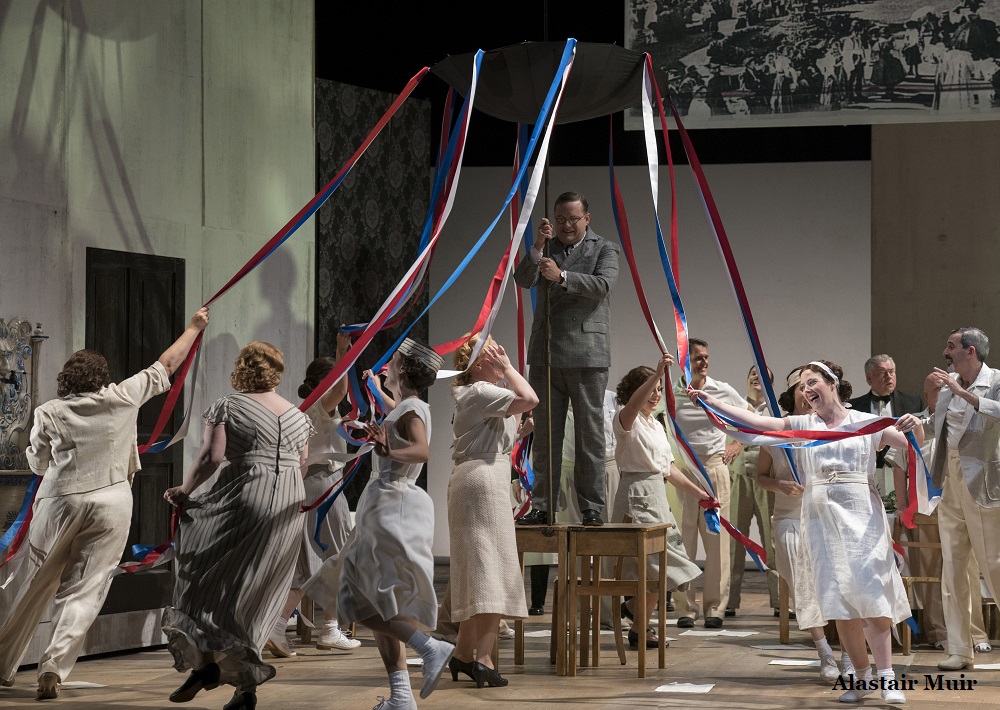 Eleven years later, Živný's opera is at last to be performed, although it remains unfinished. He rehearses a chorus from the opera with his students, among them Doubek, now a young man. Another student, Verva, guesses that the hero of the opera is the composer himself. Through the music, Živný again relives his love for Míla and his cruelty to her. Tormented by regret, he asks Doubek to fetch a glass of water and then collapses. The end of the opera must remain in God's hands.
Both productions of Opera North were directed by the extremely talented Annabel Arden and are a huge credit to her. The productions also deserve high credit to the amazing set design team, costume designer, lighting design, choreographer and chorus master.
Opera for centuries has been perceived as very affluent and exclusive for the elegant upper class and far too fancy and lavish for the working class, not to mention that the script is sung seldom in English. So why is it now becoming more accessible and popular to the entire population and what is Opera anyway? Well I can predict its companies like Opera North that is making the Opera seem more and more appealing and modern to this generation than ever before. Opera is a total art form which joins music, singing, drama and sometimes dance; in each work all the components of opera combine their expressiveness and their beauty to make an extraordinary show and Opera North Little Greats delivered on every level making it a great visual and auditory delight. Opera is very different from Musicals and plays so can be a little like Marmite where you either love it or you don't but I would recommend you at least try otherwise you will never know the delights that are out there.
Opera North Little Greats delivered on every level making it a great visual and auditory delight. Well done to all involved
Reviewer: Katie Leicester
Reviewed: 16th November 2017
North West End Rating: ★★★