With sub-zero temperatures outside, the audience at The Lowry Theatre certainly required some warming up and it's safe to say Birmingham Royal Ballet (BRB) delivered in abundance.
Well known music by Tchaikovsky, and one of the most opulent stage sets I have ever seen, it was clear from the offset that this was going to be an unforgettable evening.
For those not aware, this classic fairy tale begins at the christening of Princess Aurora. Lavish celebrations ensued by all on stage until the evil Fairy Carabosse (Nao Sakuma) arrives. Unhappy that she was not invited to the christening, she vows that Princess Aurora (Delia Matthews) will die following the pricking of her finger. This happens on her 16th birthday and following this she falls asleep for a hundred years until she is awoken by the Prince (Brandon Lawrence).
The performance of the entire cast was astounding but Delia Matthews's performance as Princess Aurora was utterly mesmerising. Technically excellent, her stage presence and energy shone constantly and she portrayed Aurora as lively and energetic in parts and also calm and composed when required. Her partnership with Brandon was remarkable.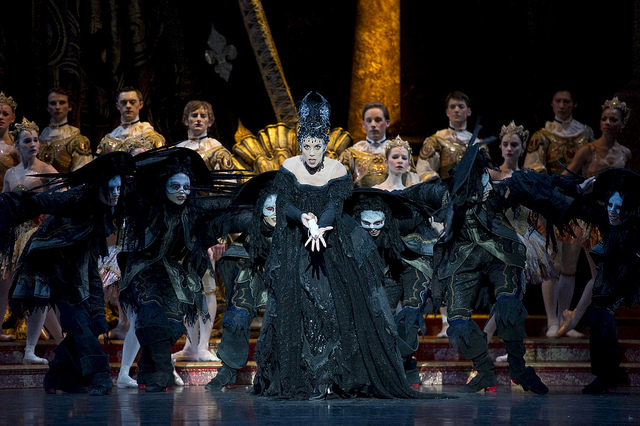 A special mention must be given to Jenna Roberts who played the Lilac Fairy. She expressed clearly parts of the story with mime and dance that ensured that the audience were clear as to what message needed conveying on stage. Her role with the Prince in the forest demonstrated this beautifully as she appeared consistently peaceful on stage. A wonderful comparison to the impassioned, intense performance by Fairy Carabosse of which Nao Sakuma portrayed to perfection.
The standard of the orchestra was phenomenal and Conductor Paul Murphy must be congratulated on a seamless performance with perfect timing to all the dances .The Harp accompaniment to The Lilac Fairy was simply magical.
A favourite act was the final one for me. Act 3 portrayed the wedding. Guests at the wedding included Puss in Boots, and a very amusing Red Riding Hood and Wolf. Dancing was incredible by all and all dancers received rapturous applause in this section. Hamish Scott as Puss in Boots and Yvette Knight as the White Cat were perfect in their roles and their dance displayed much charisma
Of all of BRB repertory I can see that costume wise it is the biggest. Incredible, costumes with luxurious materials added to the opulence of the entire performance and this, matched with a lavish stage including 3 chandeliers at one point was simply spectacular.
Choreography was excellent and as I understand, BRB kept as near to the original choreography from Russia in 1918 as possible. It certainly seems that this ballet will continue to challenge the test of time.
With a very varied audience of young and old it would seem that BRBs intention to make ballet available for all has been achieved. On leaving the theatre a gentleman asked a girl of about 8 whether she wanted to be a ballet dancer. Beaming back she said 'I am one, I love this company'.
Put simply, BRBs production of Sleeping Beauty will have your eyes totally focused from start to finish on this wonderful story. Entertaining throughout, there is so much to say about this performance that makes it certainly one to watch. For me, on leaving the theatre, my guest and I felt as if we'd both experienced a magical dream. We left the Theatre a little warmer from the dreamlike glow we'd gained. A simply fabulous performance by this excellent company.
Reviewer: Angela Kelly
Reviewed: 28th February 2018
North West End Rating: ★★★★★