An opera about a completely unprincipled, amoral rogue whose sole aim in life is to seduce as many women as possible might seem to be ideal for the times we live in: Harvey Weinstein, Donald Trump, and the other objects of the #metoo campaign are more tawdry, less noble modern versions of Mozart's protagonist. Certainly, Bonnie Gordon's programme note, headed "Time's Up" for Opera North's production makes the point explicitly:
"2018 is the ideal year to stage Don Giovanni." It's difficult to ignore the resonances that current events provide, but there is a problem here: this production is a revival of Alessandro Talevi's 2012 production, for which he won Best Opera Production at that year's Manchester Theatre Awards, and the contemporary parallels don't seem to have been built in to this revival. So, whilst the present examination of entitled masculinity is definitely a contextual consideration, the production needs to be considered on its own merits.
The overarching metaphor that Talevi uses sees characters being reduced to puppets controlled by fate, or perhaps by the Don, who seems to have gained powers that go beyond charm and persuasion as the result of some Faustian pact. The puppet idea takes physical form in Madeleine Boyd's set design, which features a small rectangular window, with red curtains, which part at key moments to reveal Punch-and-Judy style enactments of the plot.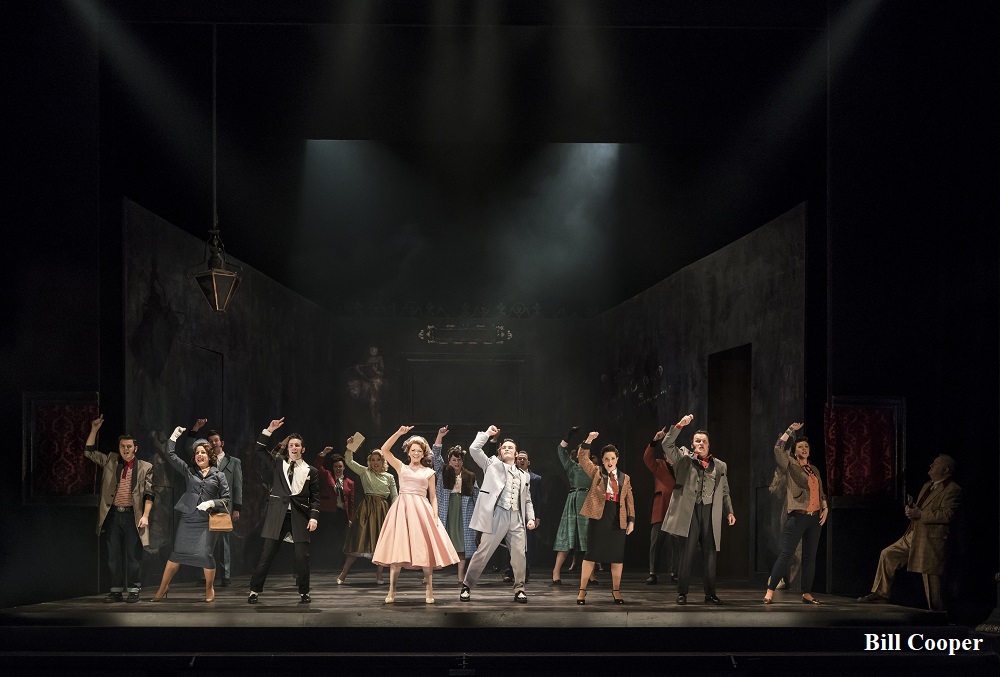 This clever stage business works very well, and provides some light relief in what is generally a dark vision of Da Ponte's story. The other big idea here is to make the Don Master of some sort of time machine, with the changing date indicated by a neon sign high above the stage. The rationale behind this wasn't obvious. We begin in Victorian dress, with John Savournin's excellent Leporello in an outfit that could have been sourced from a production of Three Men in a Boat, before whizzing forward to the mid-fifties for the wedding of Zerlina and Masetto, allowing everyone to wear Teddy Boy and Girl outfits. The climactic final scene was given today's date, emphasising the contemporary relevance presumably, and by this point Don Giovanni is in a modern suit, Donna Elvira is in a present-day white dress, whilst Donna Anna and Don Ottavio remain in Victorian costume and the peasant lovers retain their fifties clothes. This is all very entertaining, but I am not sure what it achieves that a consistent period setting would not, unless to suggest the universality of the theme.
William Dazeley, reviving his title role from 2012, is a saturnine, slinky presence, switching deftly from outraged mock-indignation to faux sincerity as he seeks to add to his ever-lengthening list of conquests. Elizabeth Atherton, also reprising her role as Donna Elvira was excellent, conveying both the anger of the wronged woman, and the pathos of her struggle with her own emotions, never more touchingly than in ""Mi tradì quell'alma ingrata" when she removes her wig in a gesture of wretched abjection. Kathryn Rudge plays Zerlina as a perky little minx, whose apparent naivety when the Don appears at her wedding is superseded by some very knowing stage business as she sings "Batti, Batti" whilst cavorting suggestively with Ross McInroy's Masetto. Jennifer Davis turns in a bravura performance in the difficult role of Donna Anna, managing to tread a fine line between overwhelming grief and righteous determination to bring the errant Don to justice, and investing "Or sai chi l'onore Rapire a me volse" with just the right amount of anguish. For me, though, the star was John Savournin as Leporello. For the famous "catalogue" aria, he was in front of the curtain, with the house lights up, picking out likely members of the audience to add to his master's list. Throughout, Savournin showed his ability as a comedian, with some neat music-hall touches, helped by sensitive support from the orchestra under the baton of Christoph Altstaedt.
Mozart's work is officially "opera buffa" but rather like, say, Shakespeare's Measure for Measure, the knockabout comedy needs to be balanced alongside the darker elements – after all, the Don commits murder as well as bringing dishonour to his numerous victims. In the final scene, with Don Giovanni's time very nearly up, Talevi produces his most memorable visual coup, consigning the libertine not to hell via the trapdoor but to a mad flight around the stage like a marionette, thus neatly reversing the polarity which has prevailed up to this point.
This production flirts with danger, but never quite descends into gimmickry for the sake of it. It is certainly visually striking, well sung by an energetic and committed cast, and was well received by a rather sparsely populated Lyric Theatre at the Lowry. Opera North continues to set very high standards, and to challenge its audience to look at the repertoire with fresh eyes.
Reviewer: Rob Spence
Reviewed: 8th March, 2018
North West End Rating: ★★★★