{jcomments off}
Michael Keegan-Dolan has transformed one of the world's most famous and revered balletic narratives into a clever, brazen modern Irish tale. From its torturous, animalistic beginning to its euphoric ending, Swan Lake / Loch na hEala is a humorous, often uncomfortable journey that centres around one depressed young man.
Steel scaffolding, grey concrete bricks, and a lake of black plastic create the council estate setting of supposed 'urban regeneration' in the Irish midlands. Effective costume choices combine the ethereal essence of Swan Lake with a very tongue-in-cheek presentation of contemporary society. The monochrome costumes and set dressing present a world that is, although bleak and troubled, unafraid to laugh at itself.
Heavily symbolic and referential, Keegan-Dolan's treatment of Swan Lake is refreshingly irreverent. Multi-role casting opens avenues for great humour, as three male dancers are torturers, lovers, mad maidens and inept police officers.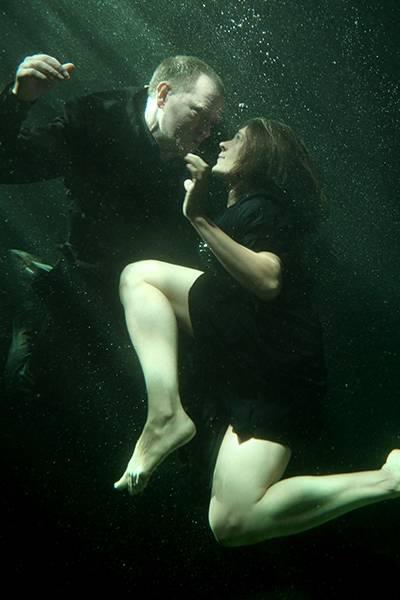 Overall the well-blended cast demonstrates great artistry of dance and body language. Beautifully choreographed movement tells the romantic and painful elements of this story effectively, forming a good balance with the oral narrative of speech and music.
Anyone expecting Tchaikovsky's iconic score will be surprised, as instead Dublin-based band Slow Moving Clouds perform their original score on stage. The trio of strings, including the folk fiddle Nyckelharpa, blend with vocals to create an atmospheric, emotive and often energetic soundscape to this urban tale. Using folk motives throughout, even the most celebratory scenes have sinister and haunting undertones, fitting to the bleak drama.
This radical re-envisioning is as intelligent and perceptive as it is moving and poetic. Swan Lake / Loch na hEala places difficult contemporary issues under a brutally honest spotlight, tackling grief, depression, isolation, rape and child abuse.
36-year-old, unemployed Jimmy is on the brink of suicide after the death of his father, mother Nancy desperately tries to play match-maker, and local bigwig Micky hounds Fionnuala for forgiveness after raping her in front of her sisters.
With a host of truly engaging and committed performances, this production is memorable for its sensitivity and bold reinvention, but also for its humour. Masterfully performing a condemned, bleating man, a Catholic priest, a local councillor and a police chief, Mikel Murfi is impressively versatile as Micky and sets the black comedic tone for the whole performance.
Under superb direction this has not just become a modern myth but has morphed into tragi-comedy, somehow managing to be simultaneously depressing and uplifting. The dark drama of Swan Lake / Loch na hEala culminates in a moment of bizarre euphoria that fully deserves the, no doubt frequent, standing ovation.
Reviewer: Eve Ryan
Reviewed: 18th May 2018
North West End Rating: ★★★★★