Brilliant, brilliant, brilliant is tonight's 'Stigma,' a play or series of play and sketches lampooning mental health from people who have genuinely suffered. Lampooning to throw away negative and unfortunate stereotypes, these performers don't want to invite pity. Not at all. In fact, they wish to blow away the cobwebs of long held stereotypes and let the audience laugh and have some assumptions challenged.
The night is a collaboration with Fennikusu-Productions who have a pool of talented producers and directors from across the theatre world.
The brilliance about these performances is you never quite know what to expect, making it fresh and exciting to view.
Lights dim in the Kings Arms and a door flies open unapologetically stage left where a masked woman (Hadesa Sonne) anonymously appears throwing out lyrics to 'Chandelier.' Faceless it makes you slightly uneasy, yet it had the power to make you listen clearly to the lyrics. They in themselves hit home about someone who is wearing a mask to the world to be the 'funny,' one when inside they're dying.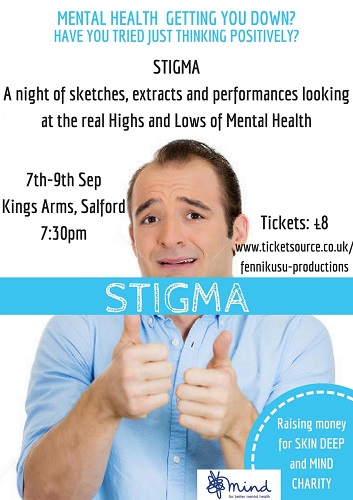 Next a different energy with an excerpt of a play named 'Green Door,' emotively acted by Ann Brown. The storyline was gripping as Ms Brown regaled a Haven Holiday that was to impact the rest of her life. Exploring how domestic violence can take effect mentally scaring, with psychological conditions such as PTSD. Her portrayal of events left a lump in the throat, especially with the uplifting message at the end.
The night is a cosmocopia of wonderful enigmatic performers. Abey an anxiety suffering guitar player, who has penned some hilarious songs about obsessive lists, morbid fears and impromptu shoplifting, is side splitting in her delivery.
Another side splitting yet heart-rending performance was from Pete Gibson who plays a neurotic toilet cleaner in Clarke McWilliam's 'Someone's Got to Do it.' Laughing along at awards for National Loo Awards, Golden Urinal, the play turns on its head and bites with a tragic storyline behind the comedy, which Gibson plays with convincing cataclysm.
Act Two keeps pace with Rosa Wright a mental health worker who ruthlessly pokes fun at the government in the clever 'Don't Blame Us,' and a patient called Angela.Wright is adept at bringing the poems to life with bold dramatic panache.
Just when you think you can't laugh anymore, Matt Seber (from Stretford) comes on. He has the audience howling at his witty observations of gangster pigeons, a Brummy Jesus and acid house to name a few themes. Again, there's sadness behind the smile and he bravely manages to get a message across about 'suicide.'
Sarah Wilkinson performs 'Dandelions,' which is a tender, image strewn tale of a friend who has depression she tries to help. Sarah's performance was subtle, yet powerful, and the dandelion symbolism was extremely apt.
The final except tonight was from 'Skin Deep,' three actors explore pain. What is it? They use drama to convey a 'chattering mind,' that won't stop nagging doubt.
Stigma is a totally fascinating and insightful night which is doing a great job to smash taboos and inspire. There are breakdowns over love, over dirty toilets, over a bic biro but the protagonists don't give up.
Reviewer: Rachel Foster
Reviewed: 7th September 2018
North West End Rating: ★★★★★