Loosen your bodice and undo your breeches as this is button popping humour!
The highly skilled improv team have the unenviable task of trying to make a Salford audience laugh on a Sunday night, with the added risk of requesting suggestions for the title of the show.
Some suggestions offered were 'Breeches and Bitches', 'They Came to Burgle Mansfield Park', but the first choice was 'Corn Laws – The Thatching Menace'.
With this rather bizarre title to work with, the team began to hatch a plot. Charlotte Gittins was Miranda Spencer, brother to David Spencer (Joseph Morpurgo). She worked eighteen-hour days roof thatching, weaving corn, even though their family was wealthy. Her brother made up the 'Corn Laws' of which two of those were, no corn on Tuesdays and Boogie time!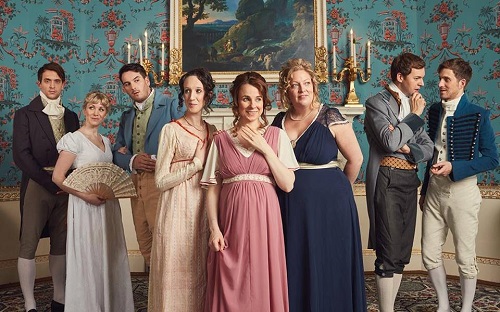 We were introduced to neighbours Jessica and Martin (Rachel Parris and Andrew Hunter-Murray) who enjoyed nothing more than a 'tinkle of the ivories' and gazing out of the window of their house to watch the local deer fornicating!
The cast enjoyed playing multiple parts and you must pay attention as an audience member to follow the story, as characters change quickly with only the slightest of costume changes.
The expertise of the performance is enhanced by the amazing musical accompaniment of Dylan Townley who has the extremely hard task of deciding as he goes, which piece of music to play and as the performers improvise playing the piano, he must capitulate in perfect time! Truly, a huge round of applause goes to him and his fellow purveyor of lighting, Damian Robertson, whose reactions to the end of scene were always well timed.
The world of improvising has developed over the last few years with very successful examples of improvised Shakespeare, the marathon London Improvathon which must be one of my all-time funniest experiences. The ideas that come from performers sharing a part of themselves with each other, being generous with their ideas and supporting others, provides the audience with a chance to see a one-off performance that is hugely enjoyable to watch.
The theme of improvising in the style of Jane Austen is loosely carried off as the characters portrayed are different every time and are not necessarily from one of her novels. To ensure the feel of the play is from that period, the costumes could grace the set of Pride and Prejudice. The performers do try to keep their narrative as reasonably close to the Georgian period, but the humour is 21st Century!
The audience truly loved this show, with some audience members dressing in Georgian costume themselves! I would heartily recommend going to see this at some point on their tour.
To book tickets for future venues visit their own website https://www.austentatiousimpro.com/shows/tour/ for tour dates and booking links.
Reviewer: Caroline Worswick
Reviewed: 27th October 2019
North West End UK Rating: ★★★★