Opera North's second of its trilogy Giulio Cesare graced the stage at the beautiful Lowry's Lyric Theatre in Salford on a freezing Wednesday evening, however the weather clearly didn't dampen the Salford residents as the auditorium was bursting with people eager to watch one of Handel's finest Italian Operas.
Directed by Tim Albery, set and costume design by Leslie Travers and accompanied by the infamous and phenomenal Orchestra of Opera North under the instruction of Christian Curnyn the evening was guaranteed to be of the highest quality that we have come accustomed too from this exquisite company.
The first performance of Giulio Cesare was in London's King's theatre almost three hundred years ago, which is astounding to comprehend that this classic continues to entertain in the 21st century, Opera North is notorious for breathing new life into the classics and has excelled itself Albery's revival of his 2012 production.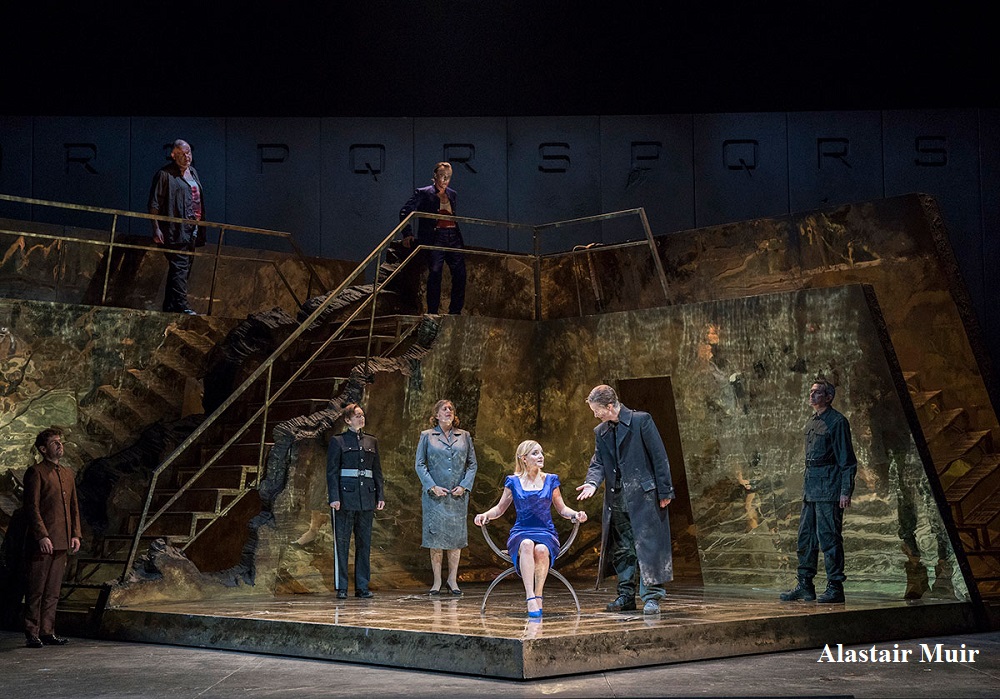 The audience as previously stated have come to expect an evening of the highest elegance, spectacular colour, phenomenal costumes, and as usual this magnificent company delivered on every level especially with its sensational staging a total credit to Travers. The colossal fortress of Traver's design is displayed initially as a drab grey structure which then rotates to reveal a luxurious golden palace. Completely complemented by the costumes in the Egyptian scenes, its shimmering surfaces are lavish and illusory as there's even a pool to cast watery reflections on the walls during the seductive scenes.
The plot is based on events of the Roman Civil War 49–45 BC. The opening scene is where Cesare (Maria Sanner; mezzo-soprano) discovers that his rival Pompeo (Jem Dobbs) who he is at war with has been cold bloodedly executed by the Egyptian King Tolomeo Ptolemy (James Laing; countertenor) a merciless tyrant; shortly followed by Pompeo's grieving widow the beautiful Cornelia (Amy J Payne; mezzo-soprano) whom openly grieves for the loss of her beloved husband, whilst her son Sesto (Heather Lowe; mezzo-soprano) vows vengeance on his father's murderer the King of Egypt.
Tolomeo's sister and wife (yes that's correct I said sister and wife shock- horror) Cleopatra (Lucie Charting; soprano) decides to seduce Cesare disguised as the queen's handmaid to secure his support and tip the balance of power in her own favour. However as the couple have several encounters and the disclosure of what she really is the Queen of Egypt Cleopatra realises that she has genuinely fallen in love with the handsome and caring Roman warrior Cesare.
With murder, passion, lust and power in the mix Tolomeo is determined to defeat whoever is in his way to be the ultimate oppressor and goes to war with his own sister/wife where she is humiliated and imprisoned awaiting her fate. The final moralistic message is about the spoils of war, power and its abuse, loyalty and vengeance and how good wins over evil but most importantly the power of love.
Opera North has once again made an 18th century classic into a phenomenal modern masterpiece, making it not only an auditory triumph but a sensual sensation tantalising every sense of an individual that attends these glorious performances.
Opera does take a bit of adjusting to, but once you are in the zone you get swept away by the drama, the visuals and of course the exquisite music, Handel's Opera is almost three hours long with just one interval so it's not for those easily distracted however it is guaranteed to be a night of elegance and escapism.
Special mention must go to Catherine Hopper's stand in whom we never got the name of as she played the most believable grief stricken and broken women. Her character was tender, gentle and wholeheartedly genuinely moving and I found myself on the edge of my seat during the scene where Tolomeo was going to take from her what he wanted even if that included raping her.
Well done to all involved as always Opera North never disappoints.
Reviewer: Katie Leicester
Reviewed: 13th November 2019
North West End UK Rating: ★★★★